I think I may have more skillet cookie recipes on here than I do normal cookie recipes.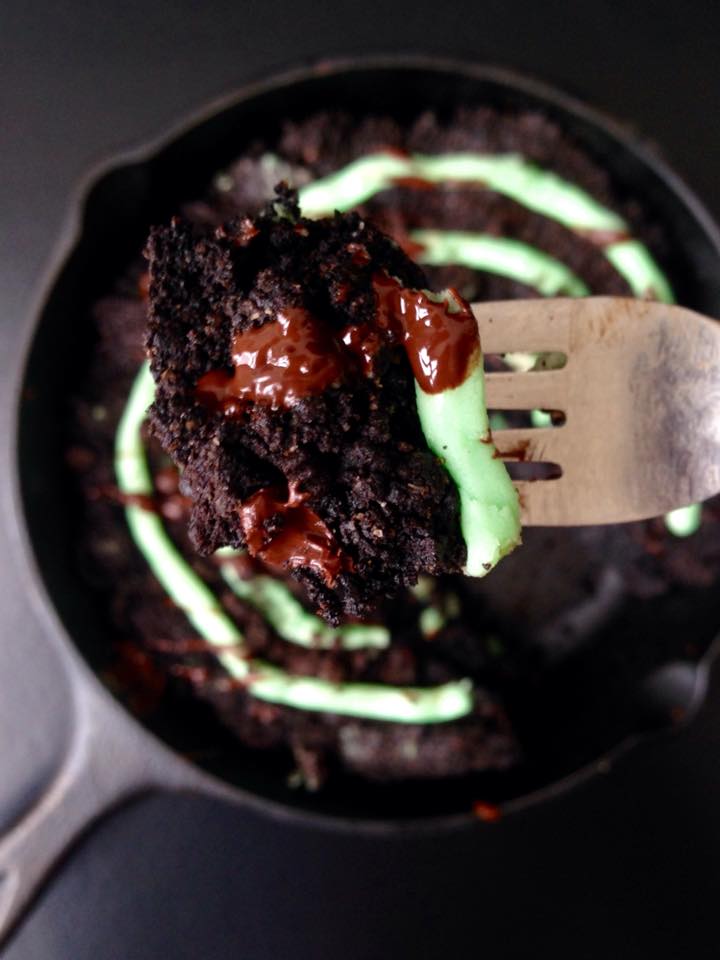 …And I actually might post another one soon. I can't help it that skillet cookies are so darn good, okay?
Here's the deal with cookies: they're kind of the perfect snack. You can dunk them in milk, or sandwich ice cream between them, or just enjoy them plain. But sometimes, the prep of chilling dough or rolling out 24 balls of goodness is just too much.
(Don't judge me for being lazy… I've been indulged by, like, 3 snow days)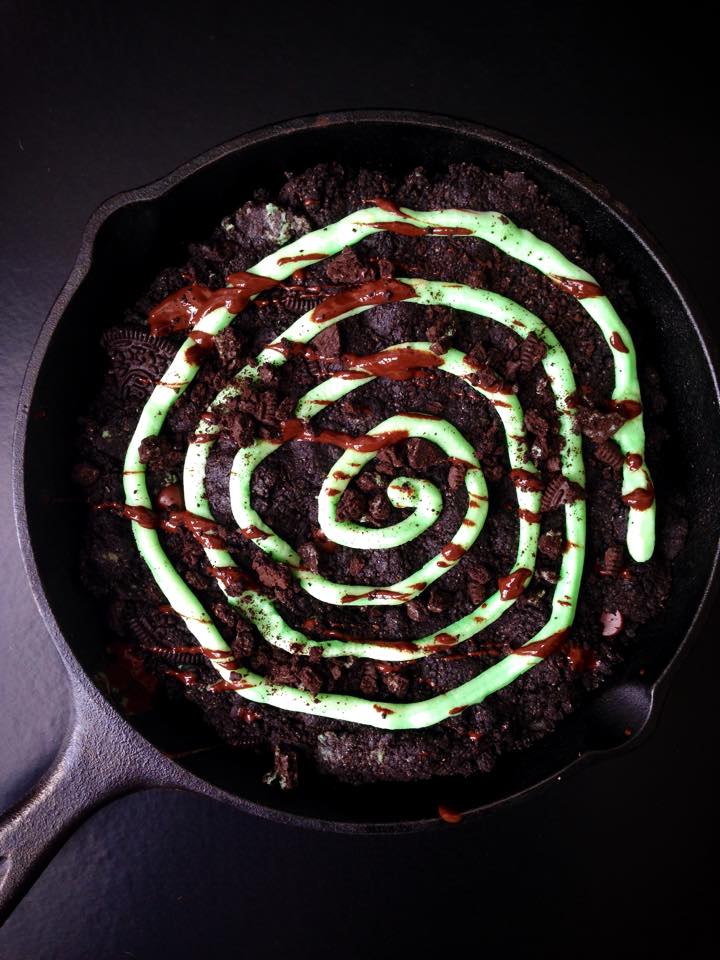 Plus, here's the thing with skillet cookies: You can eat them with a spoon. (Or… slice them and enjoy a reasonable portion… I just happen to prefer the spoon-to-skillet option).
So let's recap: no need to chill your dough, no need to make individual cookies, and easily enjoyed straight from the oven with a spoon (and some friends?).
Yeah, skillet cookies are where it's at.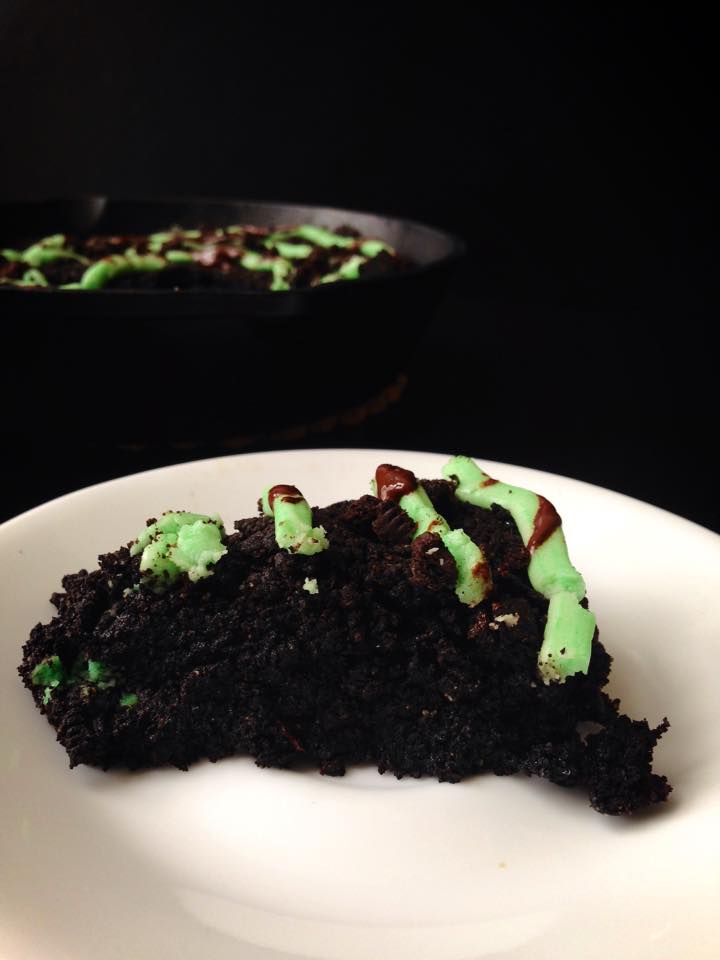 This cookie is an extra dark chocolate cookie base with chocolate chips, crushed mint oreos, and topped off with a swirl of mint buttercream.
Gotta get that pretty green goodness for St. Patty's, am I right?
Hope this giant cookie brightens up your Monday! Where I am, it's finally starting to look like spring 🙂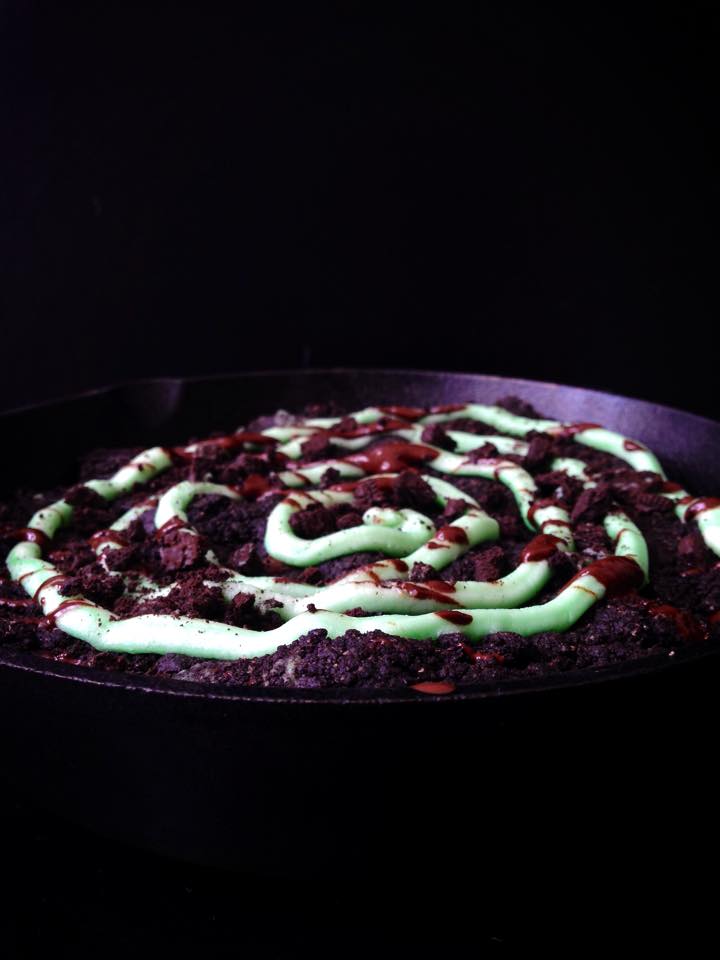 And if it snows again? Well I guess I'll just have to bake some more!
Enjoy xx

Double Chocolate Skillet Cookie with Mint Swirl!
Prep time:
Cook time:
Total time:
This vegan skillet cookie comes together in under half an hour, frosting and all! Pack this giant cookie full of chocolate chips, mint oreos, or if you're not vegan, try m&ms or andes mints. This desserts is topped with a mint buttercream swirl, melted chocolate, and crushed oreos.
Ingredients
Skillet Cookie
1 cup flour
1 cup special dark cocoa powder
1 tsp baking powder
½ tsp baking soda
¾ cup raw turbinado sugar (can sub any other white/cane/coconut sugar)
¼ cup canola oil
¼ cup almond milk
scant ¼ cup maple syrup
scant ¼ cup vegan chocolate chips
5-6 mint oreos, crushed
Frosting
¼ cup + 1 tbsp softened vegan butter
2 cups powdered sugar
1 tsp vanilla extract
1 tsp almond milk
¼ tsp mint extract
3 drops green food coloring
Topping
1 tsp coconut oil
2 tbsp chocolate chips
1 mint oreo, crushed
Instructions
Preheat your oven to 350 F.
Combine all skillet cookie ingredients (preferably in the order listed) and press into a 10-inch cast iron skillet.
Bake in preheated oven for 20-25 minutes.
Remove from oven and let sit on a wire rack to cool.
For frosting, cream together butter and vanilla. Add in sugar and mix till homogenous (I did this without an electric mixer, takes about 3-5 minutes).
Stir in mint and food coloring.
Transfer frosting to a piping back or a ziploc (and cute a small hold in the bottom corner). Pipe frosting in a spiral on top of cookie.
Melt your coconut oil and chocolate together for about a minute in the microwave. using a fork, splatter melted chocolate.
Top with crushed oreos and serve.