These were a complete accident.
By accident I don't mean, "I added an extra teaspoon of salt and it brought out the caramel flavor so much" or "Subbing almond milk for soy milk was the extra touch this cake needed". What I mean is a "Holy @$#! I added an entire cup of brown sugar when I only needed a quarter and then for some reason I mixed everything together before I could try and get rid of the extra" kind of accident.
You feel me?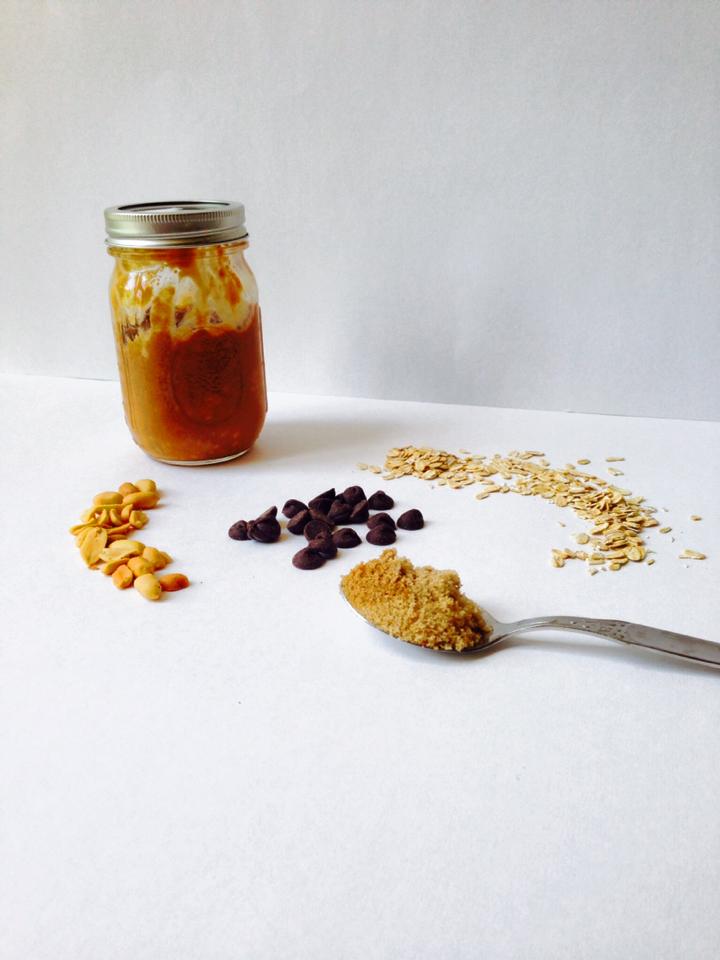 So basically I was making these beauties and being the perpetually exhausted person I am, I zoned out while adding brown sugar and added four times the amount I was meant to. I have no excuse.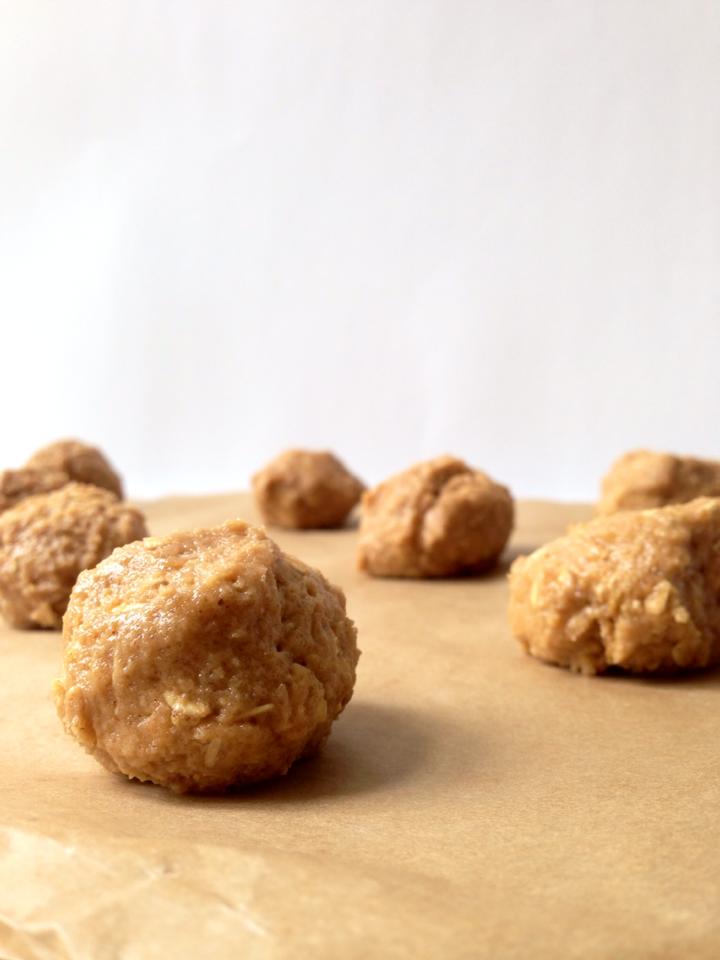 Anyways, I was on the heels of a peanut butter cup binge so I figured go big or go home, and added half a cup of peanut butter to balance out the sugar (logic, am I right?).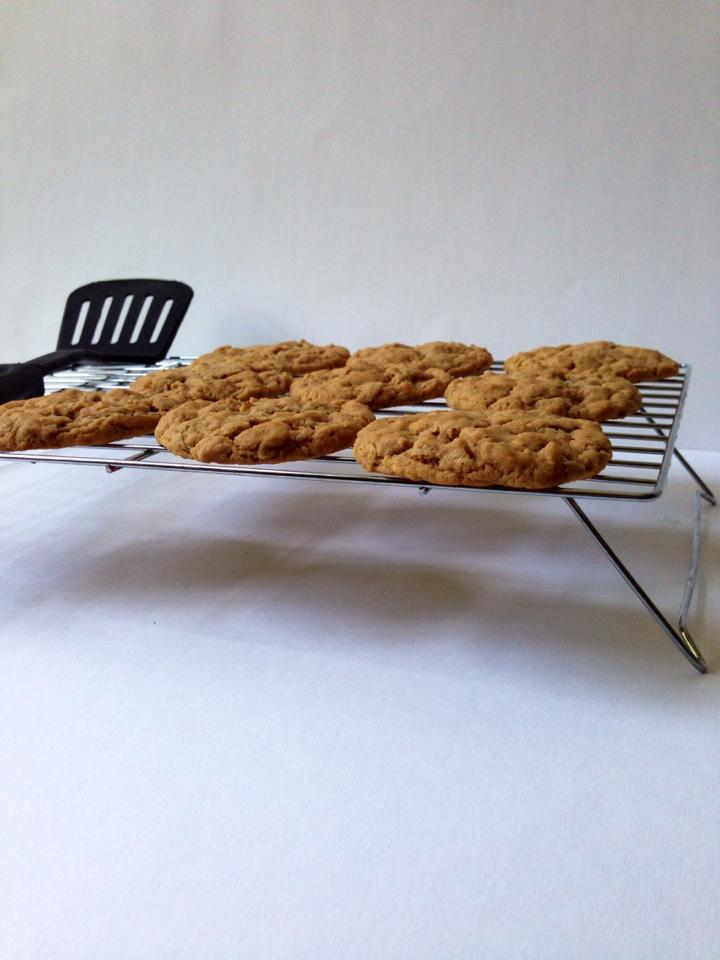 I finished up the cookies as per usual, except I saved the nuts and chocolate for dipping. Everything is better dipped. That's science, don't question it.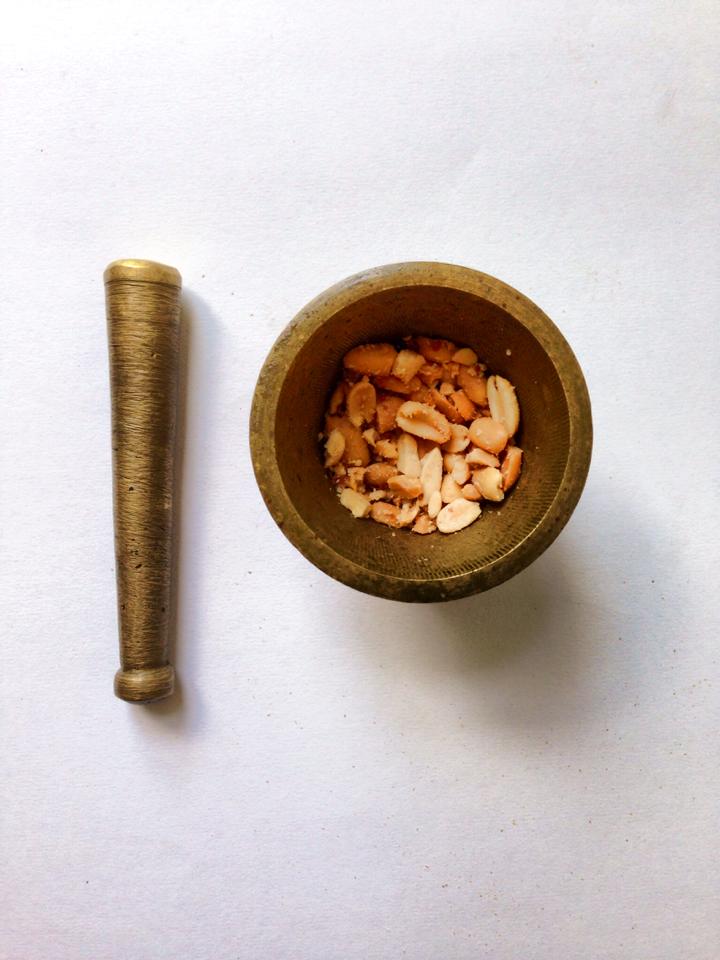 I spooned these cookies out in tablespoons, preferring a large cookie for coating.
They were in and out of the oven in 10 minutes, dipped in chocolate and then nuts, and then cooled in the freezer.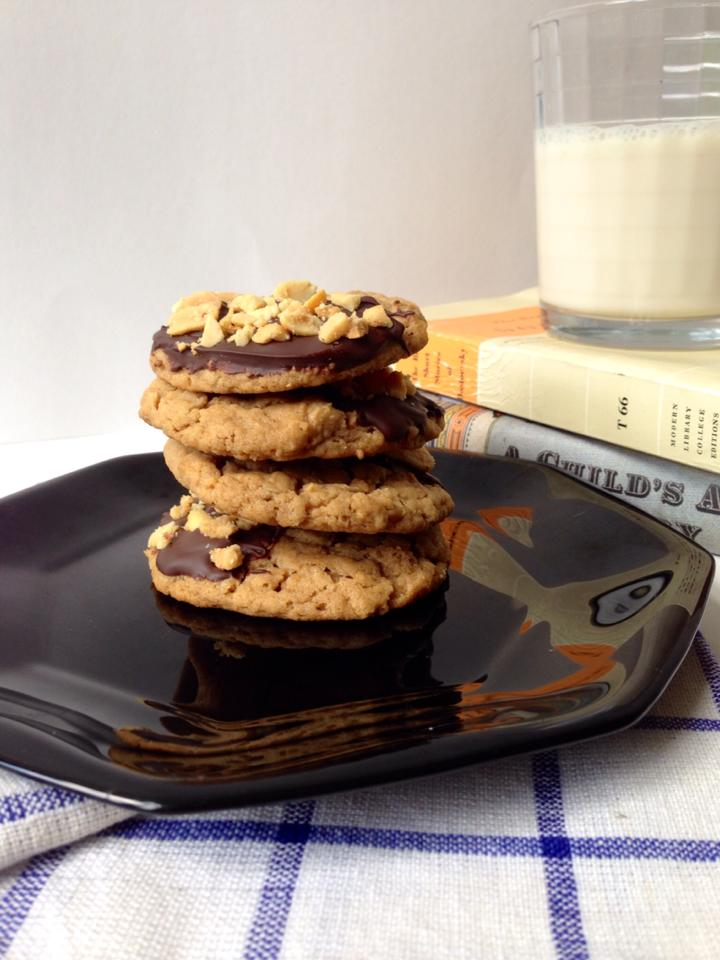 These cookies are a dream.
Easy, delicious, crisp, salty, sweet…
And altogether a perfectly decadent blend of chocolate and peanut.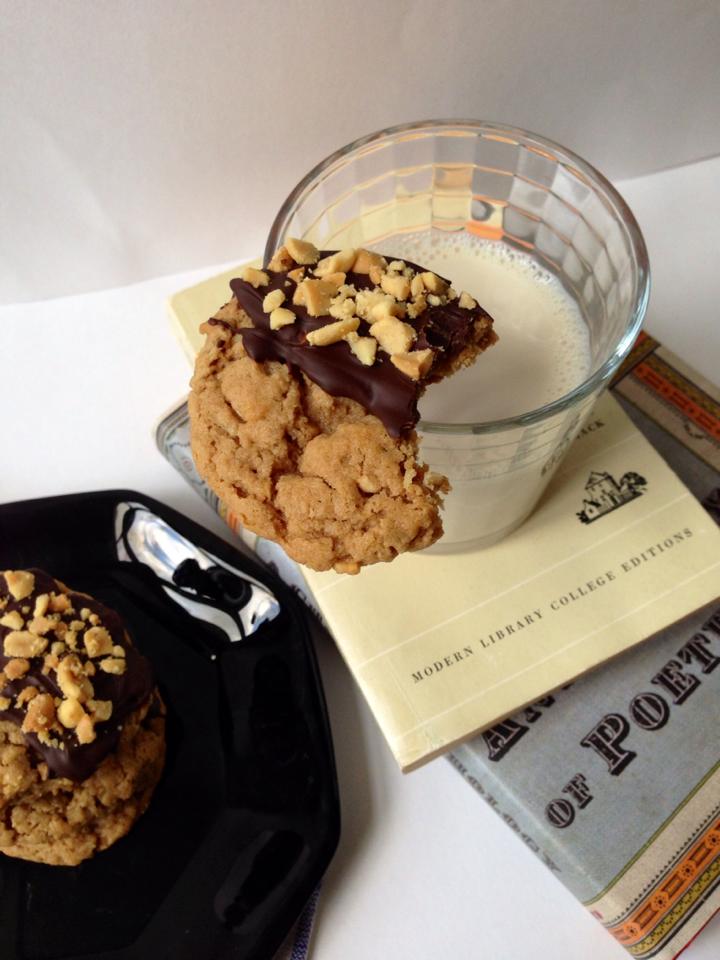 I seriously recommend crunchy salted peanut butter because it brings the flavor and texture over the top, but I'm not about to rain on your peanut butter parade, creamy unsalted fans.
These cookies freeze well, look adorable stacked, and are a delectable present. (I'm gifting mine for my stomach's sake. I may or may not have eaten six).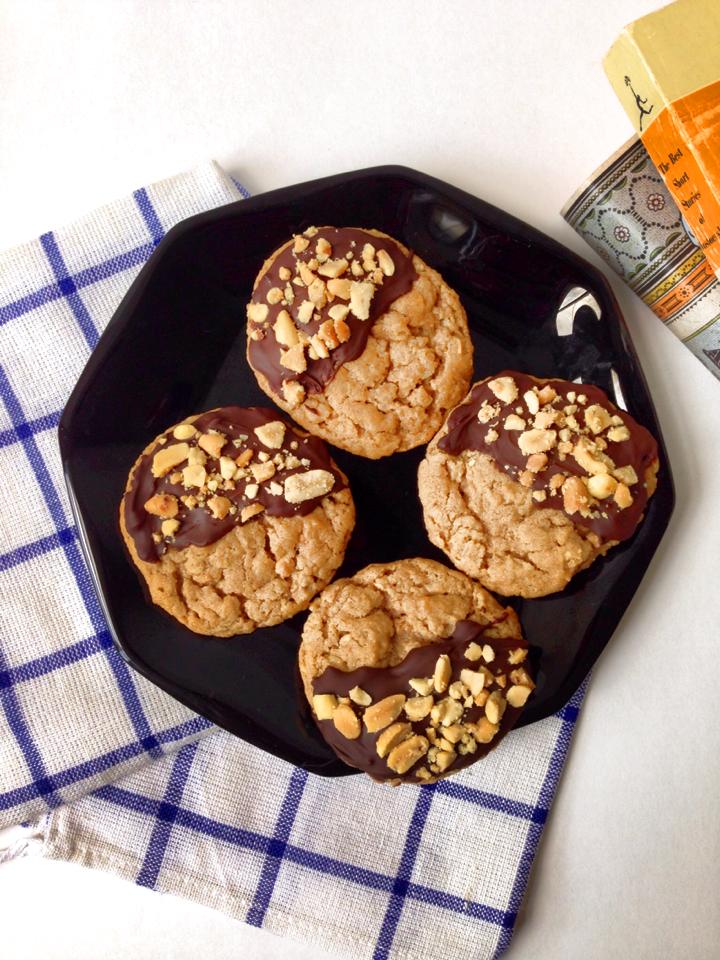 Whether for yourself or a friend, you have got to make these cookies. They're dipped, remember?

Vegan Double Dipped Oatmeal Peanut Butter Cookies
Chewy in the middle and crisp around the edges, these sweet and nutty oatmeal peanut butter cookies are dipped first in chocolate, and then in crushed nuts. Vegan peanut butter and chocolate goodness has never tasted better!
Ingredients
1 cup all purpose flour
1 cup rolled oats
½ tsp baking soda
½ tsp baking powder
¼ tsp salt
½ cup (1 stick) vegan butter at room temperature
½ cup crunchy salted peanut butter
⅔ cup of cane sugar
1 cup brown sugar
½ tbsp maple syrup
½ tbsp vanilla extract
1 tbsp almond milk
1 tbsp cornstarch + 2 tbsp water (= 1 egg)
½ cup chopped peanuts
1 cup semi-sweet or dark vegan chocolate chips
Instructions
Preheat the over to 350° and line a baking sheet with parchment paper
Sift together the flour, oats, baking soda, baking powder, and salt in a medium bowl
In a separate, large bowl, cream vegan butter with an electric mixer (or a fast hand and a whisk!) for about a minute
Add cane sugar and continue to beat for another minute
Add brown sugar and maple syrup and beat for three minutes or until fluffy
Add the peanut butter and mix until very creamy and combined
Add egg substitute, almond milk, and vanilla extract and combine thoroughly
In three or four additions, add dry mixture and mix on low. The mixture should be on the wet/sticky end of the spectrum, don't worry.
Using a tablespoon, drop large balls of dough onto the lined baking sheet.
Bake for 10-12 minutes or until puffy. Let cool on a rack.
While cookies cool, melt chocolate in the microwave at 30 second intervals or in a glass bowl over simmering water.
Using the back of a spoon, cover half of a cookie with chocolate and sprinkle with nuts
Place cookies on a baking sheet and freeze for 5-10 minutes. Store in the refrigerator.
Notes
Notes
•The cookies will appear very fluffy when removed from the oven, but after cooling, should appear more flat and textured.
•You can sub half almond butter if you so desire
•I reduced the amount of salt because I used salted peanut butter. Feel free to up the salt to ½ a teaspoon if you're using unsalted.
•On the same vein, any type of peanut butter will work, but I do strongly recommend salted crunchy!
*Adapted from
these