Another skillet cookie, so soon?!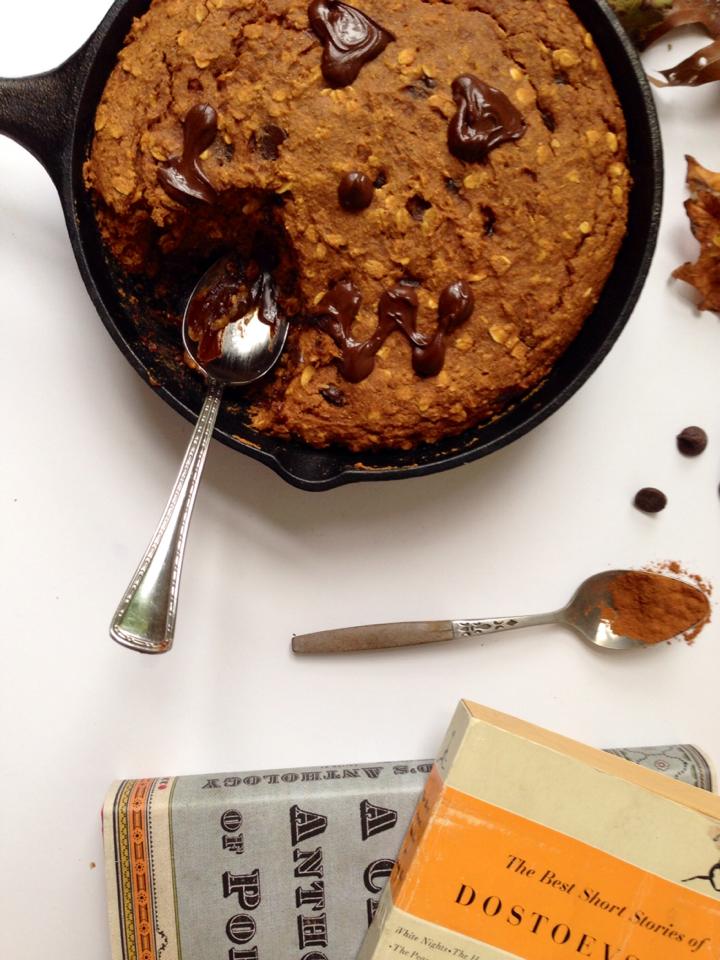 Heck yeah. Skillet cookies rest for no one. 
So I lost these pictures the first time I made this skillet cookie. I was pretty devastated. I complained. A lot.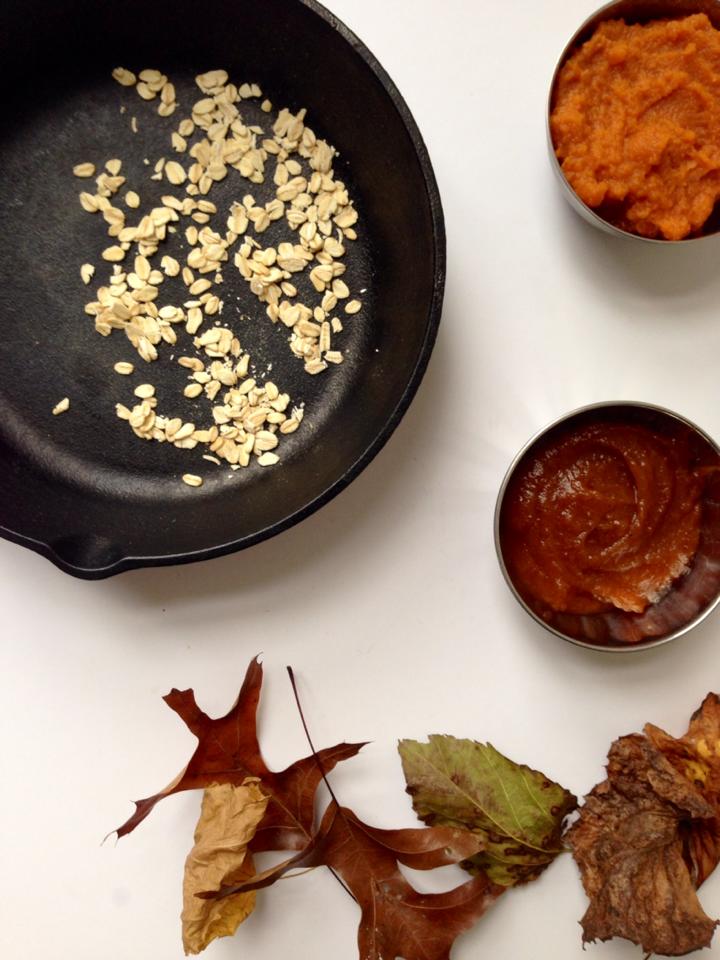 But hey, everything happens for a reason! The second time around, I ended up tweaking the recipe a little and I couldn't be happier with the results.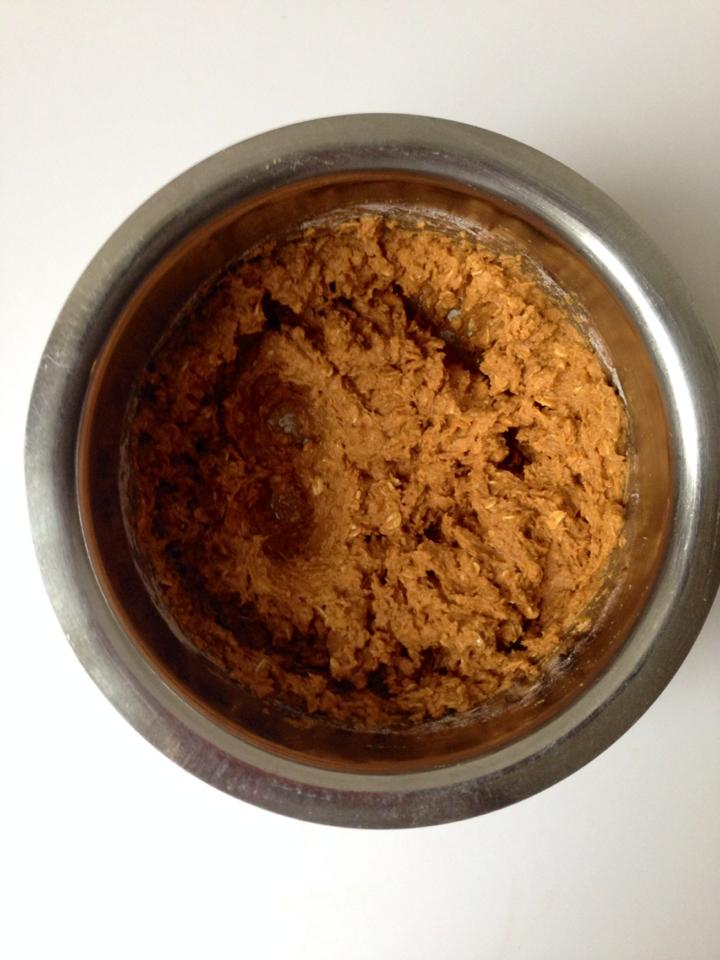 This cookie, like nearly all my cookies, is made from my trusty oatmeal cookie base. I've used it to make peanut butter and chocolate-dipped cookies as well as another enormous skillet cookie.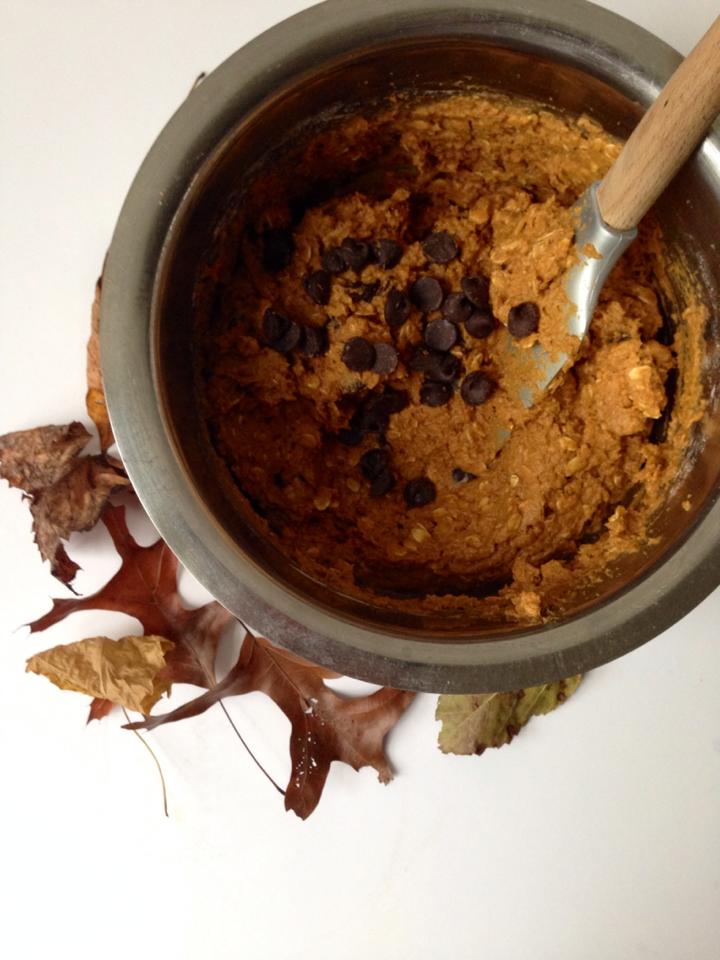 I love skillet cookies because they hit the cookie craving without all the work of forming all the little cookie dough balls and baking in batches and cooling. This baby is a one-bowl wonder, and in and out of the oven in under half an hour.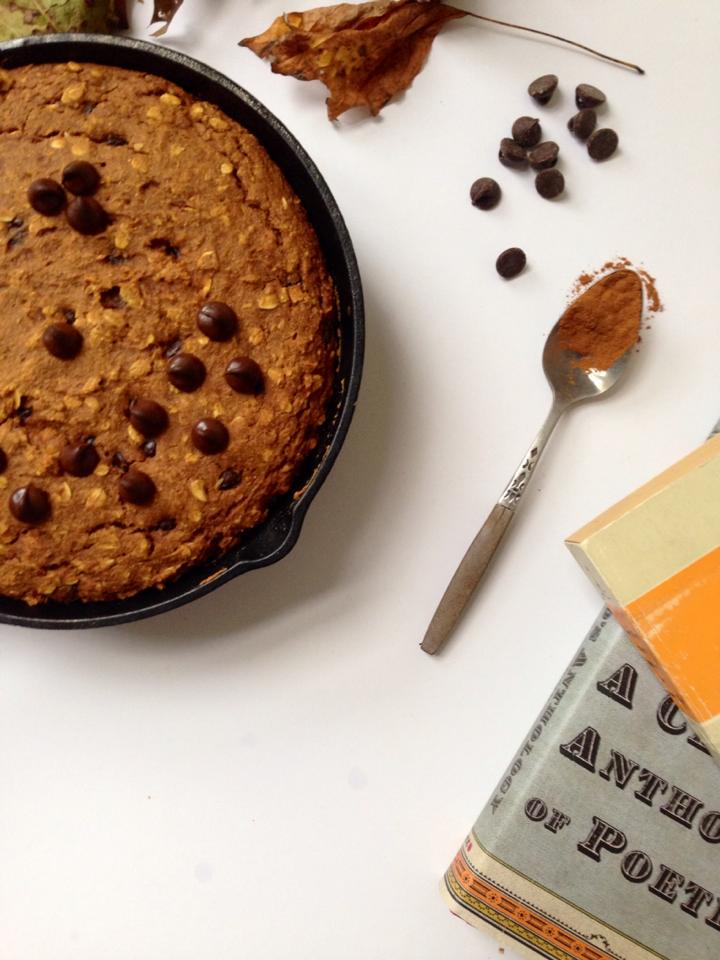 Plus, there's nothing more satisfying than eating a warm cookie with a spoon.
This skillet cookie has pumpkin in it three ways: pumpkin purée, pumpkin butter, and pumpkin pie spice. I've been using pumpkin butter like crazy recently, and for good reason. It's a spicier, richer way to bring fall flavor into desserts.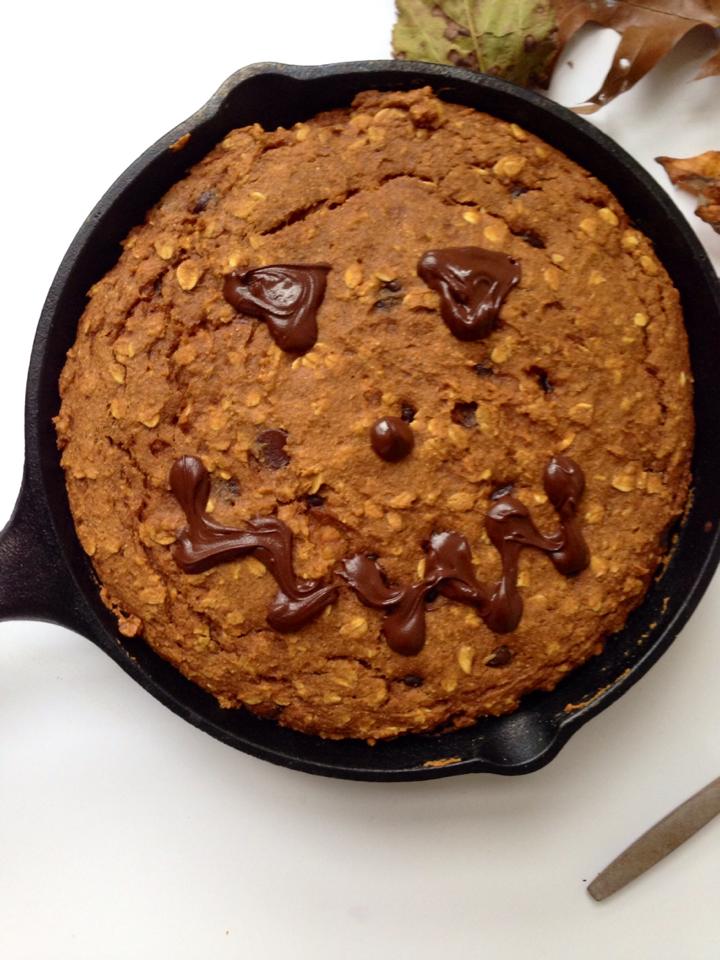 Studded with chocolate chips and sweetened with dark coconut sugar and maple syrup, this skillet cookie is a perfect balance between fall flavors and classic sweetness.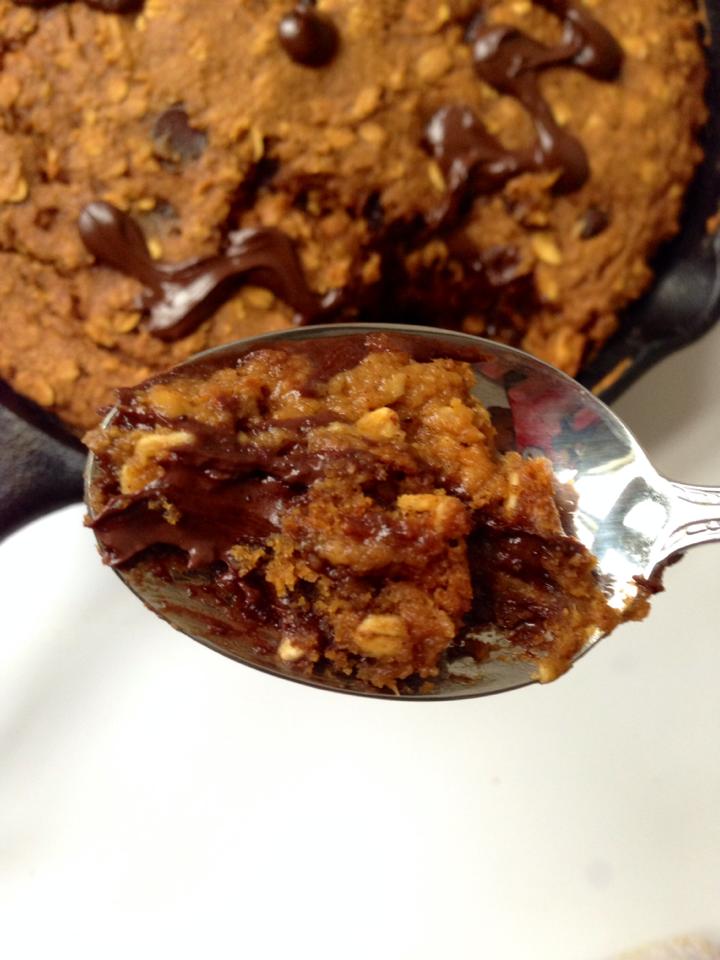 The first skillet cookie disappeared in under 24 hours, and the second has a significant chunk missing as I write this post. This is a dessert you'll be making over and over again, I promise.
Give it a try!

Pumpkin Chocolate Chip Skillet Cookie
Prep time:
Cook time:
Total time:
Pumpkin pie spice, pumpkin butter, and pumpkin purée combine with chocolate chips to create a delicious and dairy-free fall cookie- baked in a skillet! One-bowl and under half an hour to make, this dessert is sure to become a favorite.
Ingredients
¼ cup vegan butter
¼ cup pumpkin butter (or sub more vegan butter)
½-34 cup pumpkin purée
¼ cup maple syrup
1 tsp vanilla extract
1 tbsp almond milk
⅔ cup coconut sugar (or sub brown sugar)
1 cup rolled oats
1 cup white whole wheat flour
½ tsp salt
½ tsp baking soda
½ tsp baking powder
2 tsp pumpkin pie spice
¼ tsp cinnamon
½ cup chocolate chips
Instructions
Preheat oven to 350°F
Beat vegan butter, pumpkin butter, and pumpkin purée with an electric mixer until well combined (1-2 minutes).
Add maple syrup, vanilla, almond milk, and coconut sugar and beat for an additional minute until fluffy.
Add remaining ingredients (except chocolate chips) and mix well.
Fold chocolate chips into mixture with a rubber spatula.
Transfer batter to an ungreased cast iron skillet.
Bake in preheated oven for 20-25 minutes or until center is set. Cool before serving.
*for more pumpkin goodness, see all of these recipes!