I feel like spring was very well timed this year.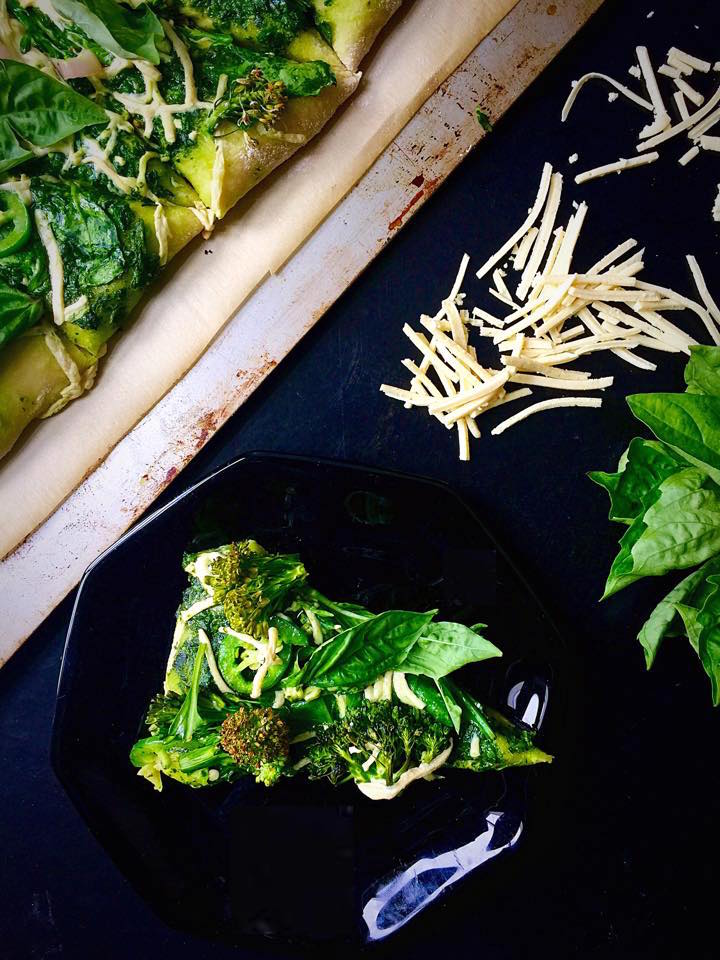 From the day I landed in DC for spring break, the temperatures rocketed from freezing to mid-70s. The only problem? I've gotten comfortably used to the warmth.
I've been eyeing the Middletown weather on my phone for the past week, hoping that it stays just as warm in Connecticut as it has over here.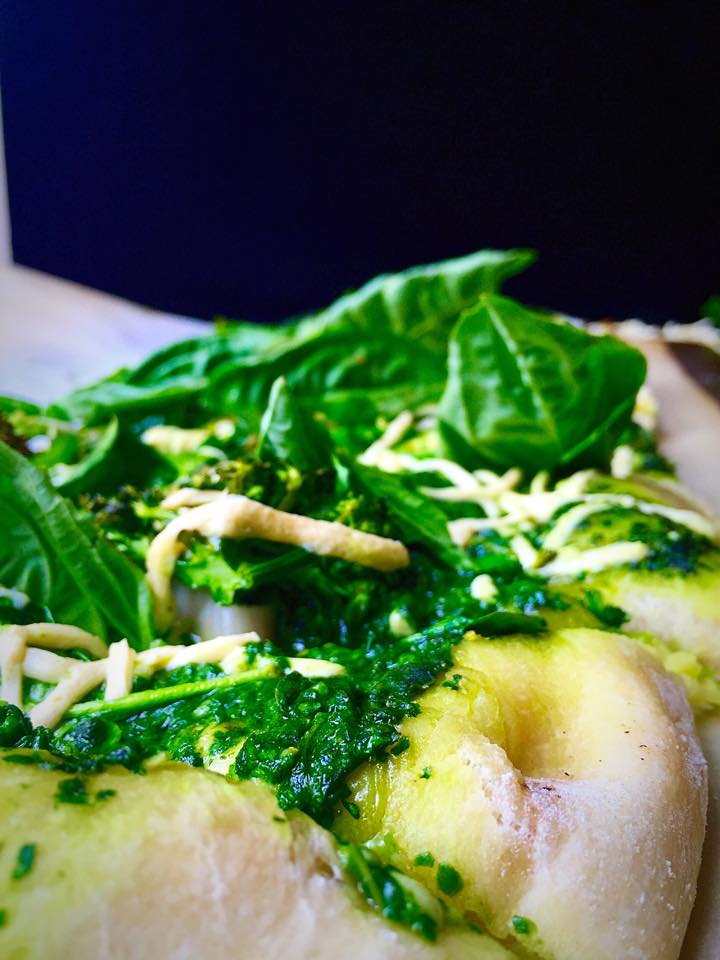 The funny thing about spring temperature changes, for me, is how fast I acclimate. The moment it's warm again, I have absolutely no tolerance for the cold.
Once I've experienced 60º weather, I just can't do that below freezing + winds situation. So hopefully we won't have a second winter in April, as was the case the past couple of years. (I just can't do it).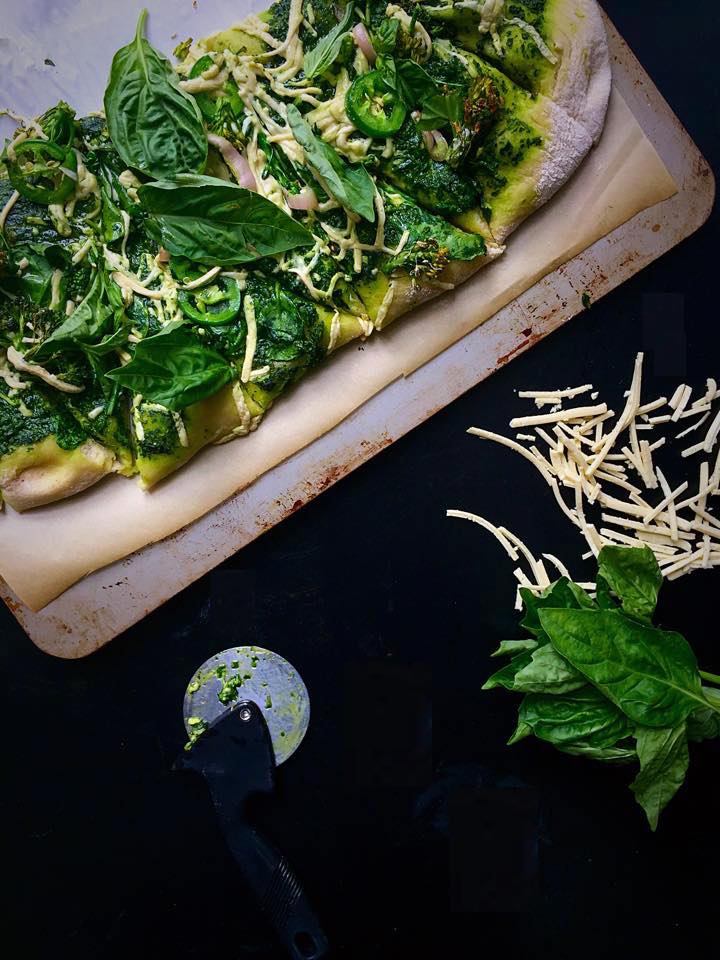 My other favorite part about spring (besides the warmth) is all the food. Green veggies are my favorite veggies, and so spring is basically a food renaissance for me.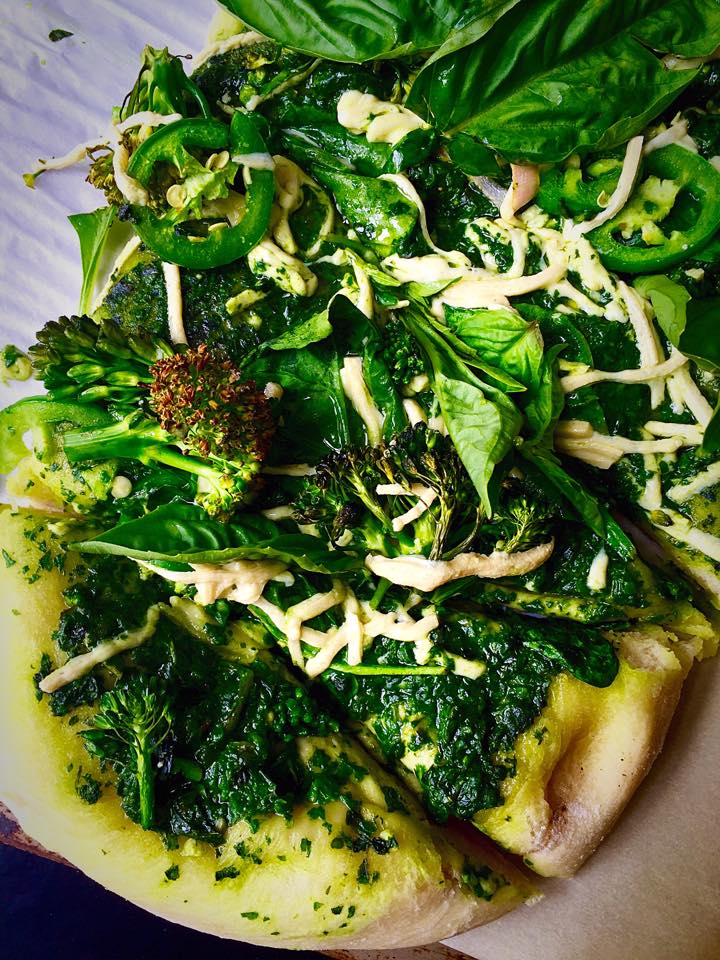 Since St. Patty's is this week and we're celebrating spring, I thought I'd pack allll my favorite green things into one delicious meal.
This vegan pesto pizza verde starts with a base of homemade basil spinach pesto, topped with broccolini, jalapeno, spinach, shallot, and more basil! Feel free to add your own favorite greens as well- I'm imagining asparagus, zucchini, and kale right now.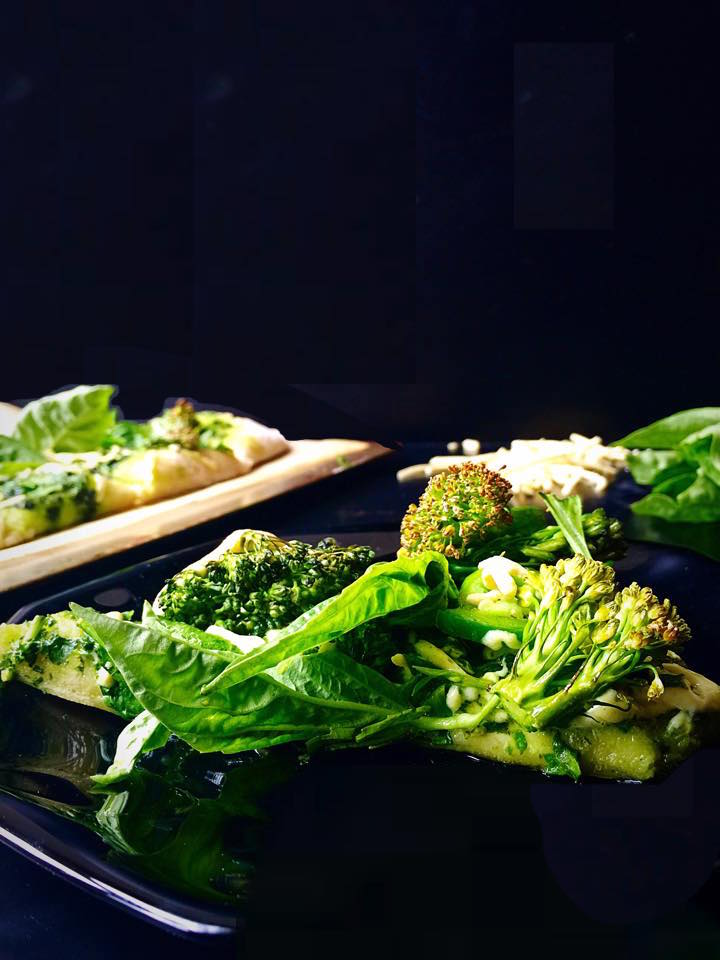 This pizza was loosely based off of my usual order at &pizza in DC- I've been really into making copycat recipes recently. The best part about this pizza is that there's really only one rule- find all the green things and put 'em on here. Enjoy!

Vegan Pesto Pizza Verde
Recipe type:
Lunch, Dinner
Prep time:
Cook time:
Total time:
This vegan pesto pizza verde celebrates spring- it begins with a basil spinach pesto base that is topped with spinach, jalapeno, broccoli, and basil and plenty of vegan mozzarella!
Ingredients
Basil Spinach Pesto
1 cup basil
2 cups spinach
2 cloves garlic
¼ cup olive oil
1 tsp lemon juice
salt to taste
Pizza and Toppings
1 pizza crust (I used Trader Joe's refrigerated dough)
½ cup spinach
1 jalapeno, sliced
1 shallot, sliced
½ cup chopped broccoli florets
¼ cup daiya mozzarella style shreds
½ cup basil leaves
Instructions
Preheat your oven to 425 F and line a large baking sheet with parchment paper.
Take dough out of fridge and let rest at room temp for 20 minutes, while you prepare your toppings.
Make pesto my combining ingredients in a food processor, adding salt to taste. Set aside and prep other toppings.
On a well floured surface, roll out pizza dough into desired shape (I went for a long oval). Transfer to lined sheet.
Spread pesto evenly over pizza. Add spinach, and then mozzarella style shreds. Lastly, top with jalapenos, shallots, and broccoli florets.
Bake in oven for 10-12 minutes (I like my crust on the doughy side, so adjust to your preference).
Remove from oven and cool on a wire rack. Top with fresh basil and serve.