Peaches are kind of the ultimate summer fruit. (Sorry mango, you win almost every other time, but let peaches have this one)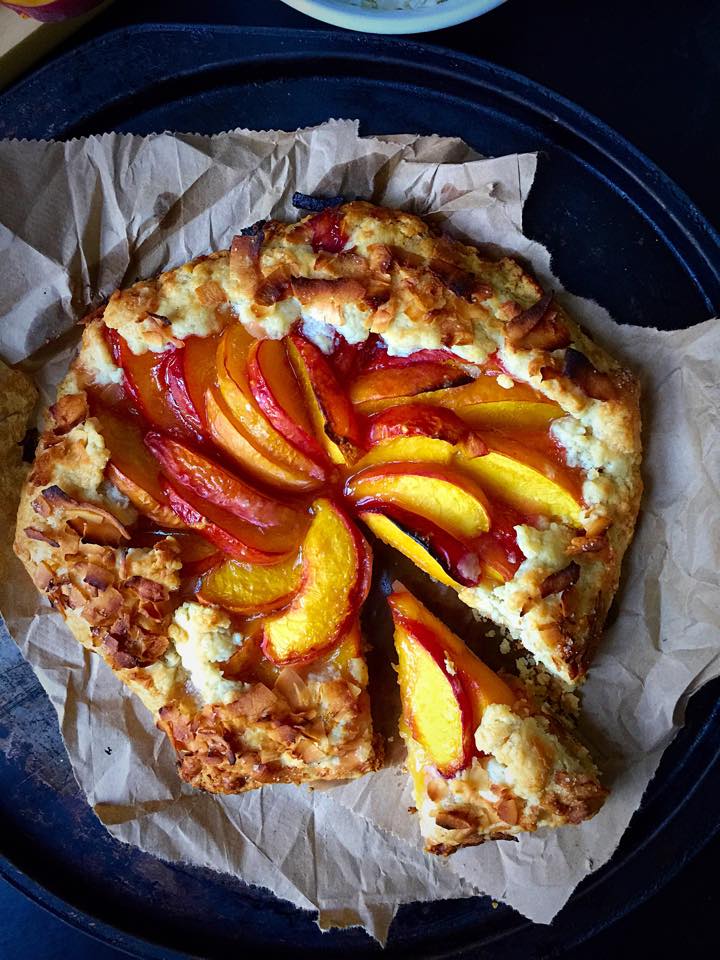 So it's kind of a shock to me that I have only one other peach recipe on this blog! Clearly I'm just an 'eat them fresh' kind of person. However, when I do bake my peaches, I love them with a little pastry.
Last year, I posted these minted peach turnovers. I shared a picture of them on Instagram yesterday, and it was a favorite, so I couldn't help but double up with this galette.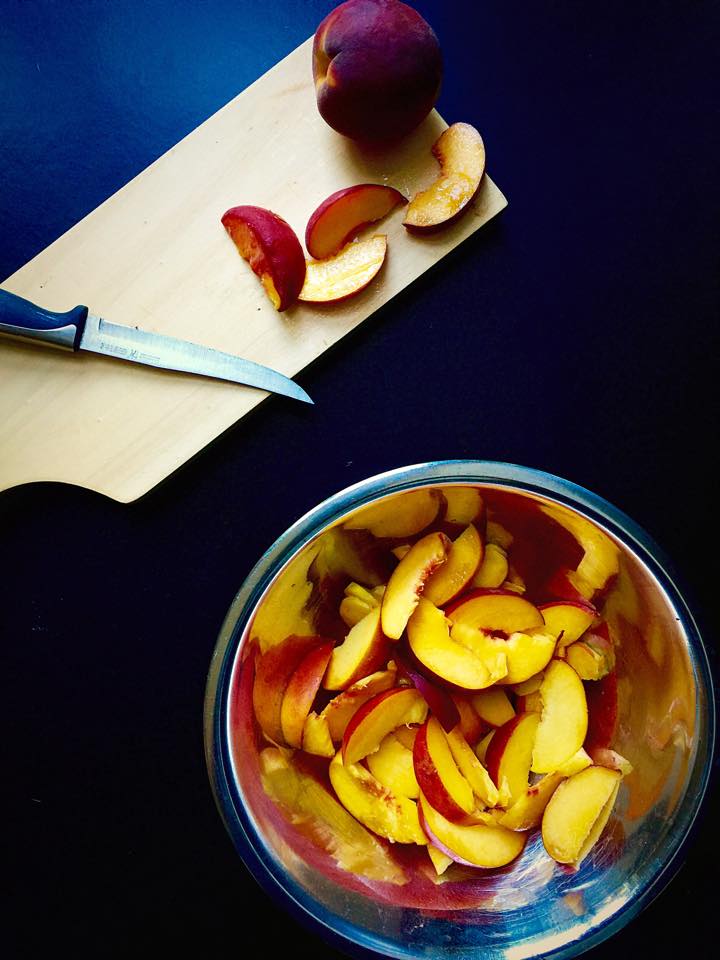 This was my first galette, and my first attempt at improvising a vegan pie pastry. Somehow, galettes seem less intimidating than pies, even though the tough part, the crust, is basically the same.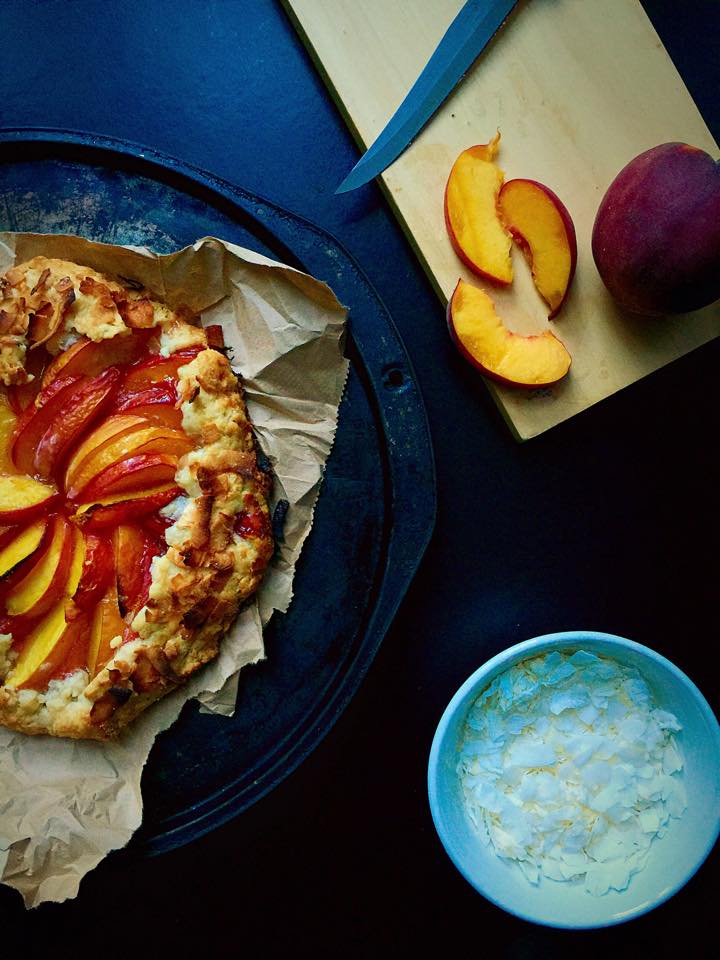 I made my crust with coconut oil and then topped off the pastry with dessicated coconut, which toasted in the oven for a perfectly textured crust.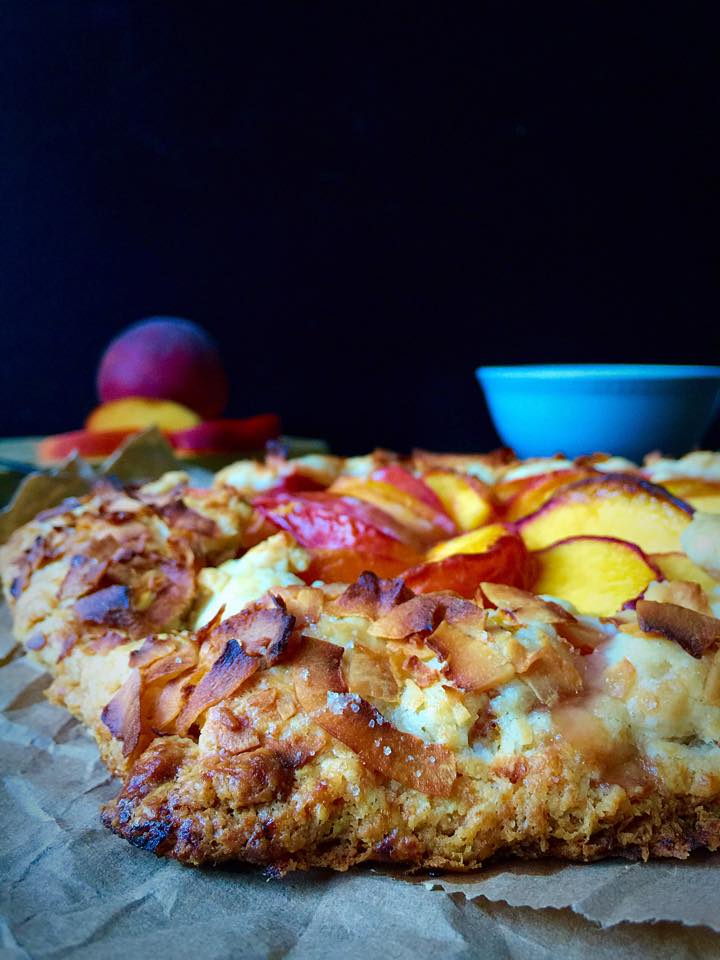 The filling is simple- the peaches are the star. I was so surprised by how easy this galette was to make, and how perfectly it turned out on the first try! This is definitely a must-try, even if you're not vegan, as summer comes to a close. Enjoy!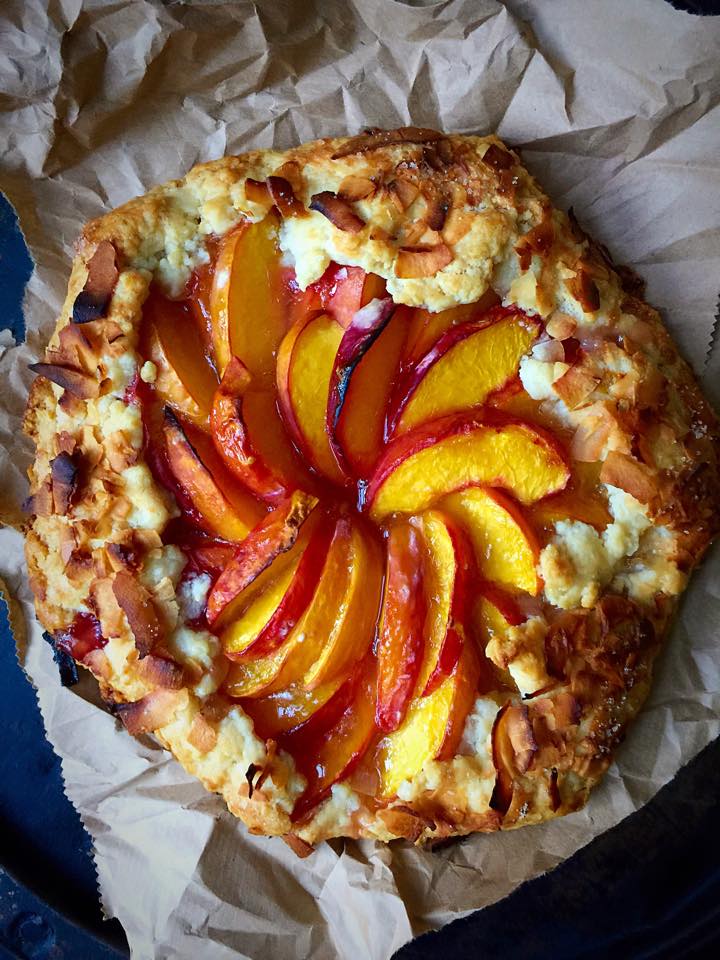 Vegan Peach Galette with Coconut Pastry
Prep time:
Cook time:
Total time:
This delicious and summery galette is easy and packed with peach flavor. The coconut oil and flaked coconut in the pastry add a tropical dynamic to this vegan dessert!
Ingredients
Pastry
1½ cups flour
1½ + 2 tsp cane sugar, divided
pinch salt
⅓ cup coconut oil, cold and solid
⅓ cup ice water
2-3 tbsp unsweetened flaked coconut
Pastry Wash
2 tbsp maple syrup
2 tbsp almond milk
Filling
3 peaches, sliced thinly
1 tbsp cornstarch
1 tbsp cane sugar
1 tsp vanilla extract
Instructions
To make pastry, combine flour, 1½ tsp cane sugar, salt, coconut oil, and ice water in a food processor, pulsing for about 10-15 seconds, until just barely combined.
Form into a disc and wrap in plastic wrap and/or parchment paper and refrigerate for an hour.
For filling, toss all ingredients and let sit for at least 10 minutes.
Preheat oven to 400 F.
After pastry dough is chilled, roll out into a somewhat-circular shape (doesn't need to be exact). If your dough is crumbly, don't worry! Sprinkle water until it stays together and feel free to use you hands rather than a rolling pin to press the dough into a circular shape.
Arrange the peaches on the pastry in two concentric circles, leaving about 1-2 inches of pastry as a border.
Fold pastry over the peaches and make sure all edges are sealed.
Combine wash ingredients. Using a pastry brush, brunch the outside of the pastry with the wash.
Press coconut into pastry and sprinkle with sugar.
Transfer galette to a parchment paper-line baking sheet and cook for 35-40 minutes, until coconut is toasted and peaches are bubbling and cooked.
Cool on a wire rack before serving.
*filling adapted from
here
, pastry adapted from
here
, and wash from
here