Okay folks, I've got a lot to say so stick with me.
First, real talk.
I've never made whoopie pies before. I've never HAD whoopie pies before. My experience with whoopie pies is limited to a going away party to which I brought tri-layer mini cheesecakes, and my friend brought some delicious looking Nutella filled whoopie pies that my little tummy was too full to even try.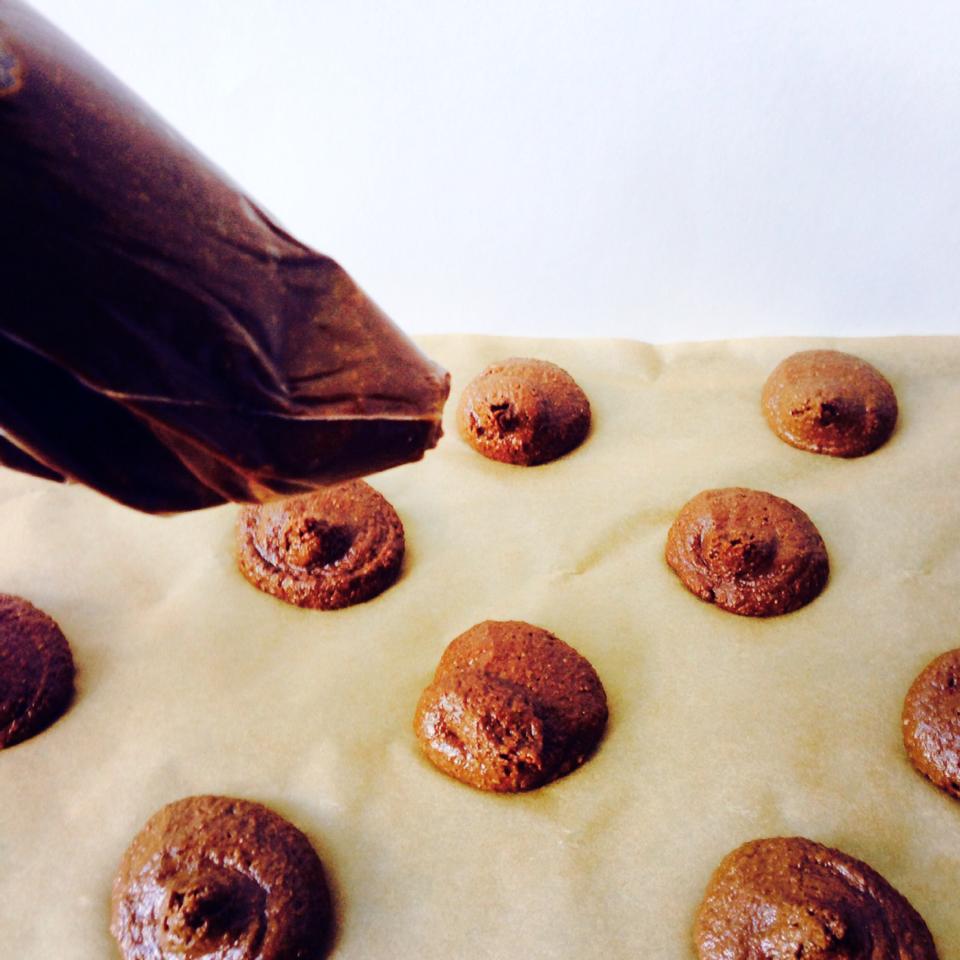 This brings us to point number two: these babies are foolproof. Honestly. I piped my first batch like Hershey kisses, spires rising up to the sky, challenging me, screaming, "We aren't going to bake flat!!!"
Defying all odds, I came out with perfectly springy, circular cakes.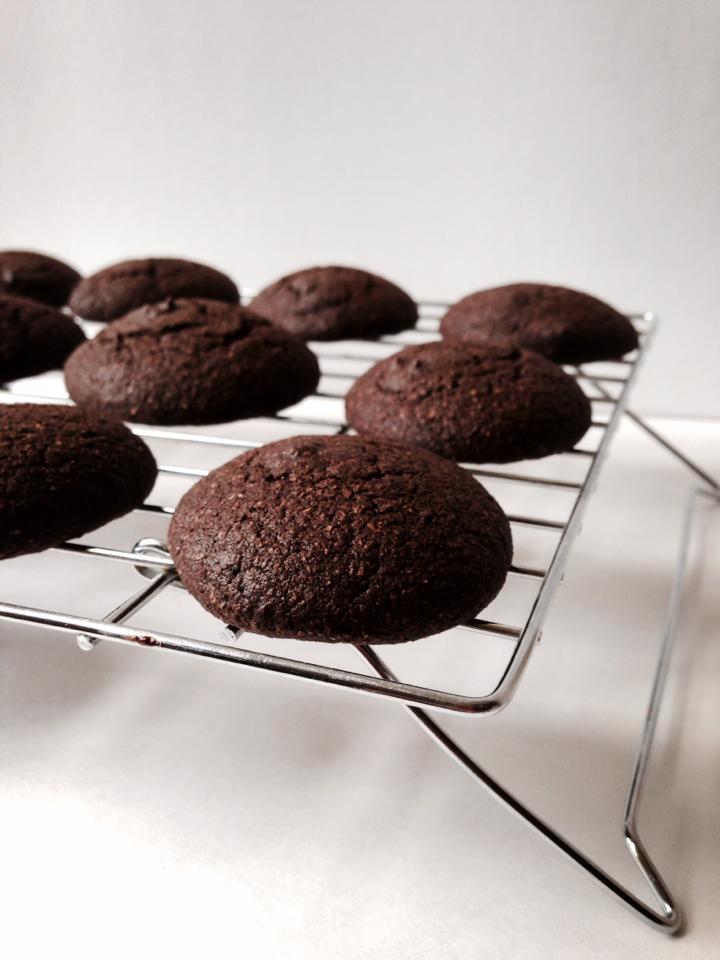 The second batch wasn't going to be photographed, so I haphazardly plopped uneven blobs onto the parchment paper. Yet, eleven minutes out of the oven and I swear they were better than the first lot.
And since the cake part is remarkably easy, it follows that the four-ingredient buttercream should be as well. Believe me when I say the only mistake you'll be making is filling up on this frosting before it makes it to the cakes.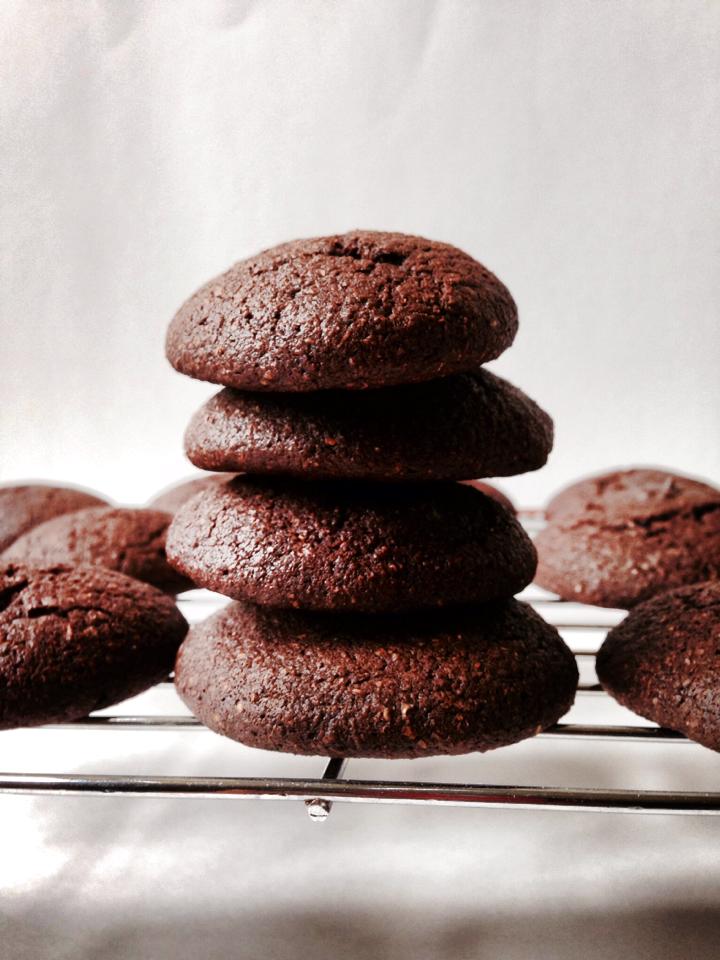 Don't worry, guys, I'm almost done talking. I've just got to tell you all the ways I made this packed with almond-joy goodness.
The cakes themselves are dark chocolate with a punch of tropical flavor, courtesy of coconut extract and almond milk. The buttercream is made with almond butter (I used raw, but roasted should be just as great or better), almond extract, powdered sugar, and room temp coconut oil for creaminess. And of course, we have some coconut sandwiched in as well.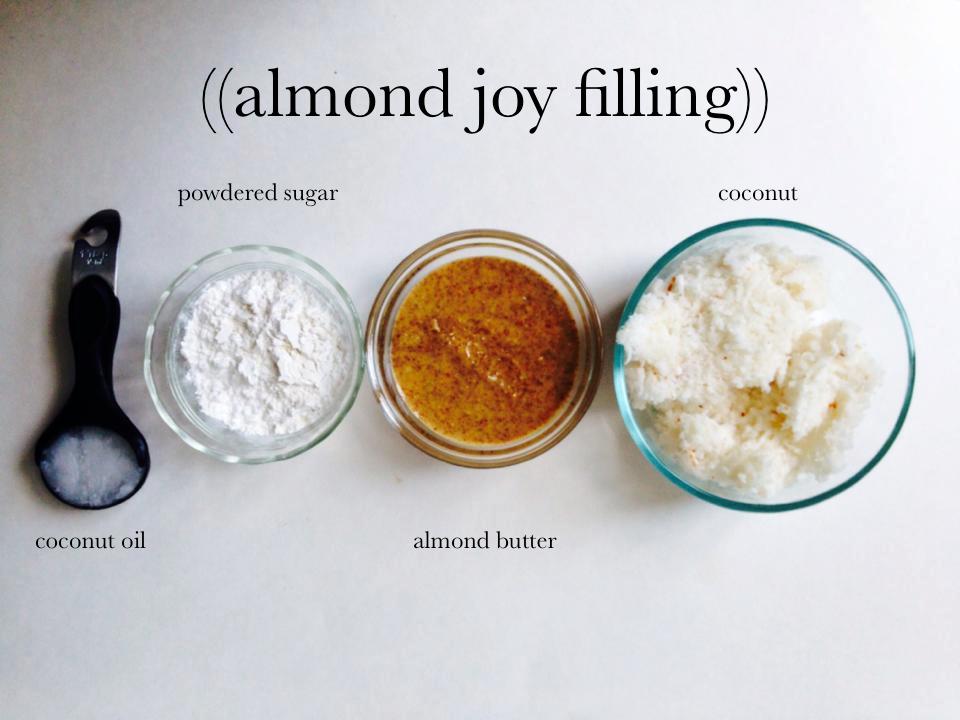 Guys, I'm salivating.
This buttercream is epic and you can expect to see it used in another dessert recipe I am thrilled to share.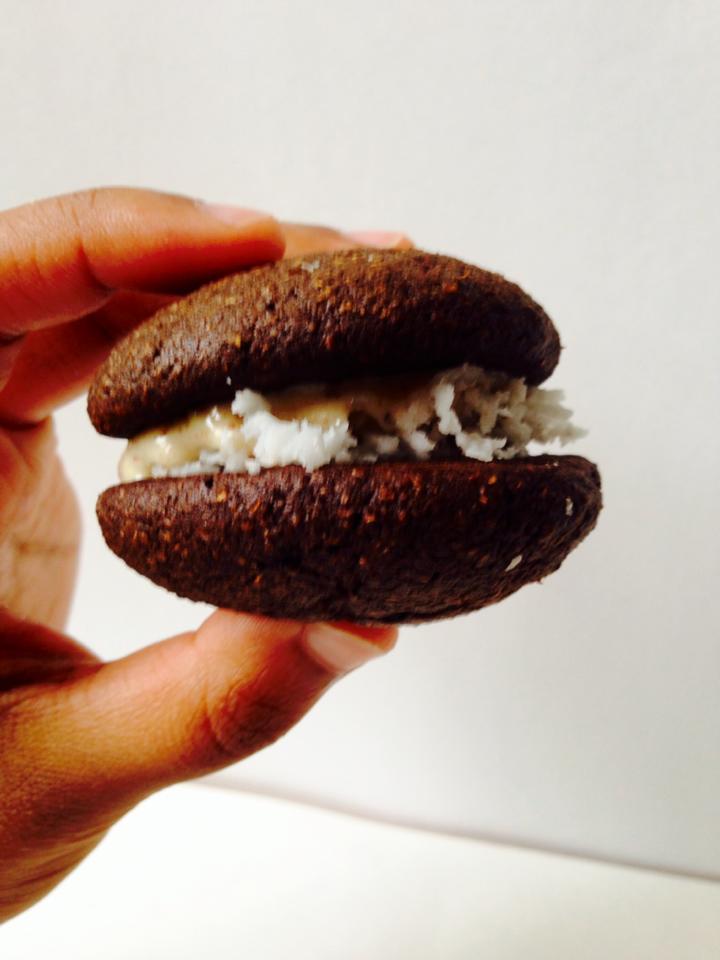 These pies aren't exactly health food. But they're vegan (and easily un-veganized for those who don't have all the vegan staples in their pantries), decadent, and soooo fun to make.
So, make them. Deal?

Vegan Almond Joy Whoopie Pies
Prep time:
Cook time:
Total time:
Creamy, rich, four-ingredient buttercream and coconut are sandwiched between two springy, dark chocolate cakes in these vegan whoopie pies. You can taste the Almond Joy in every bite!
Ingredients
Cakes
2 cups whole-wheat flour
½ cup unsweetened cocoa powder
1 ¼ tsp baking soda
1 tsp salt
1 cup unsweetened almond milk
1 tbsp lemon juice
1 tsp vanilla
1 tbsp coconut extract
1 stick (½ cup) vegan butter, at room temp
1 cup light brown sugar
1 ½ tsp Ener-G Egg Replacer + 2 tbsp water (= 1 egg)
Filling
4 tbsp coconut oil, at room temp
4 tbsp almond butter
¾ cup powdered sugar
1 tsp almond extract
½ cup shredded unsweetened coconut
Instructions
Preheat the oven to 350° F and line a baking sheet with greased parchment paper.
Mix flour, cocoa, baking soda, and salt together.
Separately, mix almond milk and lemon juice and set aside.
In a third, large bowl, cream your butter for about a minute with a mixer or a strong hand.
Add the sugar and vanilla and cream till fluffy.
Alternating, add the dry mixture and milk to the butter in intervals and mix till well combined.
Stir in the coconut extract.
Transfer the batter to a large Ziploc bag and cut off one corner. Use the bag to pipe out circles onto the parchment paper. The circles should be approximately 1 inch in diameter.
Bake in the oven for 10-12 minutes.
Meanwhile, mix together all the buttercream ingredients (except the coconut!) until creamy. If the mixture is too wet, add more powdered sugar. I suggest a ¼ cup each time.
When the cakes are done, let them cool on a wire rack.
To assemble, spoon about 1 tsp of buttercream on one cake, sprinkle coconut on the other, and sandwich together.
Refrigerate immediately until serving.
Notes
•To un-veganize, sub buttermilk for almond milk and lemon juice, a real egg for the replaced one, and real butter for the vegan butter as well as for the coconut oil if necessary.
•I used coconut oil to grease the parchment paper because I am an almond joy fiend.
*Cakes adapted from
here