You may have noticed an uptick in salads on this blog recently.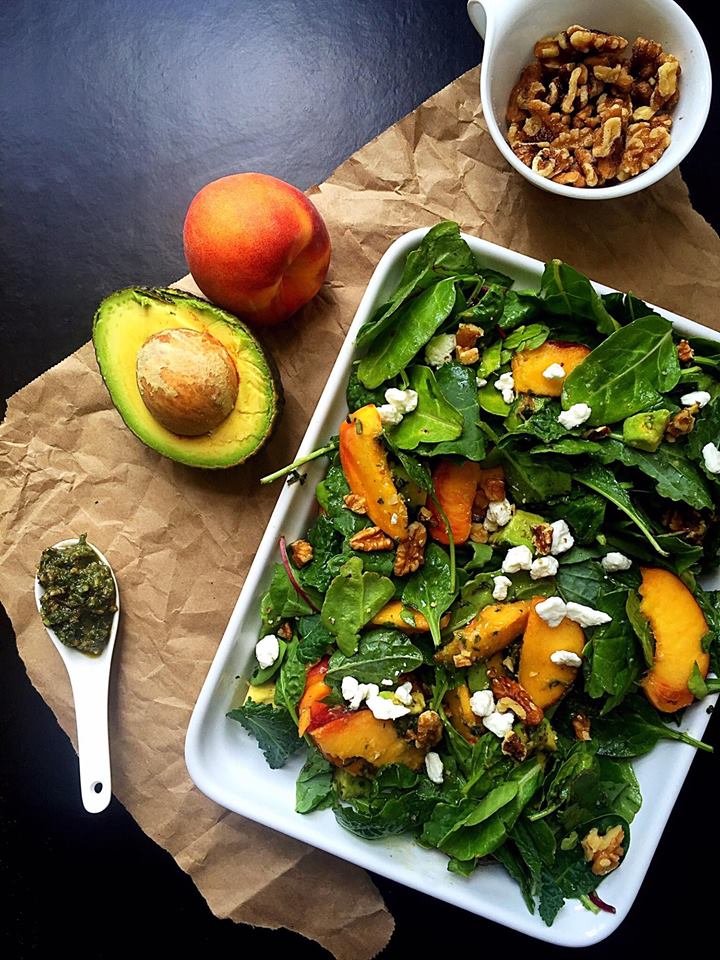 My pasta lovers, don't worry, I've still got plenty of offerings for you.
However, now that I'm home from college, I'm always craving the foods that are harder to get on campus: fresh berries, kale, homemade salad dressing. At any college there's an abundance of carbs, prepackaged food, and late night junk, so when I get home, I'm all about fresh foods.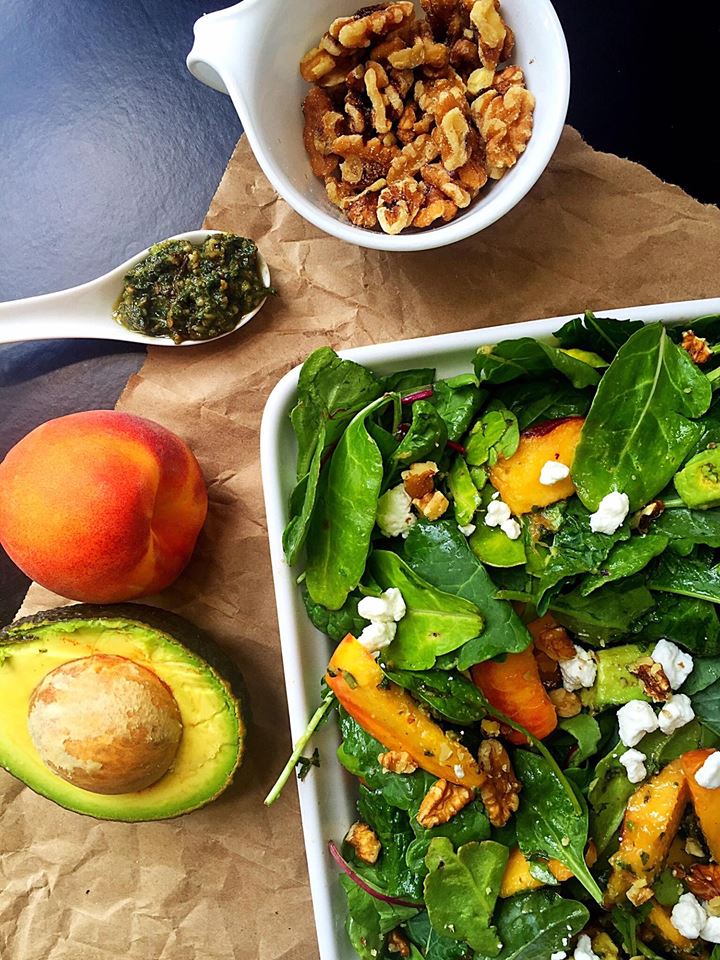 Plus, it's summer. It's super hot outside, and I have no desire to be turning on an oven (unless it's really worth it) or eating piping hot bowls of pasta or soup. My body temperature doesn't self-regulate well enough to permit that!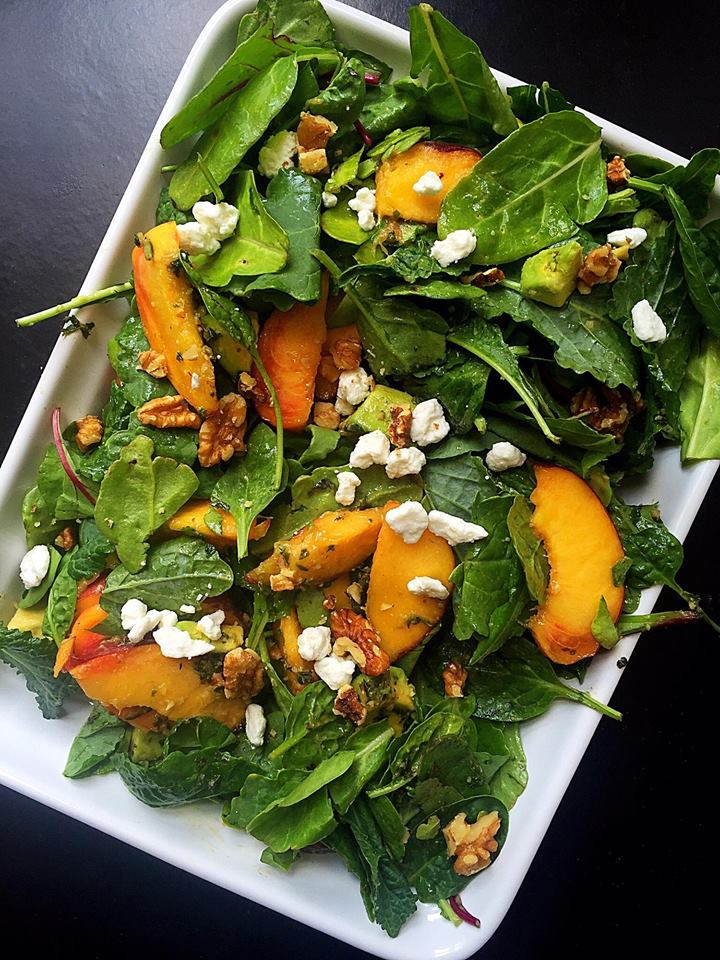 This salad brings out the best of peach season. Fresh peaches are tossed with baby kale, avocado, walnuts, and crumbled feta and topped with a delicious mint and basil pesto vinaigrette. Summer in a bowl!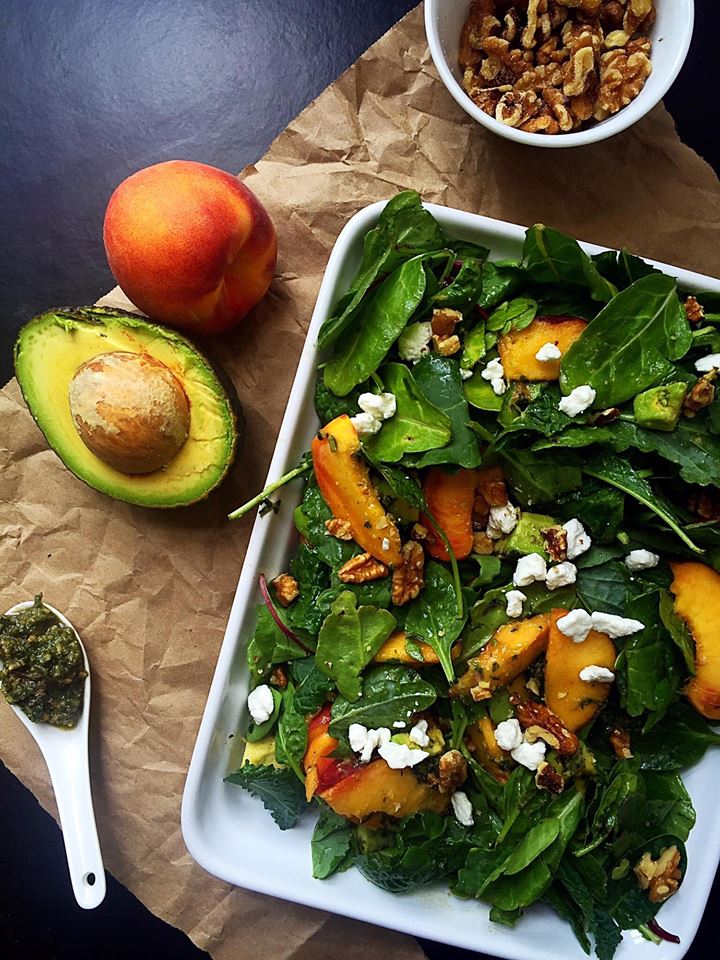 Enjoy xx
Summer Peach Salad with Pesto Dressing
Recipe type:
Salad, Appetizer, Side, Lunch
Serves:
2-3 as a main, 4-6 as a side
This fresh peach salad combines baby kale, avocado, and peaches with feta and walnuts and is dressed with a herb pesto vinaigrette!
Ingredients
2½ cups baby kale, rinsed
2 peaches, sliced
half an avocado, diced
¼ cup walnuts, divided
½ cup fresh basil
2-3 mint leaves
¼ cup olive oil
juice of half a lemon
¼ cup crumbled feta
Instructions
In a food processor combine 2 tbsp walnuts, basil, mint, olive oil, and lemon.
Toss pesto dressing with baby kale and top with peaches, avocado, crumbled feta, and remaining 2 tbsp walnuts.