Happy Monday, people!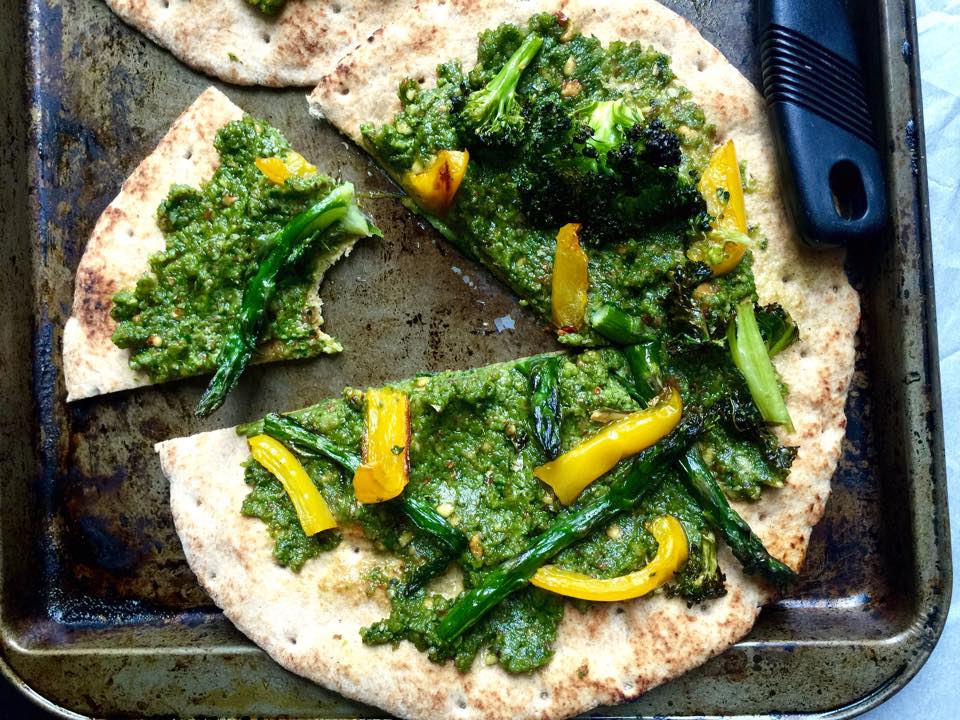 Today is an eventful day- preregistration for my first-ever college courses begins and AP scores come out! Plus, it's a day of rest after an incredibly successful performance by one of my closest friends on Sunday (sitting through hours of those rehearsals and not even dancing was worth it!)
But back to school stuff. Ugh, I know. It's summer. Why am I talking about school?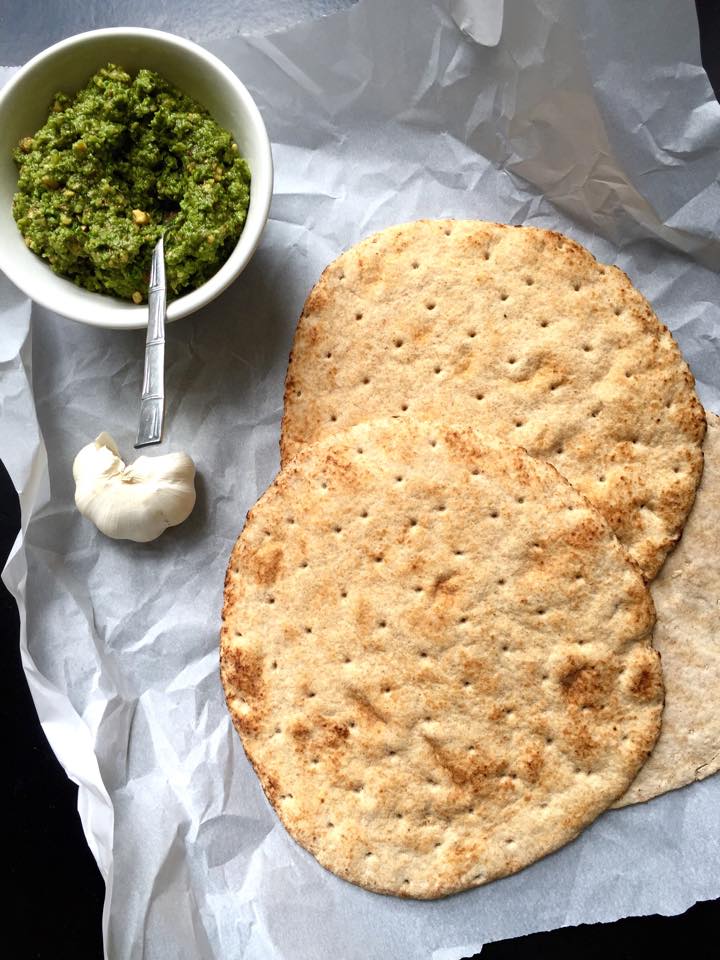 Because college. I'm so excited! It's going to be nice to be a freshman again and know I have four years to soak up the college life experience. And because AP score day is, for the first time, not at all stressful, because I already made it! I'm always anticipating successful scores, but the pressure is off, which is just amazing.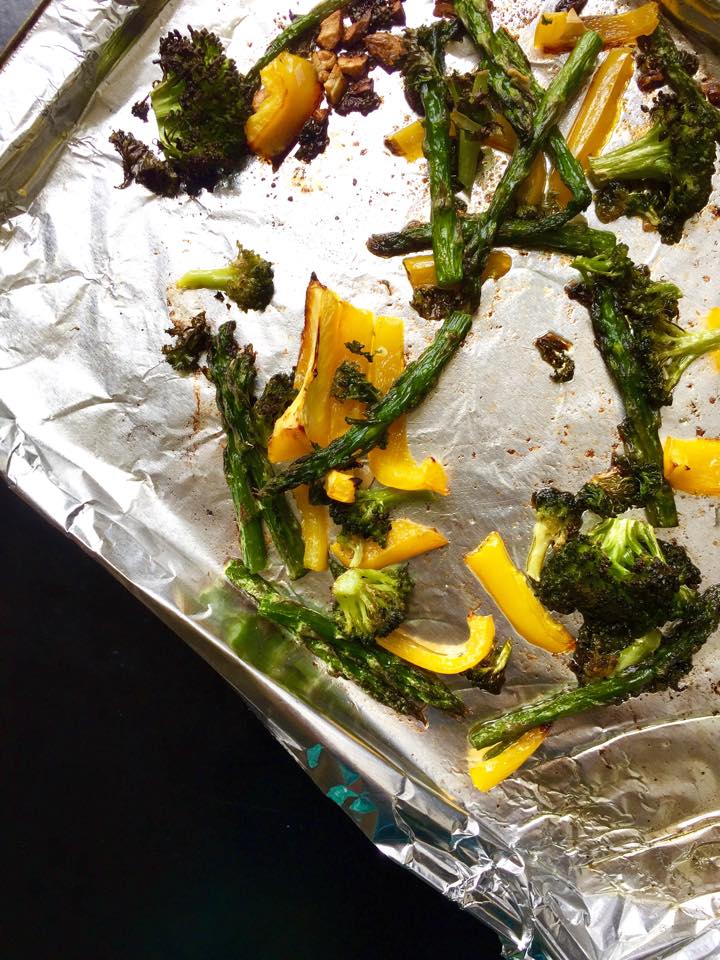 But enough about school- I've got two months of summer left and I plan to enjoy it. And by enjoy it, I mean by eating my way through July and August. Preferably eating these pizzas.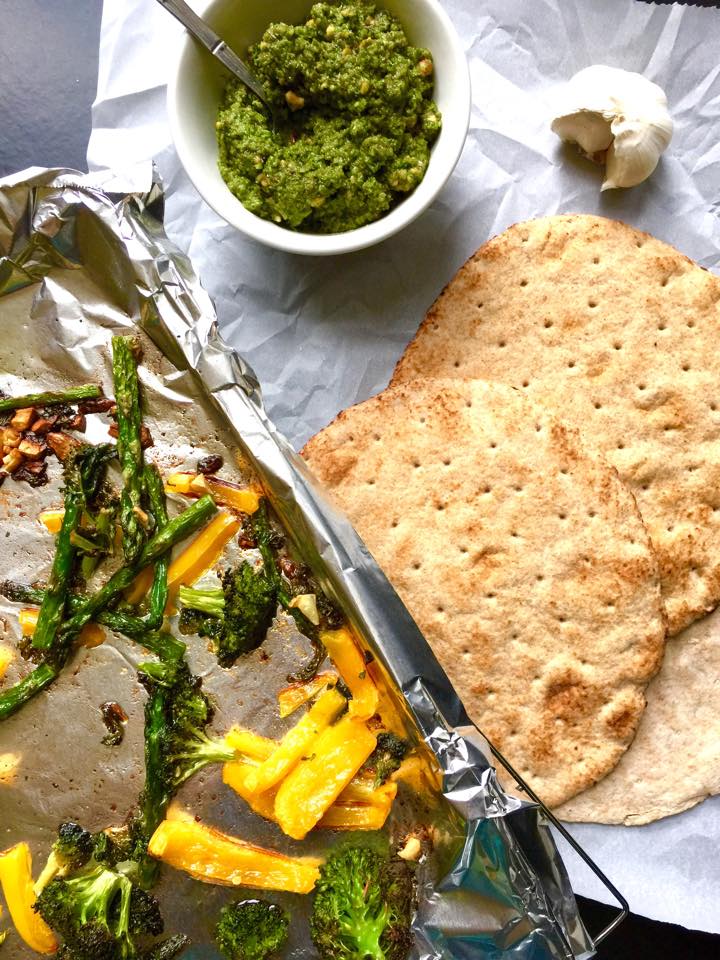 I wanted these to be naan pizzas because they're so #trendy, but then my mother kindly reminded me that naan is made with ghee and yogurt, and I am vegan (and also Indian, I should have realized that on my own) so that idea flew out the window. Then I saw these flatbreads at Trader Joe's and silently cheered. The pizzas were destined to be.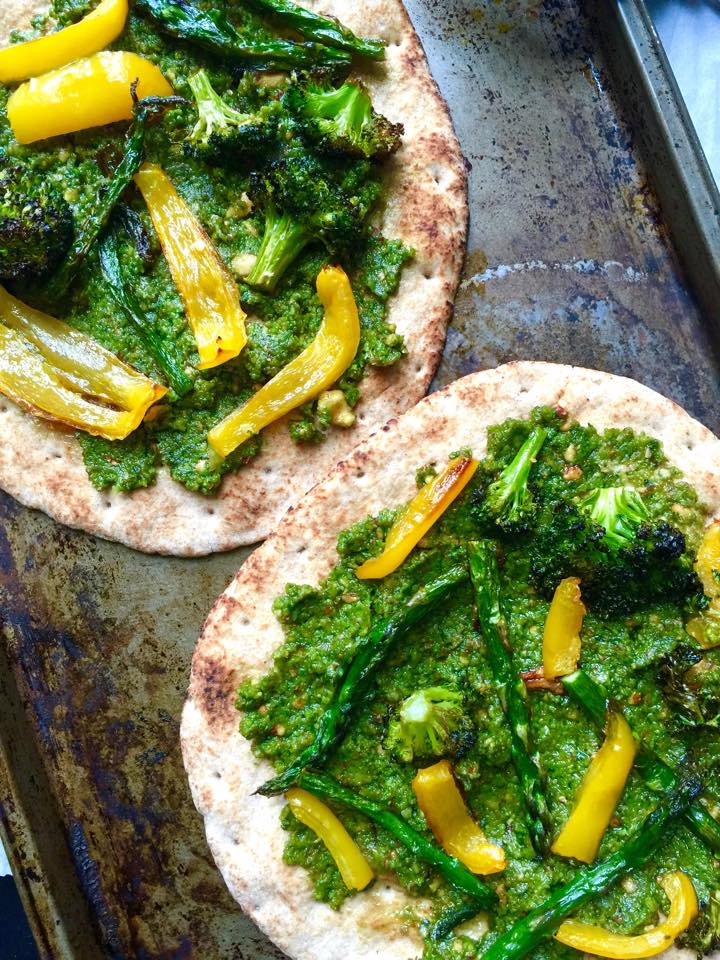 The base of these pizzas is a totally delicious spinach/basil/mint/walnut/almond pesto. I've done the classic basil/pine nut on this blog before, and I've whipped up spinach/walnut a million times and spinach/almond, so I thought I'd just throw everything in the food processor and try my luck.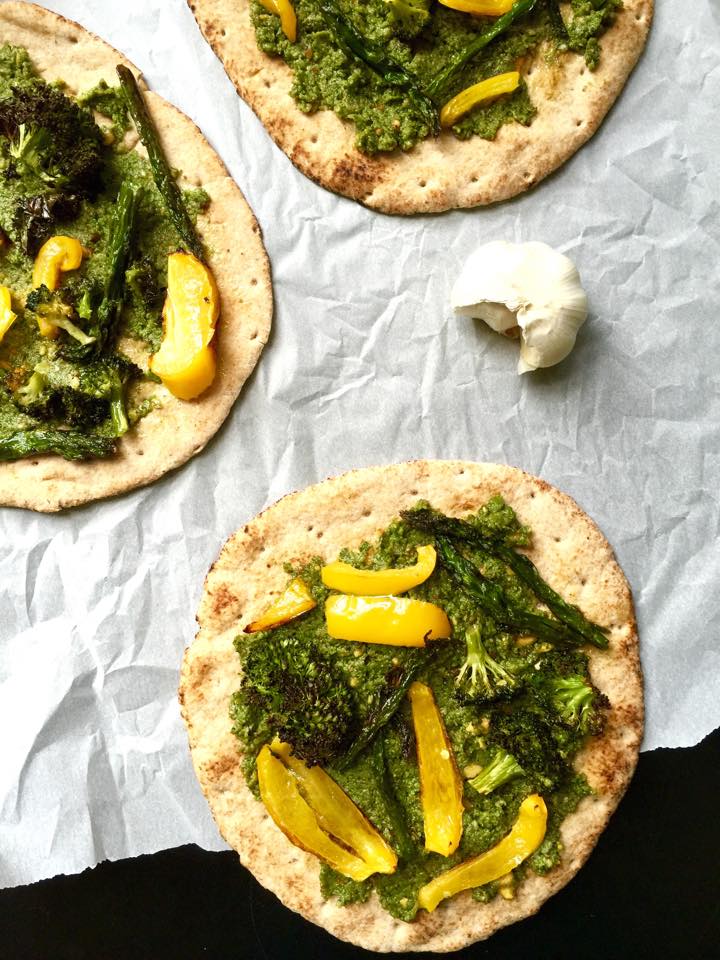 Guys, kitchen sink pesto is the way of the future. So good.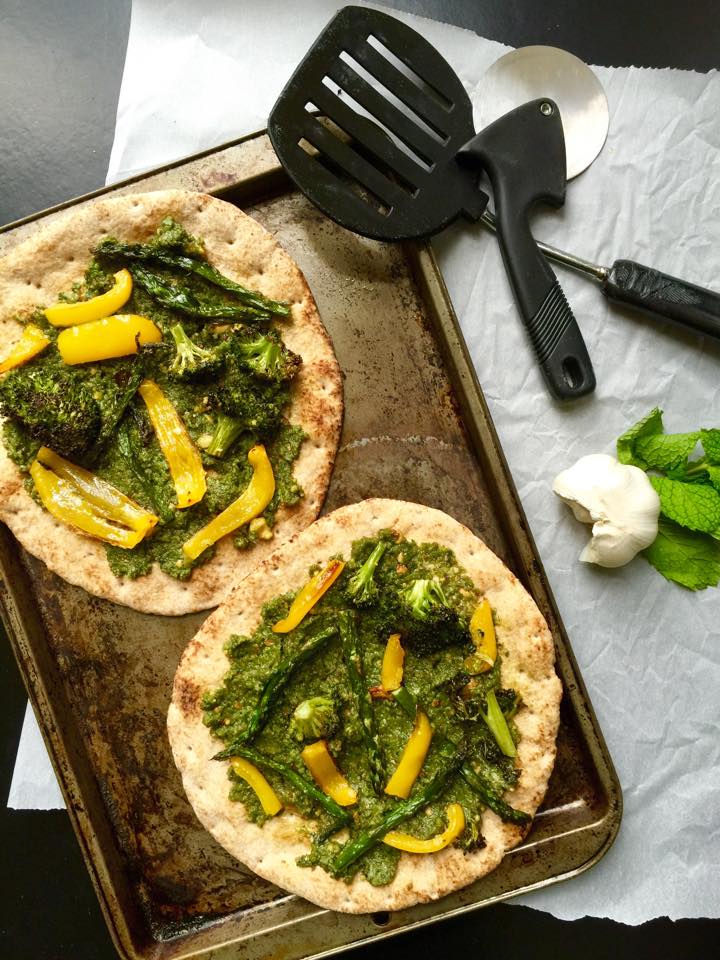 Then I roasted up some veggies (bell peppers, asparagus, broccoli, a leeeeetle kale) with garlic and olive oil and topped off the pizzas. So simple and soooo delicious!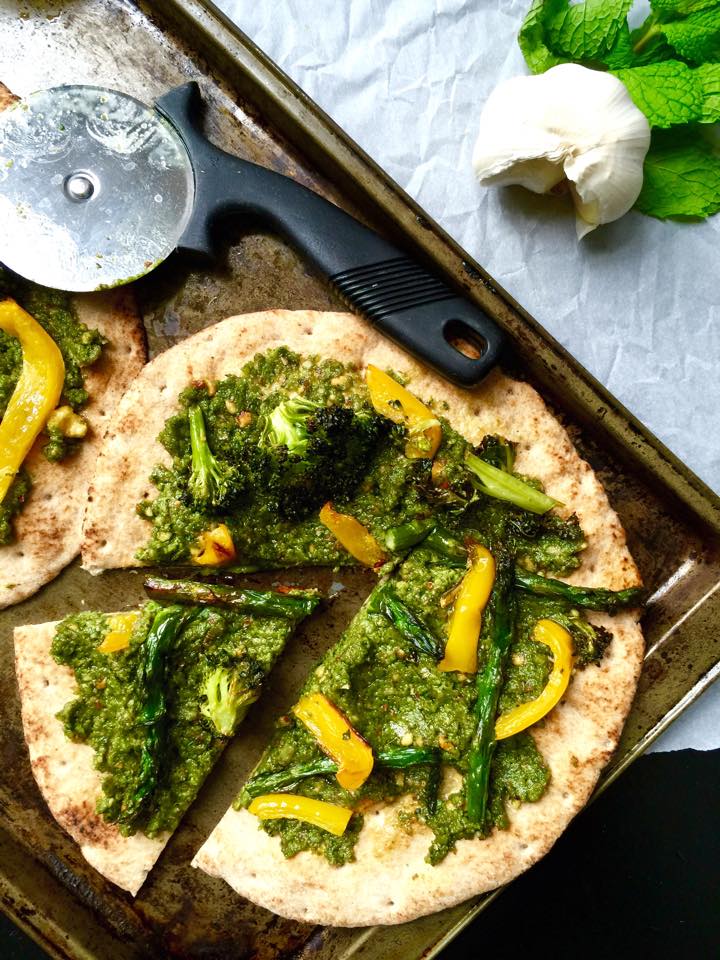 Enjoy! xx

Roasted Vegetable and Pesto Flatbread Pizzas
Recipe type:
Lunch, Dinner
Cuisine:
Mediterranean, Italian
Prep time:
Cook time:
Total time:
These flatbread pizzas come together in about 40 minutes and are topped with fresh pesto and roasted vegetables. Colorful and delicious, this easy meal is both healthy and flavorful!
Ingredients
3 flatbreads (can also use naan, if not vegan)
¼ cup + 2 tbsp olive oil, divided
2 cloves garlic, minced
½ yellow bell pepper, sliced
⅔ cup broccoli florets, chopped
2-3 oz asparagus, chopped (about 5 stalks)
1 cup packed basil
1 cup packed spinach
4-6 mint leaves
¼ cup walnuts
¼ cup almonds
salt to taste
1 tsp lemon juice
Instructions
Preheat your oven to 400 F. Toss pepper, broccoli, and asparagus with 2 tbsp olive oil, 1 clove minced garlic, and a pinch of salt.
Spread mixture onto a foil-lined baking tray and cook for 25-30 minutes.
Remove from oven (turn off oven) and let cool on wire rack.
In a food processor, combine ¼ cup olive oil, 1 clove minced garlic, mint, basil, spinach, walnuts, almonds, lemon juice, and salt to taste to make pesto.
Spread pesto evenly between the three flatbreads. Top with roasted vegetables.
Return flatbreads to cooling oven for 5-15 minutes to warm, checking often to make sure flatbreads are not burning. Serve.