I'm excited about this one, guys.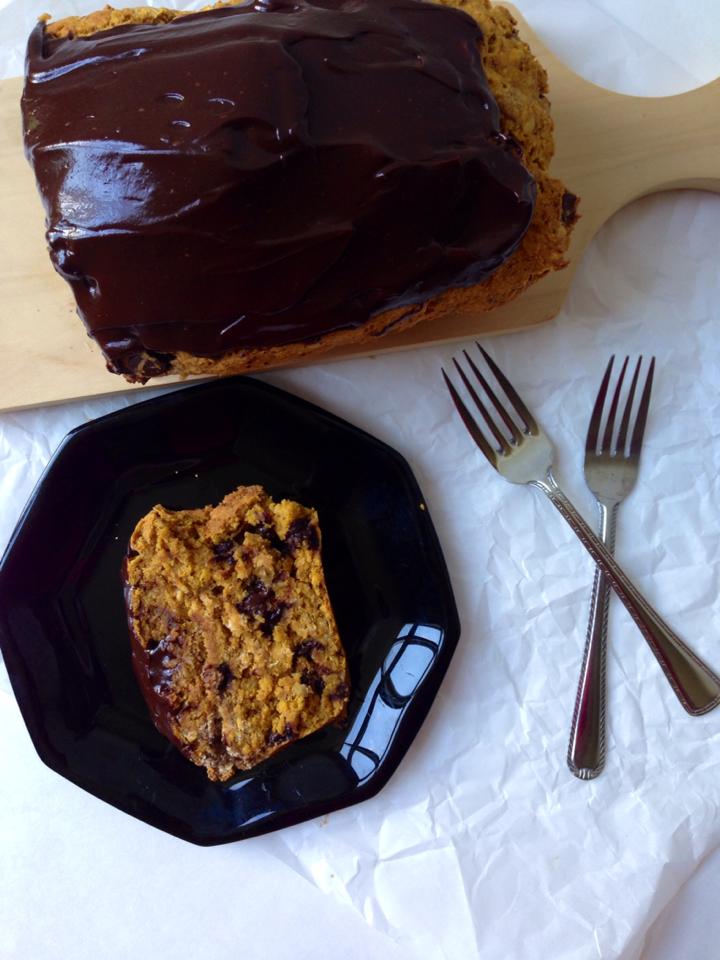 For one thing, it was so darn easy to make. None of my recipes are ever particularly intricate, but this one is beyond simple.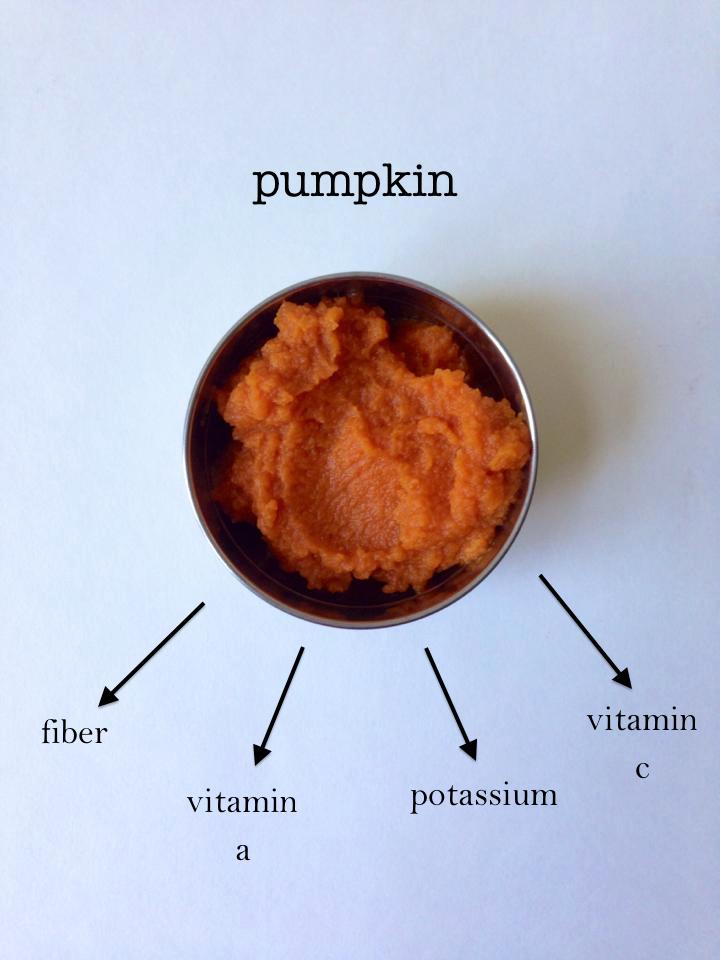 One bowl, put all the ingredients in, stir it a little (or, if you're like me, wash your hands and put them to work!), and stick it in the oven.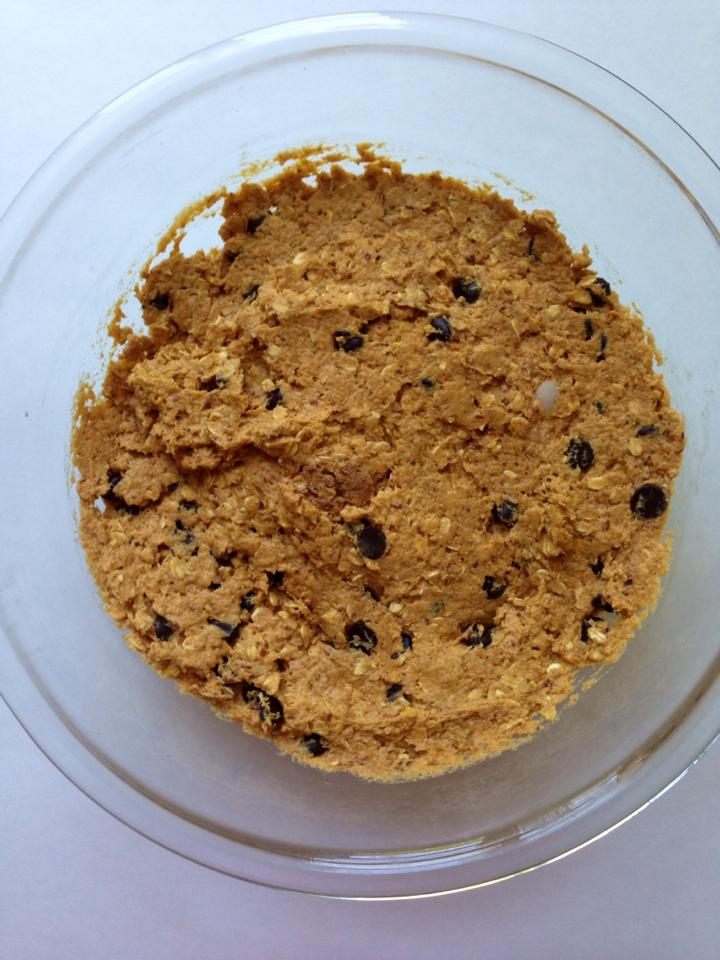 No mixer, no waiting for butter to soften, no mashing things, and certainly no using-every-measuring-cup-and-spoon-I-own.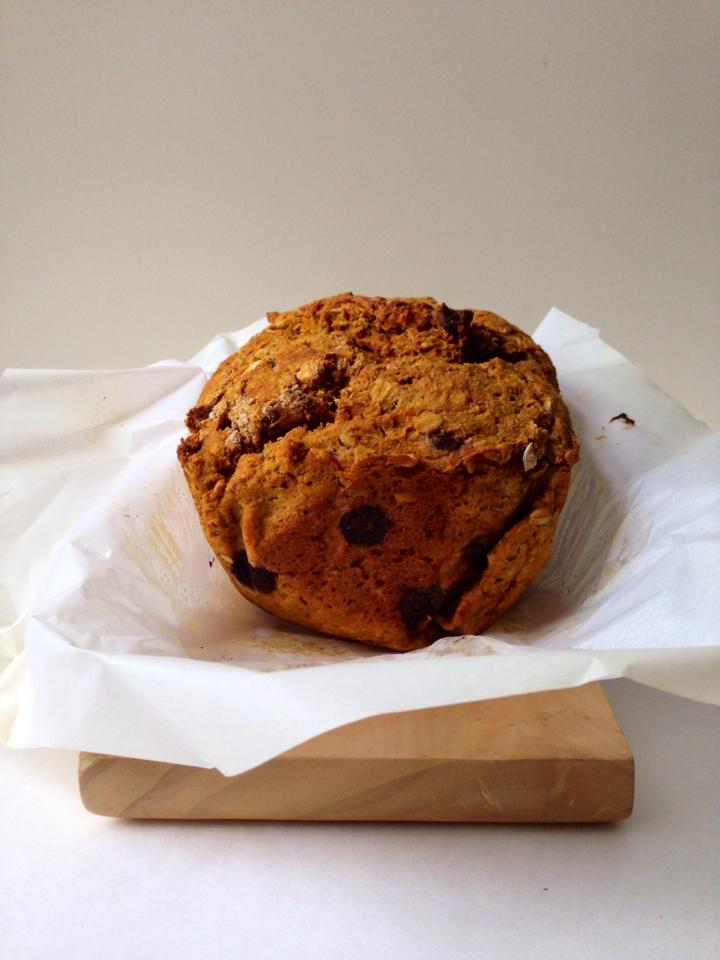 This bread is perfect on its own, but a quick four-ingredient vegan ganache takes it over the edge. This ganache is small batch for this recipe (so you don't end up making enough to frost a four layer cake!) and takes honestly under five minutes.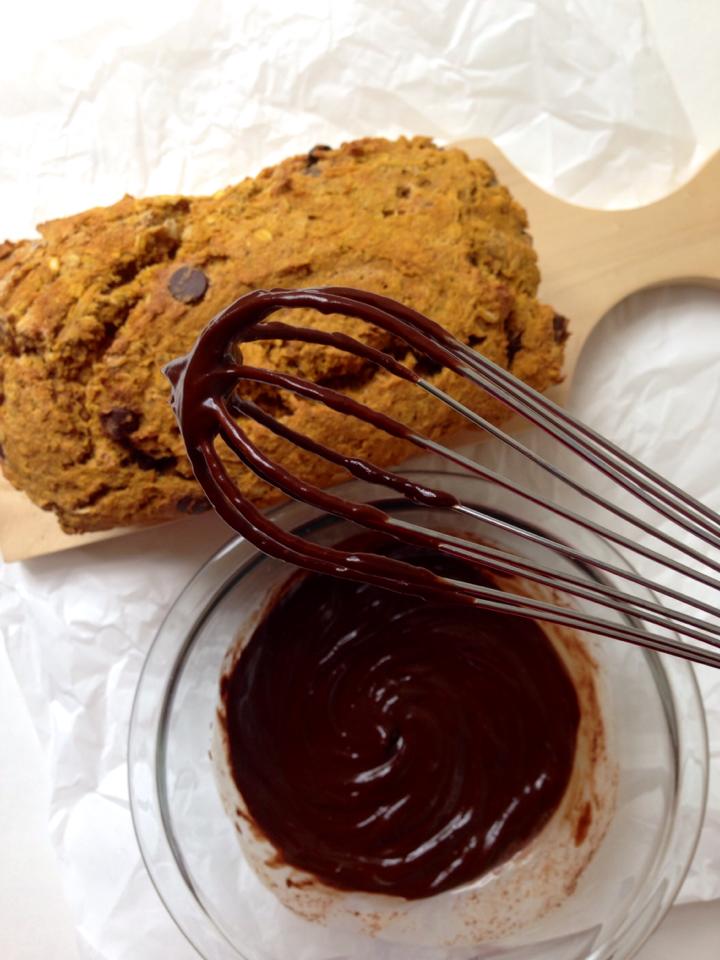 It's creamy, thickly chocolatey, and a perfect topping for this autumn inspired bread.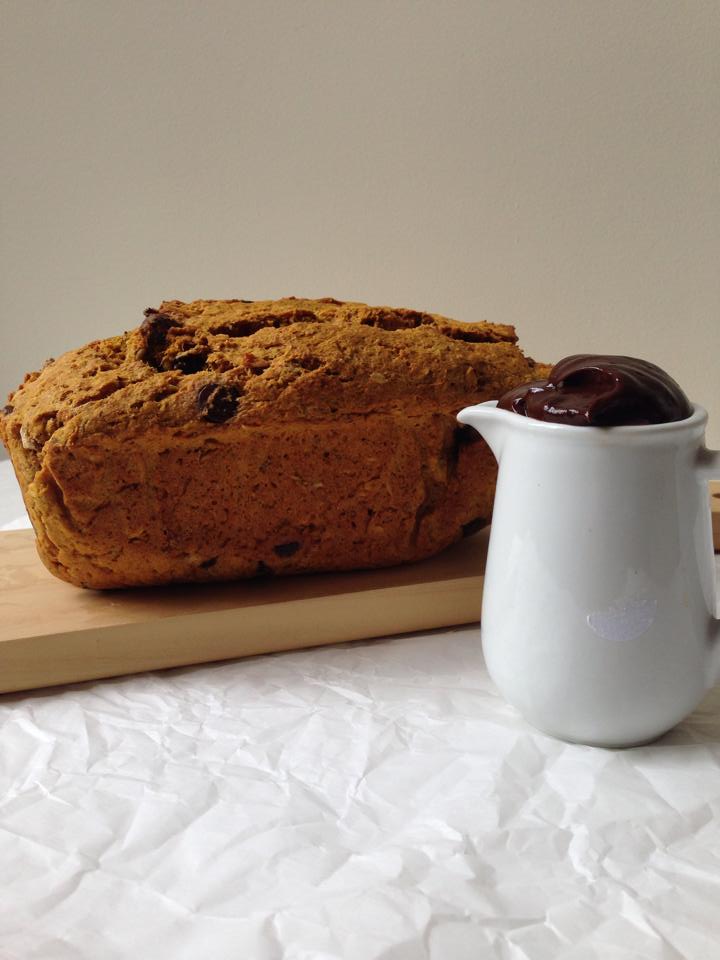 I'd write more, but I want to go look at the pictures of this beauty. And then maybe go eat another slice.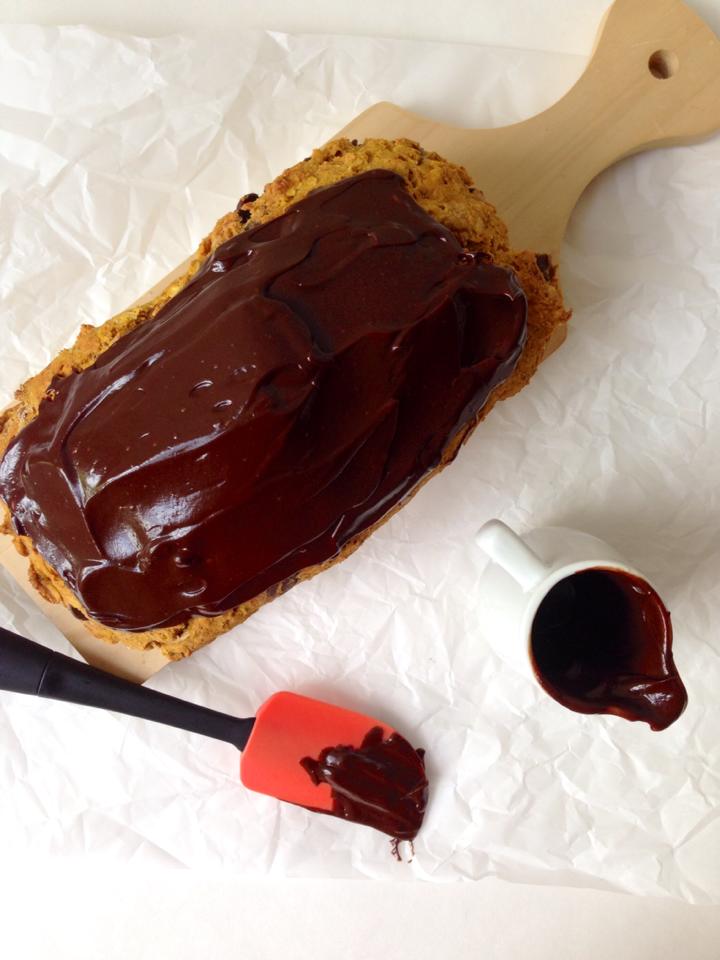 And then another.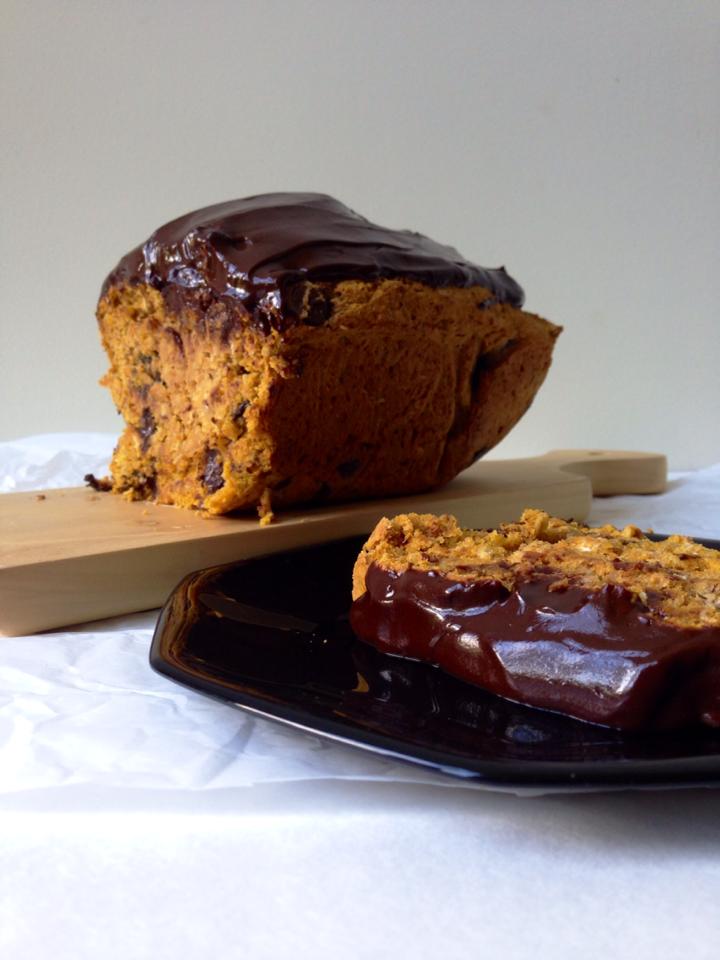 (You see where this is going?)

One Bowl Vegan Pumpkin Chocolate Chip Bread with Chocolate Ganache
Prep time:
Cook time:
Total time:
Serves:
6-8 generous slices
An easy, one-bowl autumn pumpkin bread studded with chocolate chips and drenched in a rich chocolate ganache- all dairy-free!
Ingredients
Pumpkin Chocolate Chip Bread
1- 15 oz can of pumpkin purée
1 tbsp vanilla extract
¾ cup almond milk
1 flax egg (= 1 tbsp flaxseed meal + 3 tbsp water, set aside for two minutes)
3 tbsp coconut oil
¼ cup cane sugar
¼ cup brown sugar
4 tsp baking powder
1 tsp salt
2 heaping tbsp pumpkin pie spice
2½ cups flour
1¼ cups rolled oats
½ cup vegan chocolate chips
Chocolate Ganache
1 cup almond milk
1 tbsp cornstarch
1-2 tsp coconut oil
⅔ cup vegan chocolate chips
Instructions
Preheat oven to 350° F and line a loaf pan with parchment paper.
Combine all pumpkin bread ingredients and mix with a large spoon or clean hands.
Pour mixture into lined loaf pan and bake in preheated oven for 45 minutes.
Remove and cool on a wire rack.
For ganache, combine almond milk and cornstarch in a saucepan over high heat until just boiling, stirring constantly.
Remove from heat and stir in coconut oil.
Place chocolate chips in a bowl and pour almond milk mixture over top.
Let sit for 2 minutes or until chocolate is melty, and whisk thoroughly.
Serve over pumpkin bread.