I've never had cable tv, so I definitely missed out on the Food Network obsession phase that I know many food bloggers go through (or are still in).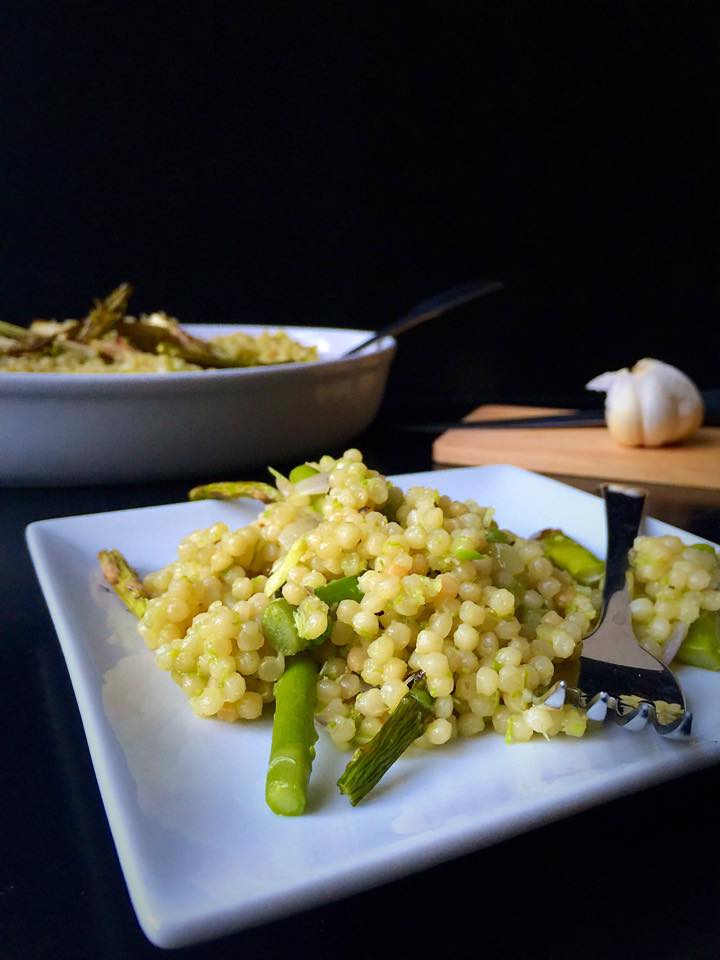 So when Masterchef premiered on Fox, it became my obsession. I learned so much about how disastrous baking is under a time crunch, and I discovered that the sure-fire way to impress Gordon Ramsay is to use one ingredient multiple ways.
I don't know what it is, but when a contestant on any cooking competition uses an ingredient "four ways", it automatically sounds super impressive. So I figured I'd put my Masterchef skills to the test.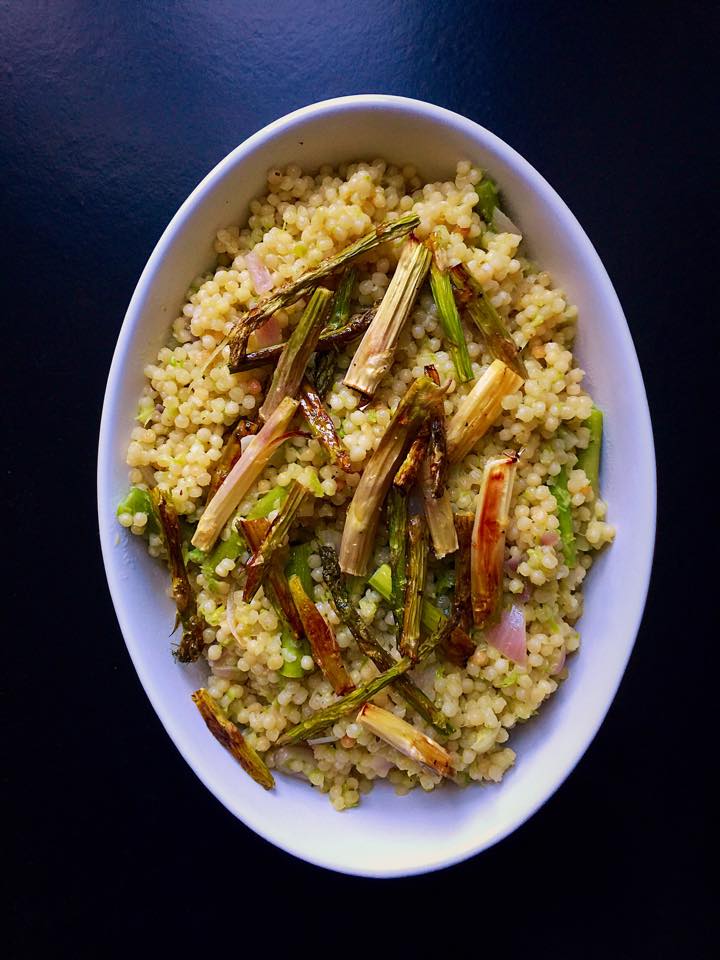 I love spring food. Green things are my favorite, and they taste so fresh and lively when the weather warms up. Creamy and carby dishes are so comforting during the winter, but sometimes it's nice to turn off the oven and eat some veggies.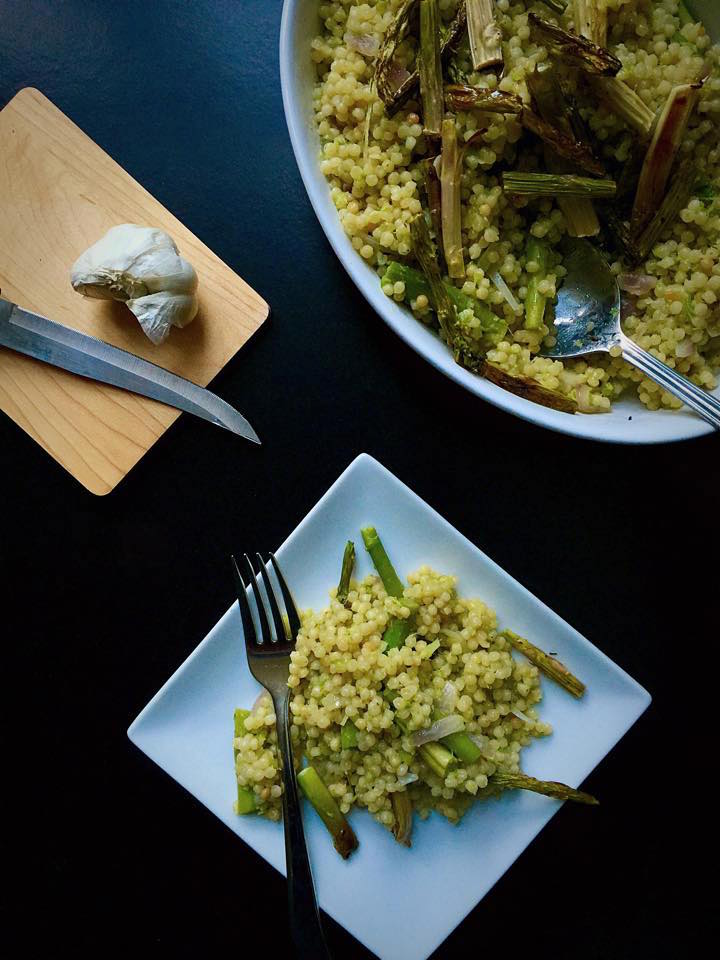 I recently discovered that at my local gym at home, you get cable TV. People, this is life changing. I used to drag myself to the treadmill, and now that I have Chopped and the Pioneer Woman, I can barely get off the treadmill.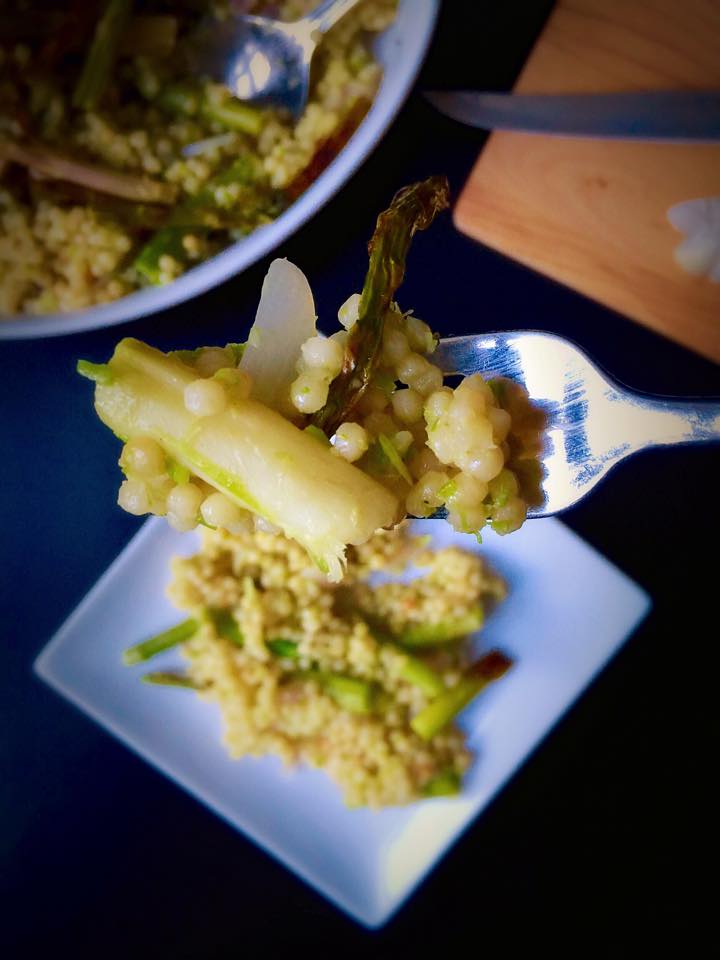 All this exposure to cable food tv has made me eager to try this fancy "multiple ways" technique. And since spring is all about the green, I went with asparagus. This "risotto" is made with one of my favorite grains, Israeli (or pearl) couscous. The asparagus is three ways: roasted, sautéed, and puréed.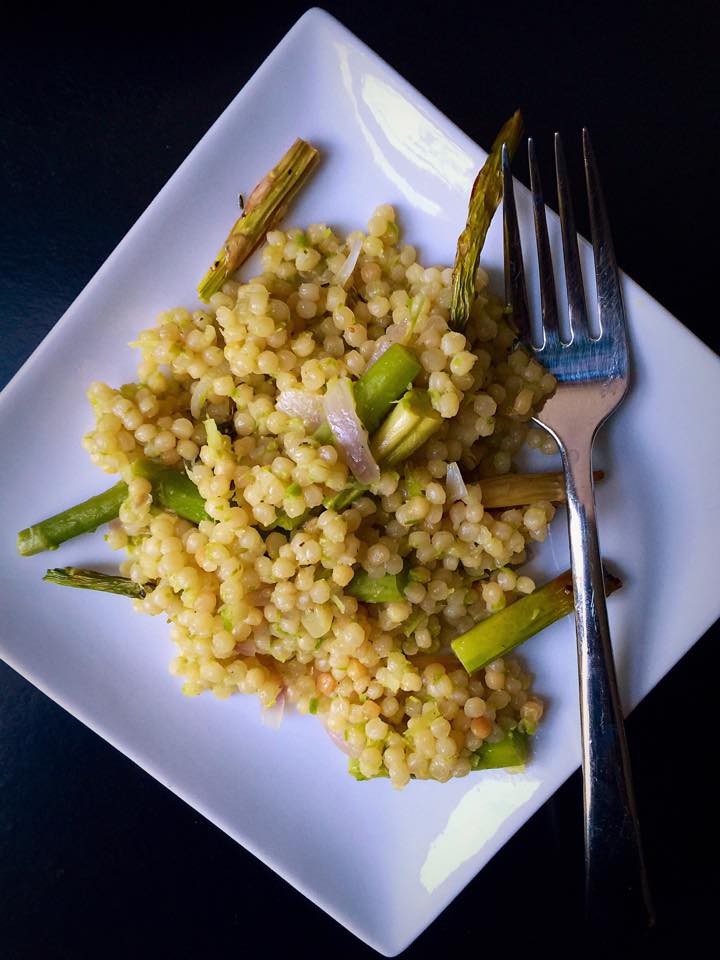 If you ever have Gordon Ramsay over for dinner (the dream), you know what to make! Enjoy xx

Israeli Couscous Risotto with Asparagus Three Ways
Recipe type:
Lunch, Dinner
Prep time:
Cook time:
Total time:
This delicious risotto is made with pearl couscous and asparagus three ways (roasted, sautéed, and puréed). Creamy and bursting with spring flavor, this hearty dish really celebrates asparagus.
Ingredients
Roasted asparagus
⅓ of your asparagus, chopped
2 tsp olive oil
¼ tsp lemon juice
¼ tsp sea salt
¼ tsp pepper
Sautéed Asparagus
1 tbsp olive oil
2 cloves garlic, minced
1 small red onion, diced
Pepper
¼ tsp oregano
¼ tsp thyme
½ tsp garlic powder
¼ tsp dried basil
⅓ of your asparagus
Asparagus Purée
⅓ of your asparagus
2+ ¼ cups water
Pinch salt
Other
1 package of Israeli couscous
1-2 tsp salt + more to taste
1 tsp pepper
Instructions
Preheat your oven to 350 F. Line a baking tray with aluminum foil.
Toss all the ingredients for the roasted asparagus and spread on the baking sheet.
Bake for 30 minutes.
Meanwhile, heat 2 cups of salted water in a small saucepan until boiling. Chop and add ⅓ of your asparagus to the boiling water and let cook.
In another deep-bottomed pot, combine oil, garlic, and onion over low medium heat until sizzling. Stir until onions are translucent and add pepper, oregano, thyme, garlic powder, and basil. Chop the last third of the asparagus and add to the pot. Turn the heat up to medium.
Add the dry coucous to the pot and toss with the sautéed asparagus, watching to see the couscous toast to a golden brown color.
Drain the boiling water/asparagus by placing a pot under a colander to collect the cooking water. Take the cooked asparagus and process it with ¼ cup (new) water and a pinch salt until liquified. Set purée aside.
Take the reserved cooking water and reheat in the old saucepan until boiling. Yes, the water will be green!
Add the boiling water to the lightly toasted couscous/sautéed asparagus in the larger pot and turn the heat up to medium high.
Stir thoroughly to prevent the couscous from sticking- it will cook quickly!
Stir in the asparagus purée and add salt and pepper to taste.
Serve!