Every year, after Healthy January, I do a speedy reversal and post a ton of indulgent recipes during "Trashed Up February".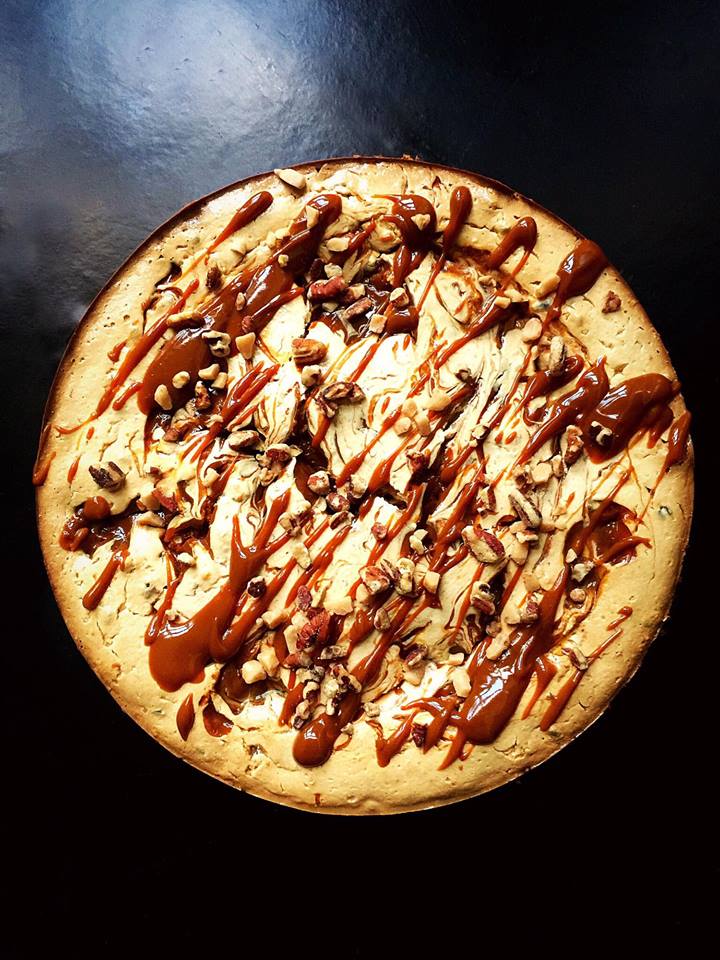 Life's about balance, right?
Plus, I figured, since Valentine's Day is around the corner, I could do you guys a solid and post the best dessert ever.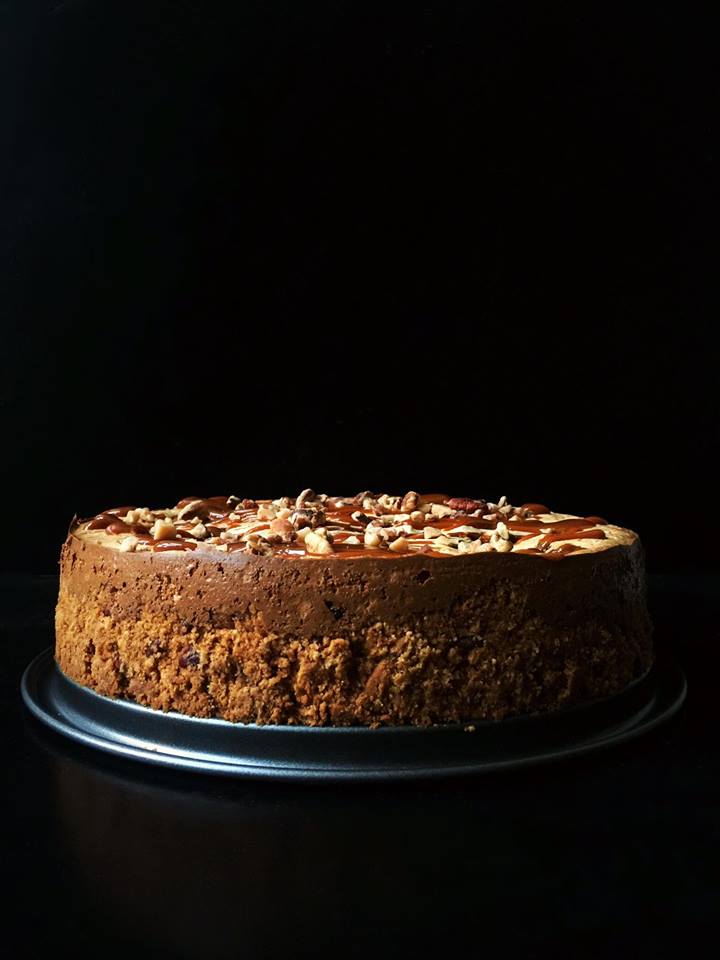 This cheesecake is majorly delicious. White chocolate cheesecake is filled with toffee bits and pecans, and swirled AND topped with creamy, rich dulce de leche.
Definitely not health food, but definitely delicious.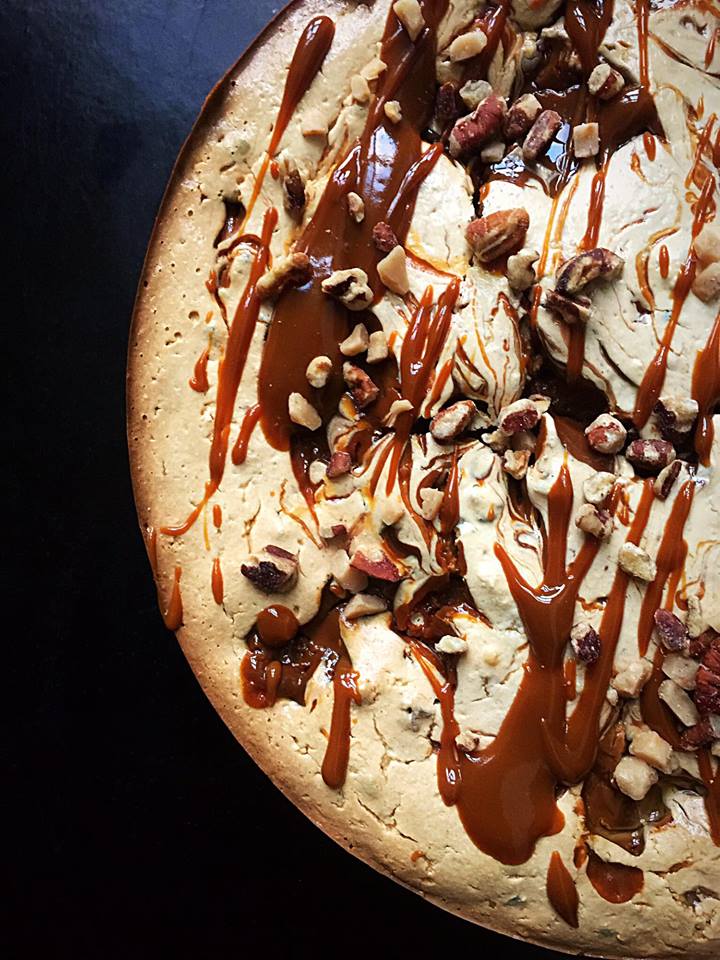 Cheesecake is my favorite dessert. And yet, I never made it myself. (1) Because there are like three different Cheesecake Factory locations within 20 minutes of my house (I'm a little obsessed) and (2) Because cheesecakes are intimidating to make!
Little did I know that they're less work than making sugar cookies (seriously!).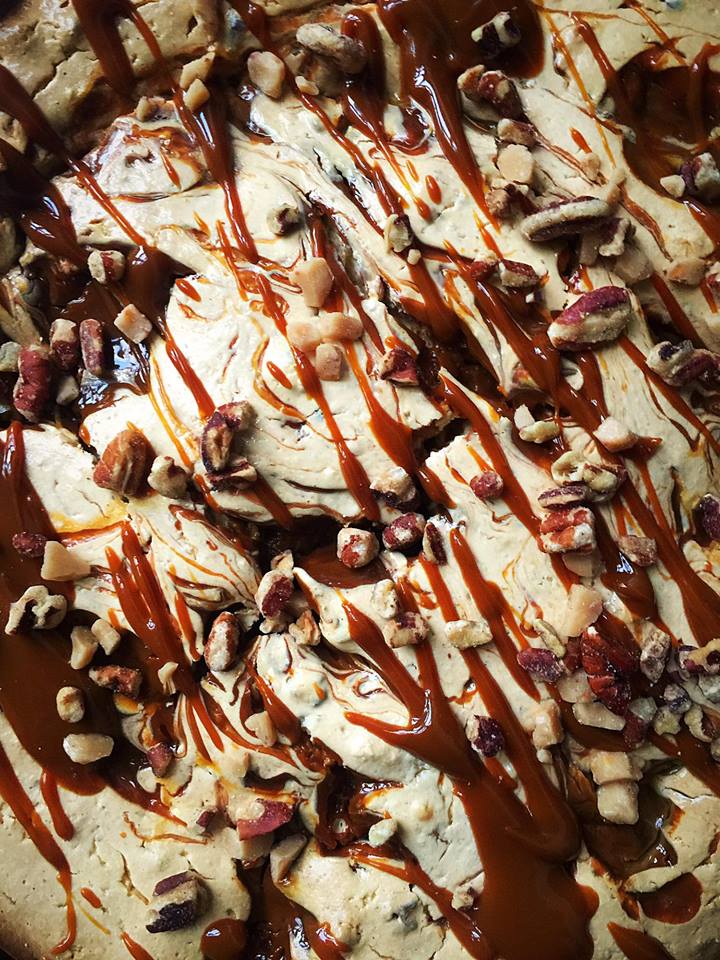 I've made my fair share of cheesecakes since then. Vegan versions, miniature seasonal ones, a classic cake with a crème fraîche twist… the list goes on. But this cheesecake is the most over the top delicious one I've ever made! Give it a go 🙂
White Chocolate Toffee Pecan Cheesecake with Dulce de Leche
Prep time:
Cook time:
Total time:
This decadent white chocolate cheesecake is studded with toffee bits and pecans and topped with rich dulce de leche caramel!
Ingredients
Crust
1½ cups graham cracker crumbs (20 squares or 10 large graham crackers)
¼ cup finely chopped pecans, toasted
2 tbsp cane sugar
⅓ cup butter, melted
Filling
1 cup white chocolate chips
¾ cup cane sugar
2 tbsp flour
2 8-oz packages light cream cheese, softened
2 egg yolks
2 eggs
½ cup nonfat plain Greek yogurt
½ cup toffee bits
½ cup chopped toasted pecans
3-4 tbsp dulce de leche
Topping
1 tbsp dulce de leche
2 tbsp chopped toasted pecans
2 tbsp toffee bits
Instructions
Preheat oven to 400ºF and lightly grease the bottom and sides of your springform pan.
Combine all crust ingredient and press about ¾ of the crust ingredients onto the bottom of the pan.
Bake in preheated oven for 6-8 minutes. Set aside to cool and increase oven temperature to 475ºF.
Cut out a circle of aluminum foil that is larger than the base of the pan and place your pan on top of it, folding the aluminum over the edges of the pan so that it is sealed.
Press the remaining crust mixture up the sides of the pan.
Meanwhile, melt white chocolate chips (either in microwave at 30 second intervals, or over a bain marie: in a glass bowl over a pot of simmering water) until smooth.
In a large bowl, beat together the melted chocolate, 2 tbsp flour, and ¾ cup sugar until well combined.
Beat in cream cheese and egg yolks until smooth, then add the two eggs, one at a time. Last, beat in the yogurt.
With a rubber spatula or wooden spoon, fold in the toffee bits and pecans.
Carefully pour the batter into the assembled springform pan. Spoon 3-4 tbsp dulce de leche over the batter and swirl with a toothpick. Cover pan tightly with aluminum foil and place on a baking sheet. Bake for 20 minutes in preheated oven.
Reduce oven temperature to 300ºF, remove foil from top, and continue to bake for an hour.
Turn off the oven and let the cheesecake sit in the oven for 15 minutes.
Remove and let cool for 15 minutes. Carefully run a knife around the edges of the cheesecake before refrigerating for 6-12 hours.
Before serving, run knife around edges one more time before releasing cheesecake from springform pan.
Top with dulce de leche, pecans, and toffee bits, as pictured.
*adapted from
here