Oh, roasted veggies. What did I do before I knew about roasted veggies?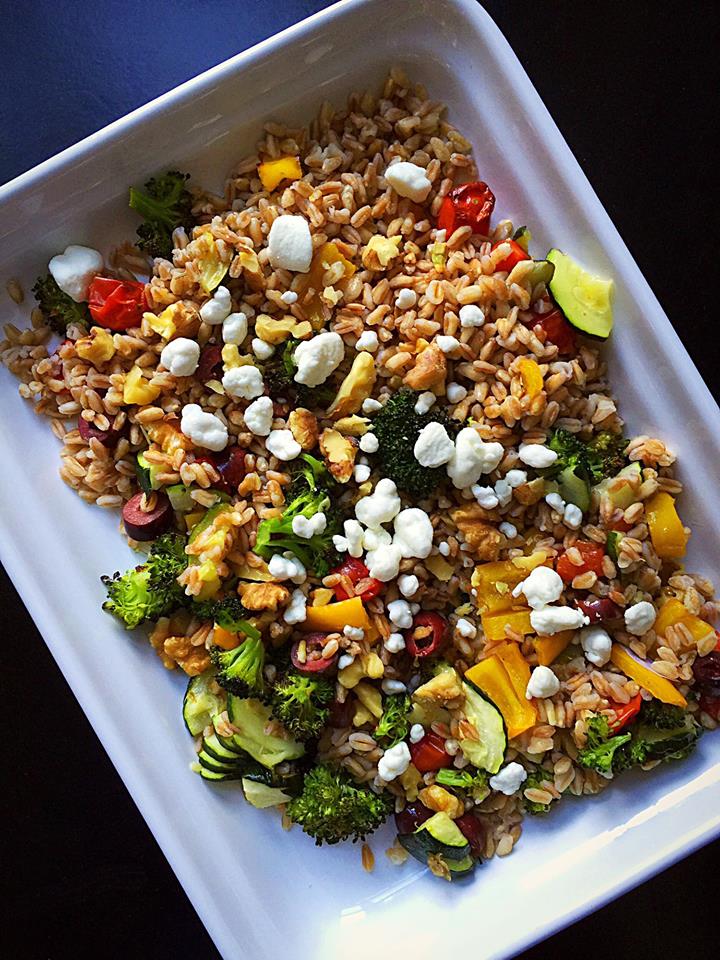 I used to only cook veggies by sautéeing them in canola oil, without a lick of seasoning. No wonder I wasn't exactly a huge fan.
Now, I'm all about roasted veggies.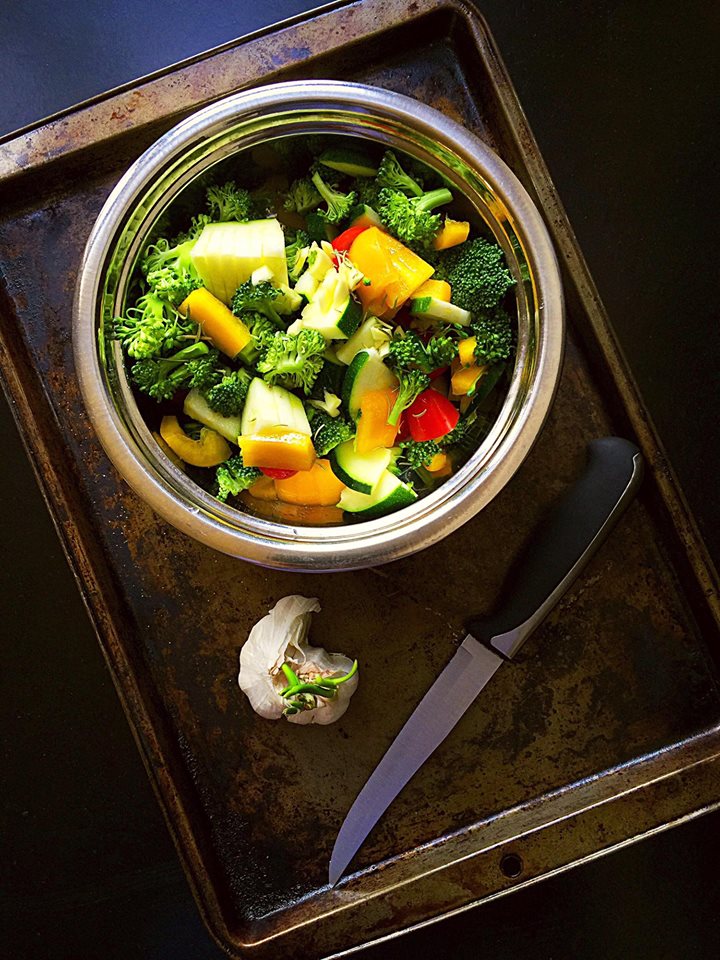 In fact, most of my meals at home are comprised mostly of roasted veggies and tofu. There's just something about the crisped-up charred quality of roasting vegetables that is incomparable to waiting for them to sponge up oil in a pan for 20 minutes.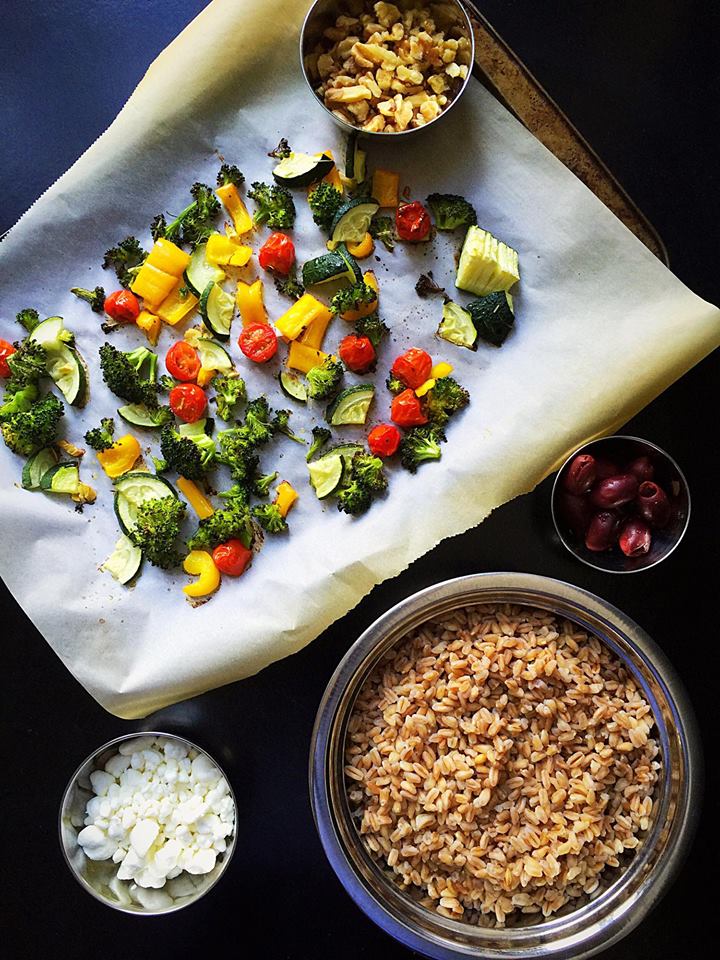 This salad celebrated roasted vegetables by complementing them with nutty farro and walnuts, and assertive, tangy goat cheese and kalamata olives. The mellow and brighter additions to this salad make it unusual and oh so delicious.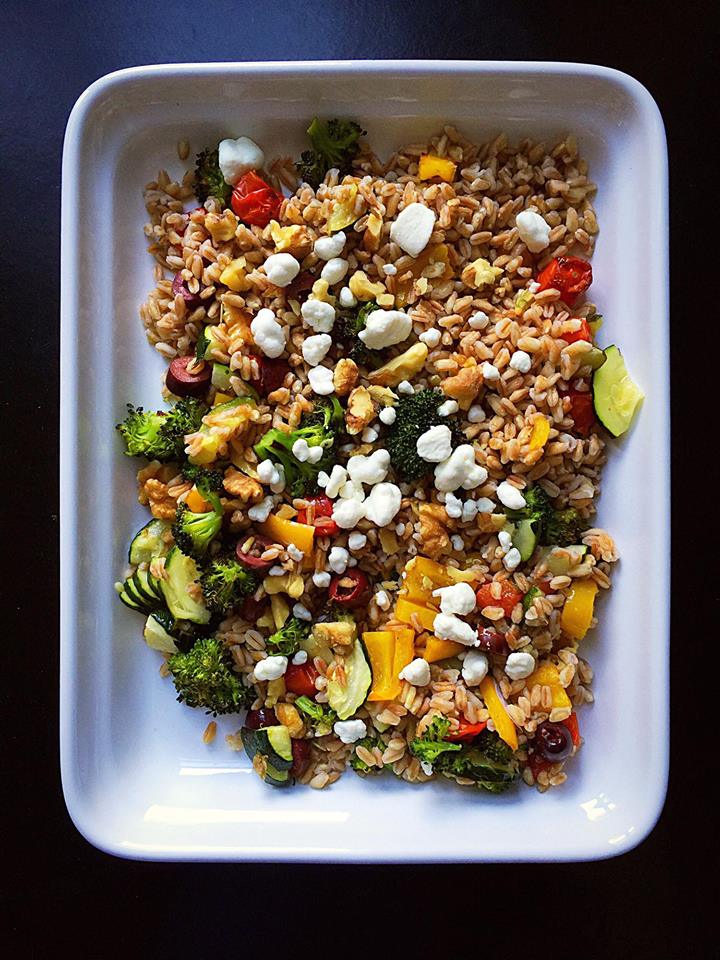 Also, what's better than a salad that has cheese and grains in it?!?
Not only is this dish totally packed with flavor, it also boasts an impressive array of colors. The flavors were inspired from the first time I had farro, in a salad rather similar to this one. It was way back when I was touring colleges (seems like ages ago!).
Since then, farro has been a favorite of mine, and for good reason. It's heartier and more flavorful than rice, but easier to prepare! Just one more reason why you should definitely put this warm salad on your 'to make' list.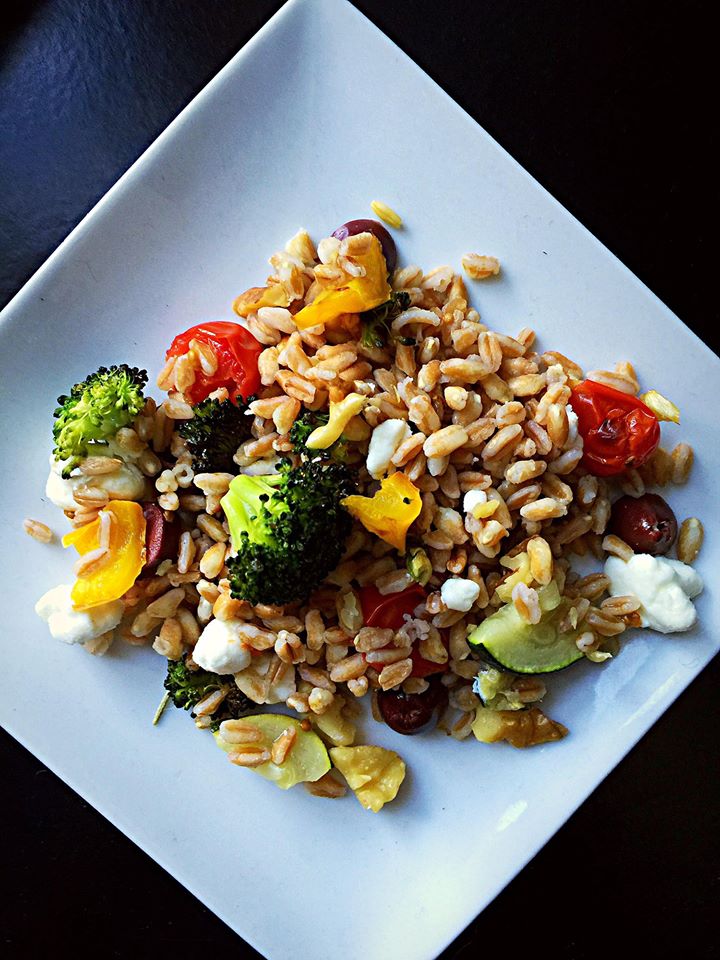 Enjoy xx
Warm Roasted Vegetable Farro Salad
Recipe type:
Lunch, Dinner, Side, Appetizer, Salad
Prep time:
Cook time:
Total time:
Serves:
1-2 as a main dish, 3-4 as a side
This warm farro salad combines nutty farro with roasted vegetables, walnuts, kalamata olives, and crumbled goat cheese for a delicious and satisfying side or entrée salad!
Ingredients
1½ cups cooked farro
⅔ cup broccoli florets
¼ cup grape tomatoes, halved
¼ of a zucchini, diced
½ of a bell pepper, chopped
1 tsp olive oil
1 tsp sea salt + more to taste
1 tsp dried or fresh rosemary
1 clove garlic, minced
4-5 kalamata olives, sliced
¼ cup walnut halves, chopped
2 tbsp crumbled goat cheese
Instructions
Preheat the oven to 400ºF and line a pan with parchment paper.
Toss broccoli, tomatoes, zucchini, and bell pepper with olive oil, salt, rosemary, and minced garlic in a bowl until evenly coated.
Spread on prepared pan and roast in preheated oven for 25 minutes.
Combined roasted vegetables with cooked farro, sliced olives, and walnuts.
Add salt to taste.
Top with crumbled goat cheese and serve!