Today I'm in and out with a quick recipe from my instagram!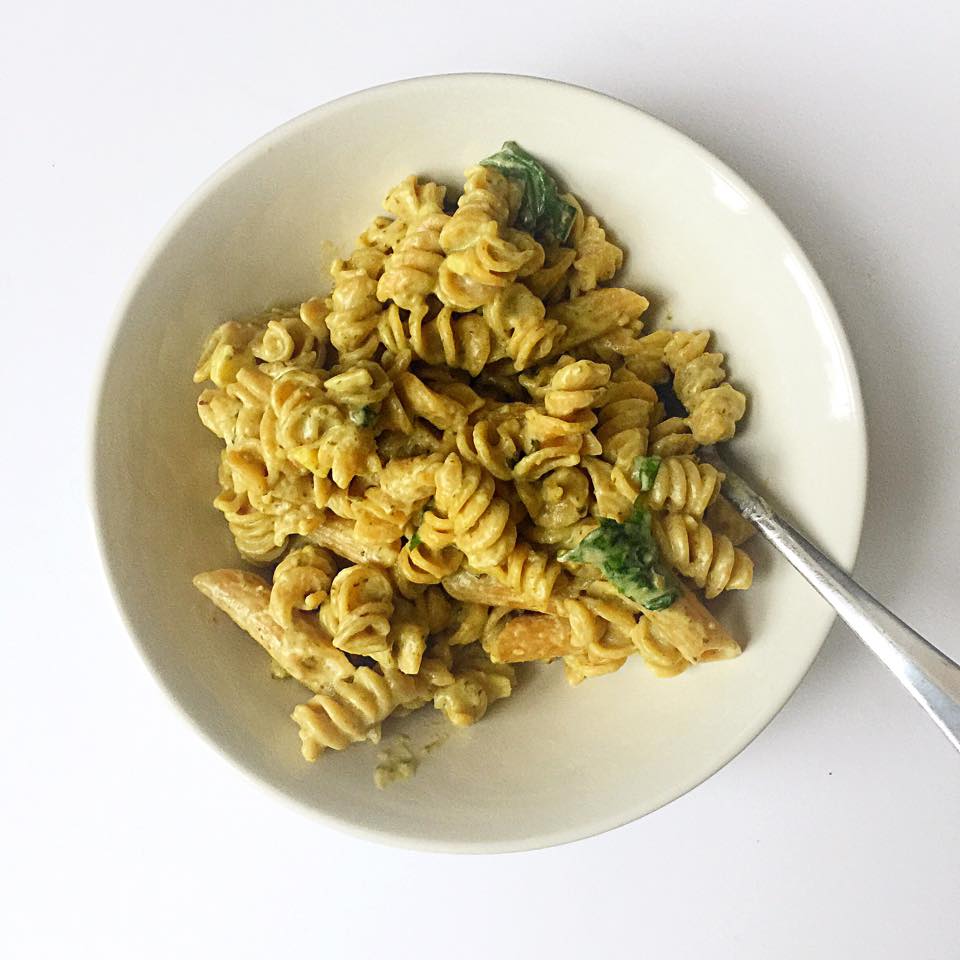 I made this pasta with pesto cream sauce for dinner a few weekends back, and people were loving the photo on instagram, so I thought I'd just share the recipe.
This is the definition of an easy weeknight meal- I just threw some pasta in the pot (we had a little whole wheat penne and a little whole wheat rotini), reserved some cooking water, made a sauce, and stirred in pesto.
Top is off with basil leaves and that's one easy and totally delicious dinner that comes together in 30 minutes or less!
Enjoy xx

Vegan Whole Wheat Pasta with Pesto Cream Sauce
Recipe type:
Lunch, Dinner
Prep time:
Cook time:
Total time:
This quick and delicious vegan pasta with pesto cream sauce is light and flavorful. Top it off with fresh basil for a perfect meal!
Ingredients
6-8 oz whole wheat pasta, any kind
2 cups unsweetened almond milk
½ cup vegan cream cheese
3 tbsp almonds
3 tbsp nutritional yeast
¼ tsp black pepper
5 tsp sea salt, divided
1 tsp lemon zest
1 tbsp olive oil
1 clove garlic, chopped finely
¼ cup vegan pesto
4-6 basil leaves, chopped
Instructions
Set a pot of water to boil with 4 tsp salt (or more!) and cook your pasta until al dente.
Drain and reserve ½ cup of the pasta water. Don't rinse.
Meanwhile, combine almond milk, cream cheese, almonds, nutritional yeast, black pepper, remaining salt, and lemon zest in a blender and pulse until smooth.
In a large skillet over medium heat, sweat out your garlic with the olive oil (let it sizzle until soft and fragrant over low-ish heat, about 1-2 minutes)
Add in your sauce from the blender and the ½ cup of pasta water. Stir to combine.
Bring the sauce to a simmer and let it bubble for 10-12 minutes, until thickened.
Toss pasta with sauce and stir in pesto until all combined.
Sprinkle with chopped basil for garnish.
*adapted from my
pasta recipe here