Today's an extra-special day!!!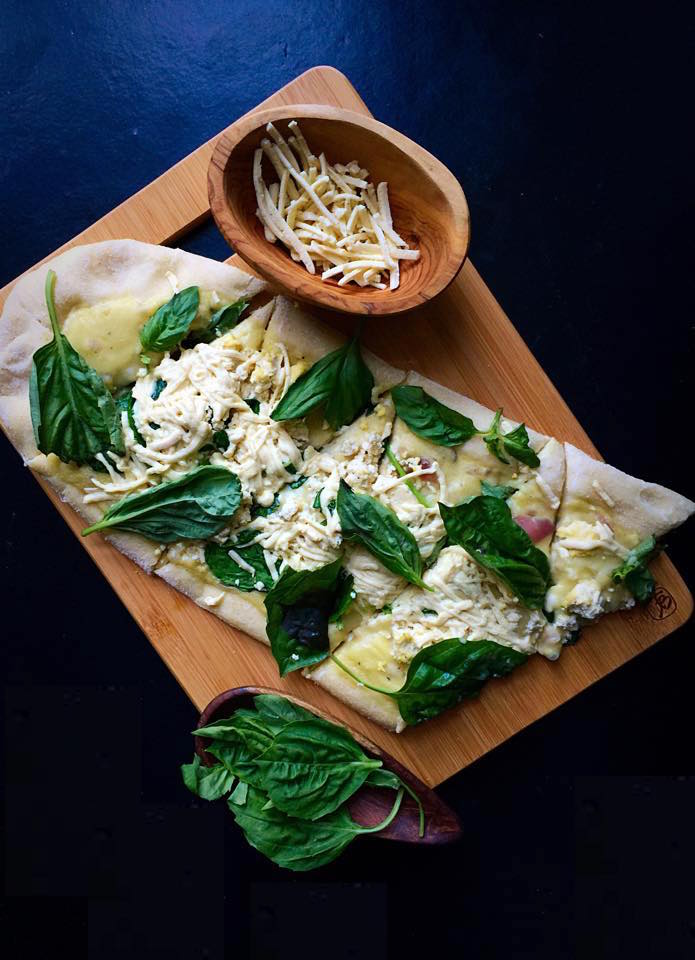 I mean of course, apart from having a project, two essays, and two midterms due in the next two days (why). Today we're actually celebrating something pretty epic.
David of Spiced and his wife Laura are expecting their very first bundle of joy!! Congratulations, guys 🙂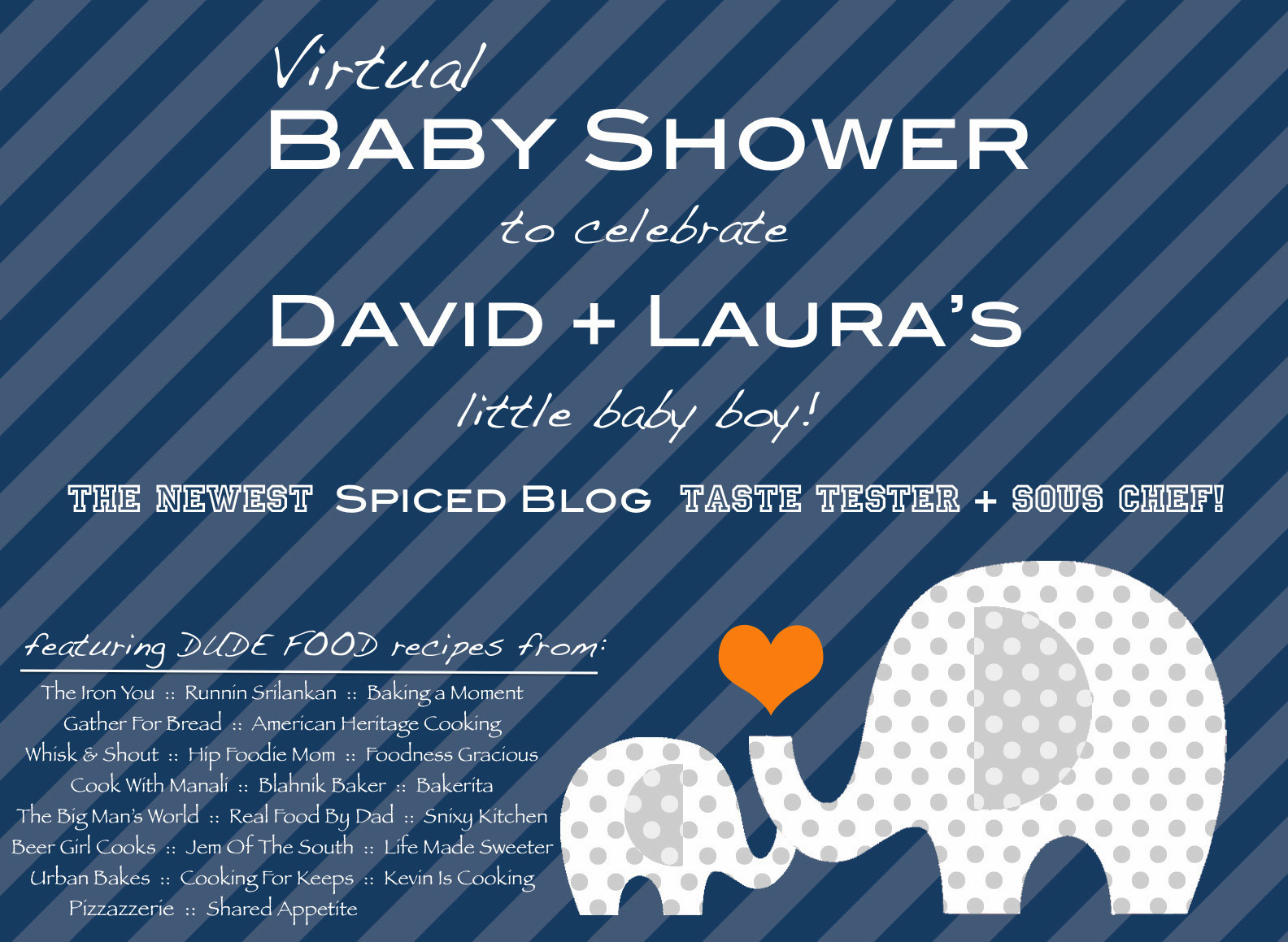 Spiced is one of my favorite food blogs out there, and David has definitely made a personal impact in the blogging community beyond just his totally delicious food. So us food bloggers decided to pay back the love in the form of this virtual baby shower!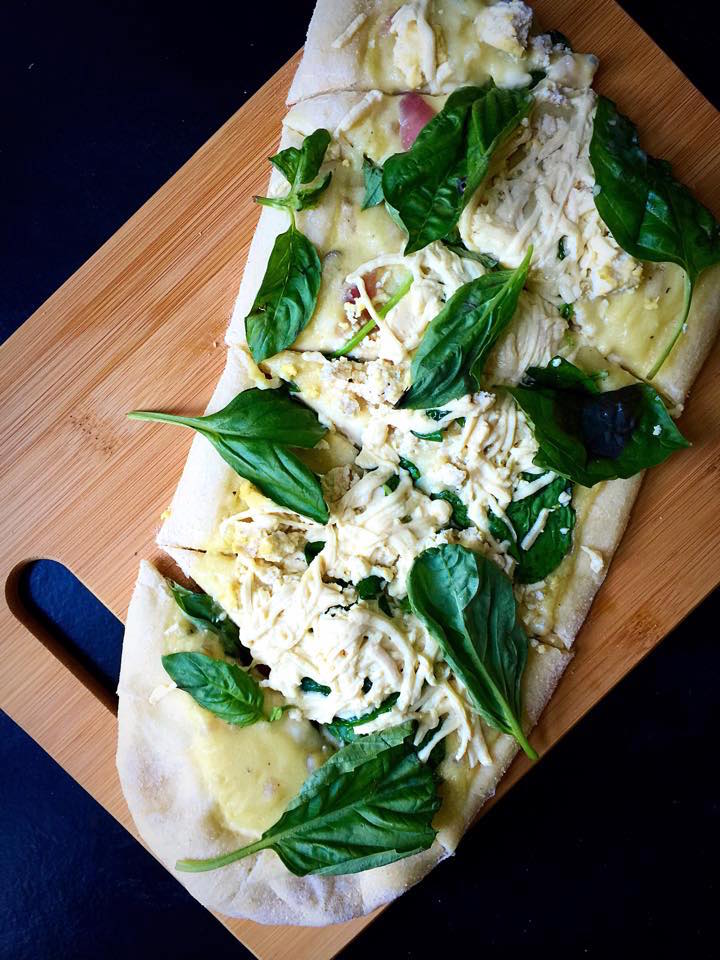 When the theme of the shower was 'dude food', I immediately thought of my dad (which is probably a mistake because he is not exactly the manliest of men… if you're reading this, Appa, you know it's true).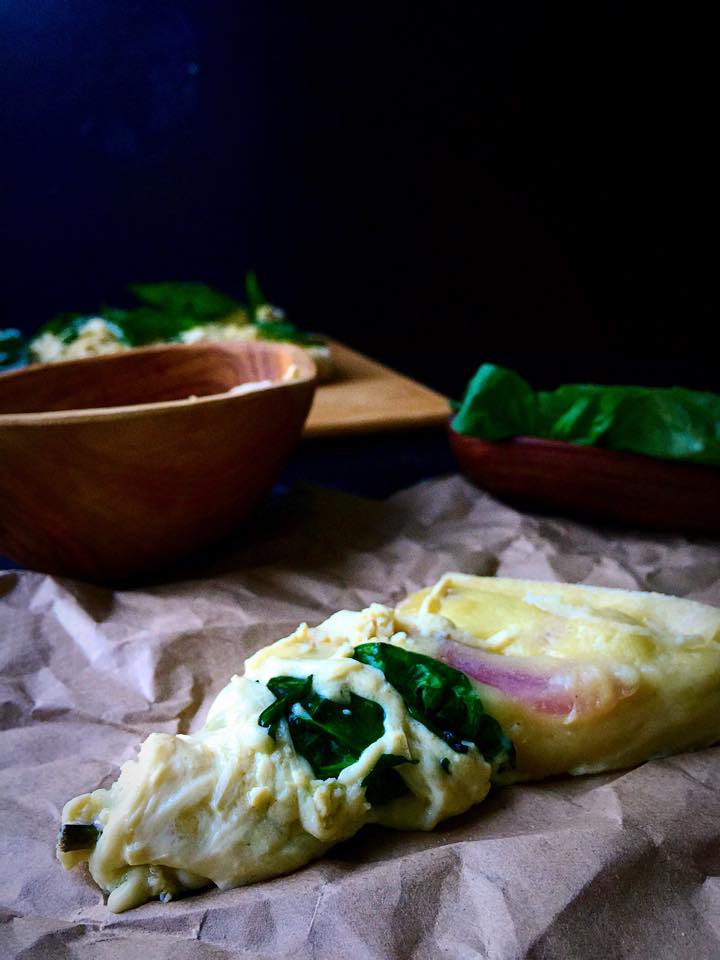 My dad has always been a huge fan of white pizza. And as of last summer, my dad is also a vegan. So I figured, what better way to celebrate the two than by making the most trashed-up, sinful vegan pizza ever?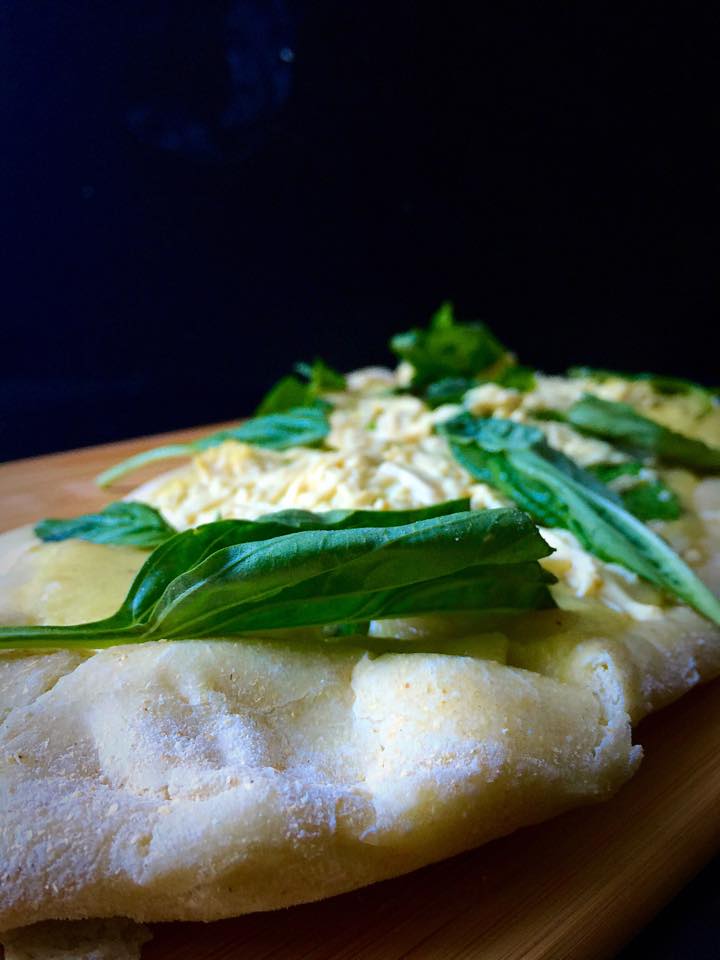 Vegan food sometimes gets a bad reputation because a lot of the time it's really healthy. I've made vegan pizzas before, and I've reached for whole wheat crusts, lighter tomato-based sauces, and tons of veggies.
Not this time, people. Not this time.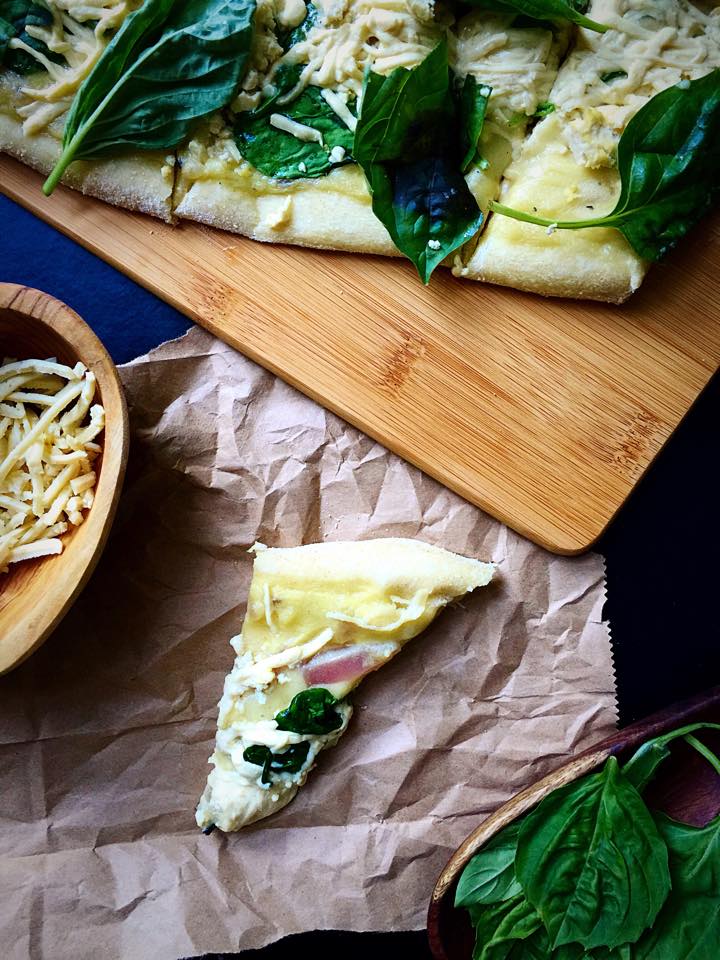 This pizza has three kinds of 'cheese' that you typically see on a white pizza. The sauce (a creamy vegan bechamel), the ricotta (made with tofu), and the extra cheese my dad and I always used to request (vegan mozzarella).
In addition, this pizza is topped with fresh spinach and basil for a pop of color and flavor!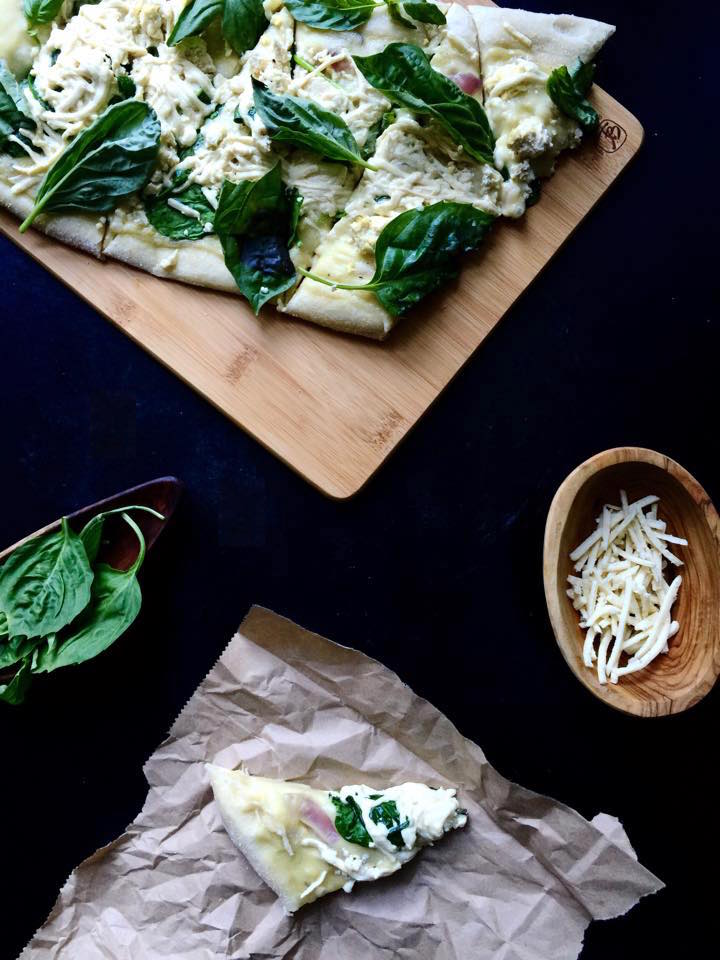 Pizza is something everyone can relate to. It's 'how do we make compromises so that everyone gets their favorite toppings' food. It's weekend night, 'how is it taking so long to get here' food. It's 'I thought you had the tip ready!' food. Pizza is family food.
So with an extra little person soon to be in the house, I'm wishing my absolute best to David and Laura (and that always includes pizza).

Vegan White Pizza with Spinach & Basil!
Recipe type:
Lunch, Dinner
This vegan white pizza combines creamy bechamel sauce, tofu ricotta, and a sprinkling of vegan mozzarella with fresh spinach and basil for an easy and delicious pizza you won't believe is entirely plant-based!
Ingredients
One refrigerated pizza crust (I used Trader Joe's brand)
Bechamel Sauce
¼ cup (4 tbsp) vegan butter
½ a red onion, diced finely
3 garlic cloves, minced
¼ cup corn starch
2 cups unsweetened almond milk
1 tbsp lemon juice
1 tbsp nutritional yeast
Salt and pepper, to taste
Tofu Ricotta
3.5 oz (1/4 a 14-oz block) extra firm tofu, crumbled
1 tsp lemon juice
Salt and pepper to taste
Toppings
½ cup packed baby spinach
½ cup vegan mozzarella shredded cheese (I used Daiya)
8-12 basil leaves
Instructions
Remove dough from fridge and let rest at room temperature for 20 minutes minimum.
Preheat oven to 425 F.
For bechamel, combined butter, onion, and garlic over medium heat and sauté till onion begin to become translucent.
Add cornstarch and stir until a paste (a roux) forms.
Add almond milk, nutritional yeast, lemon juice, salt, and pepper and bring heat down to low, whisking until thickened. Turn heat off and let sauce continue to thicken. Adjust seasonings.
Combine tofu ricotta ingredients and set aside.
Roll out dough on a well floured surface and transfer to parchment paper lined baking sheet.
To assemble, ladle bechamel over top (you will have extra sauce). Next, add some spinach and tofu ricotta. Lastly, top with lots of daiya.
Bake for 8-10 minutes and cool on wire rack before topping with fresh basil and serving.
Check out the other recipes that are a part of the shower!
Buffalo Chicken Blue Cheese Hand Pies by American Heritage Cooking
Chocolate Bacon Toffee by Bakerita
Pumpkin Beer Soft Pretzels by Baking A Moment
No Bake Salted Caramel Apple Slice by The Big Man's World
Philadelphia Cheesesteak – Southern Style by Beer Girl Cooks
Shredded BBQ Chicken Nachos by Blahnik Baker
Cinnamon Churros by Cooking With Manali
Grilled Brown Butter Burgers with Swiss + Bourbon Mushrooms by Cooking for Keeps
Cider Braised Brisket by Foodness Gracious
Ham Potato and Corn Chowder by Gather For Bread
Mini Croques Monsieur Sandwiches by Hip Foodie Mom
Wolfpack-Style Meatballs by The Iron You
Pecan Praline Popcorn by Jem Of The South
No Bake Pumpkin Cheesecake Pecan Tarts by Kevin Is Cooking
Maple Sriracha Pulled Pork Mini Pies by Life Made Sweeter
Vanilla Almond Snowball Cake by Pizzazzerie
Something Amazing by Real Food By Dad
Cinnamon Bacon Donuts by Runnin Srilankan
Buffalo Garlic Knots by Shared Appetite
Spicy Butternut Bacon Deviled Eggs by Snixy Kitchen
Maple Bourbon Bacon Chocolate Donuts by URBAN BAKES
Vegan White Pizza with Spinach & Basil by Whisk & Shout