Fresh pasta is just one of those things that sounds like a lot of work.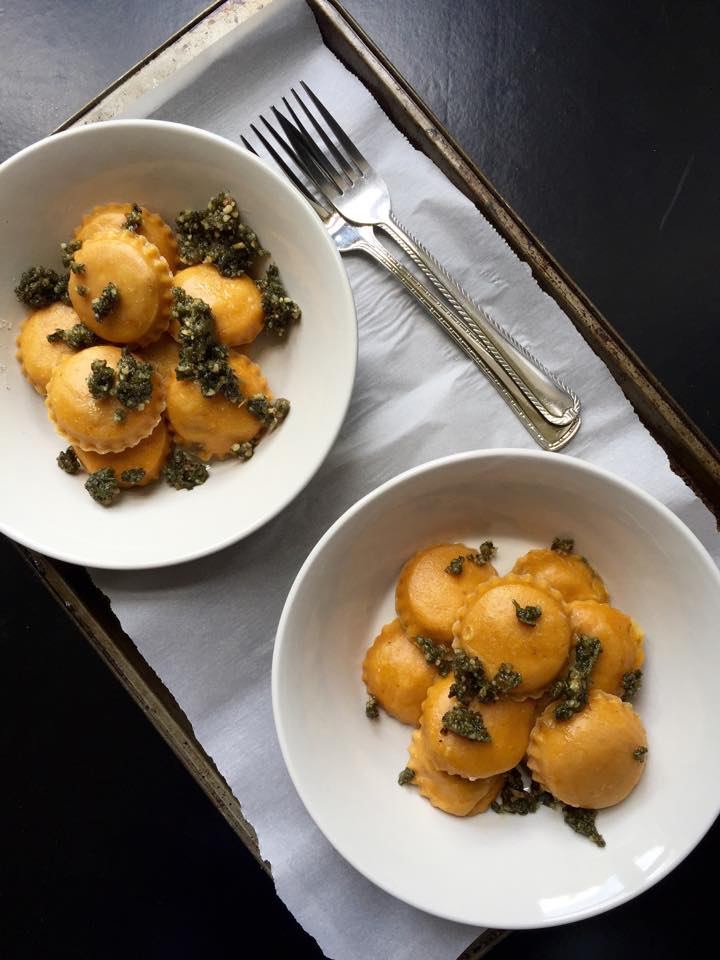 I mean, if you look at most traditional recipes, it certainly seems that way. Lots of kneading, resting, machine-ing, cutting… it's a lot.
But there are a few cooking and baking techniques I really wanted to conquer this year, and fresh pasta was one of them. So I got to it.
And what did I discover?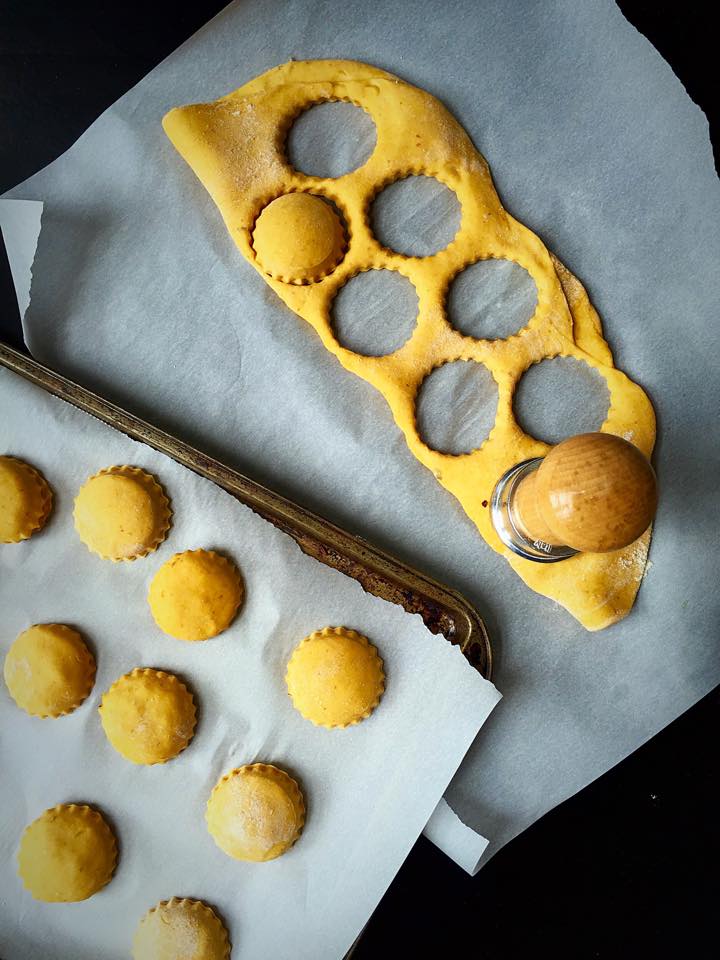 Yeah, not that hard!
This pumpkin pasta is made with flour, salt, water, and pumpkin purée, which gives it that lovely rich orange color.
Combine those ingredients and knead the dough for a few minutes, and most of your work is done!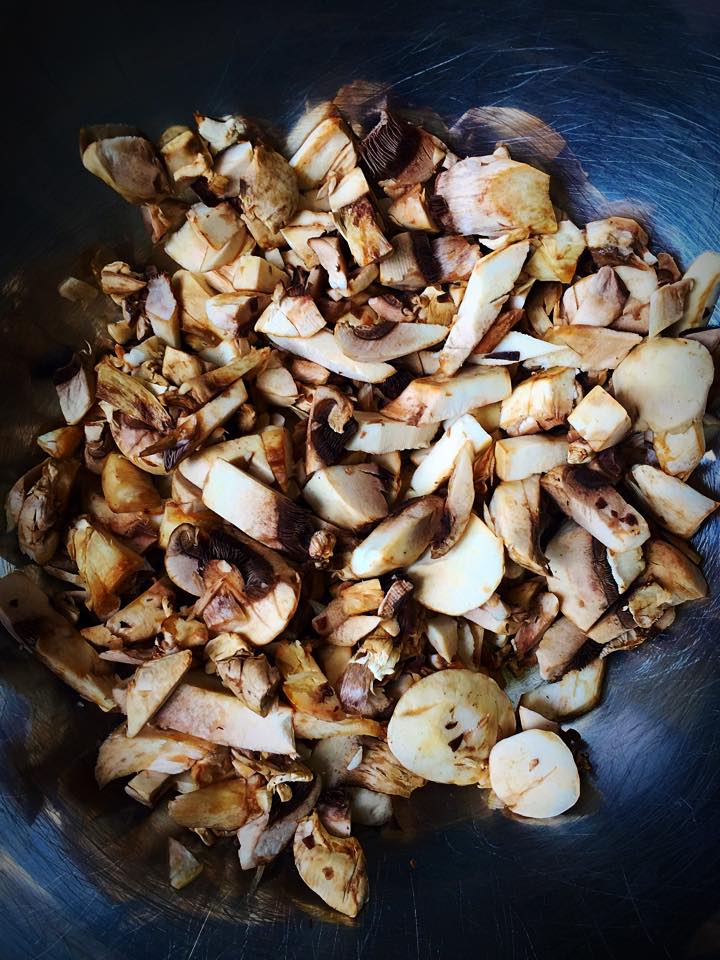 While the dough is resting, sauté up some mushrooms with rosemary, and let the pan do the work for a while till they're all cooked down and savory.
I chose to spend this time watching FRIENDS and basking in the umami aroma coming from the stove.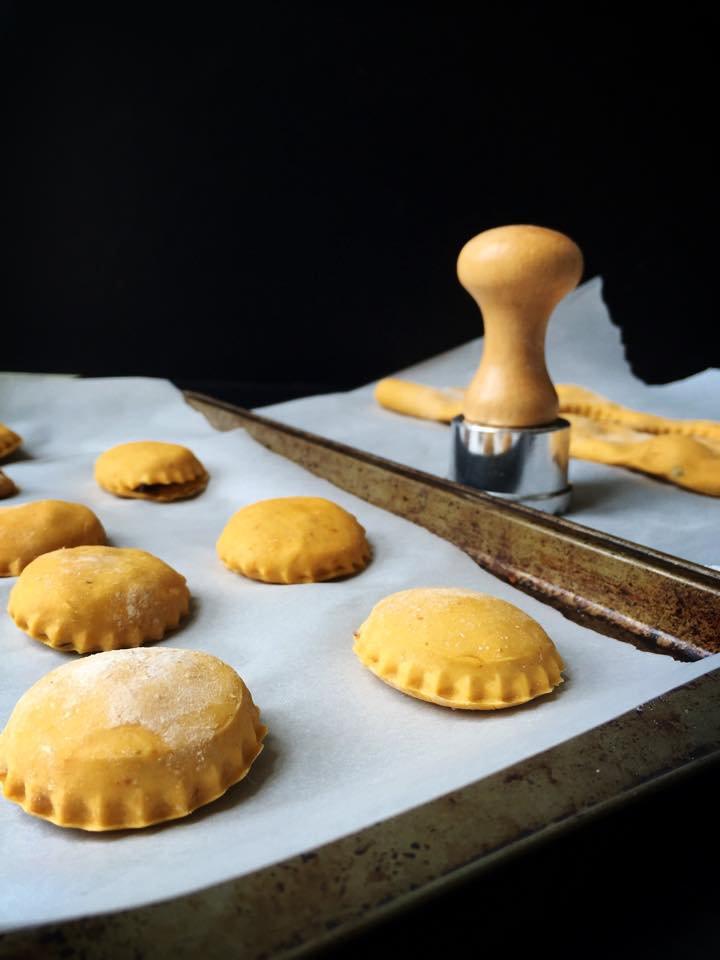 Once your dough is as rested as you are after watching all that TV, you roll it out, create little indents with a stamp, fill up those indents with your mushroom filling, fold the dough over, and stamp out some ravioli! It's ridiculously easy and so fun.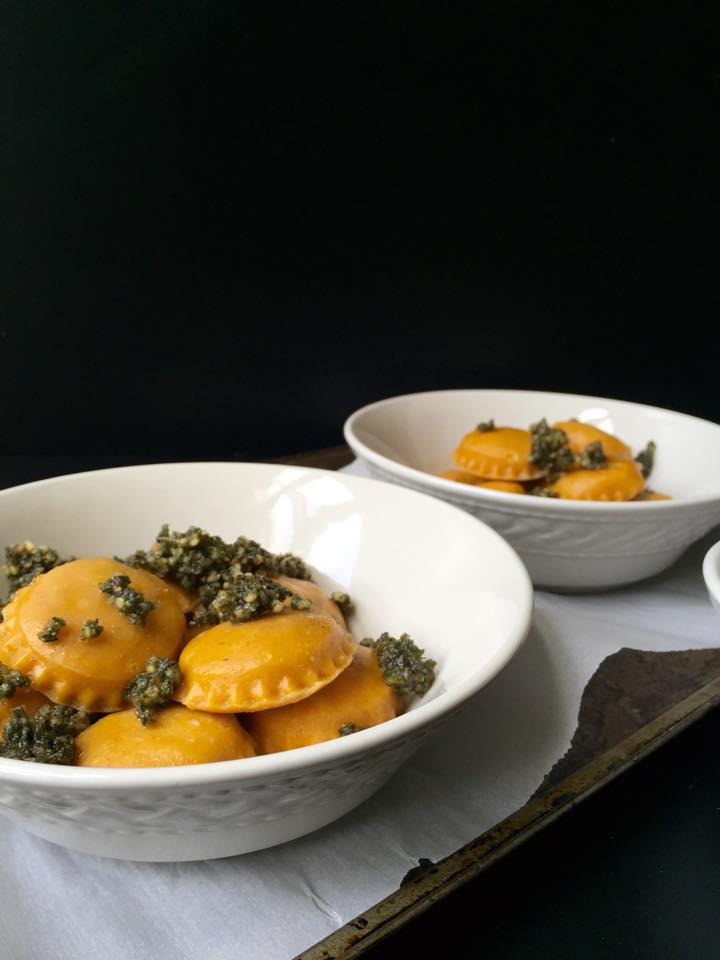 I mean seriously. Look how cute they are?? I just have the one ravioli stamp but I wish I had more so I could get creative with my shapes.
That's right, I dream about triangular and square ravioli. Please don't judge me. I'm a normal college student, okay?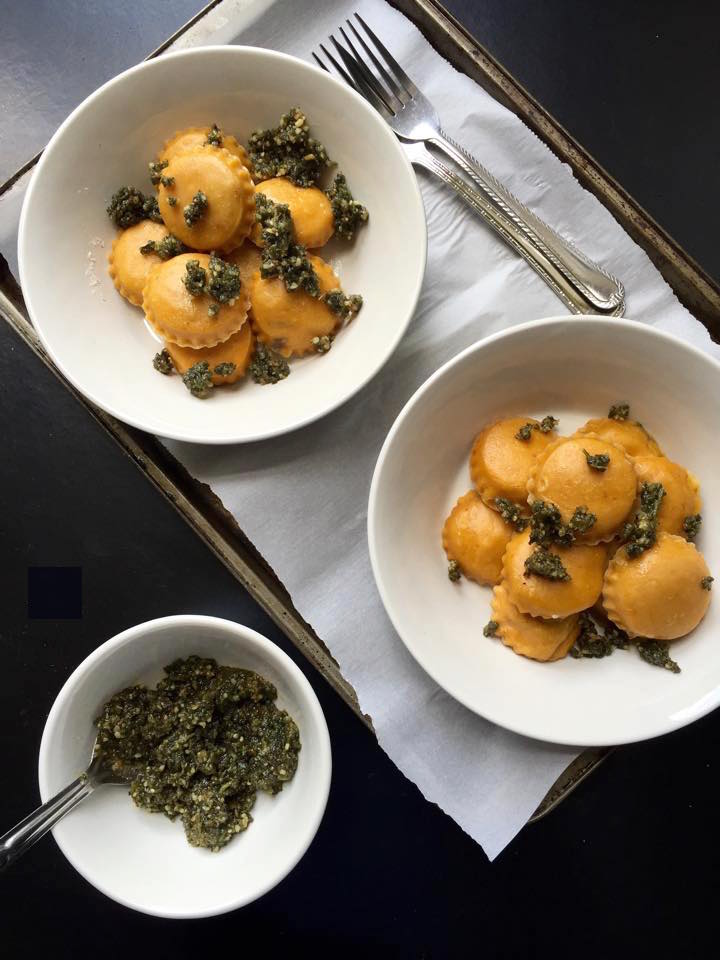 And let's not forget about the pesto. Sage is a super assertive flavor, especially when raw. I made a pesto with a spinach walnut base, and tossed a few sage leaves in to get the essence in there. I really wanted a chunkier pesto, totally unlike my usual, saucier ones, so I upped the nut amount and decreased the spinach.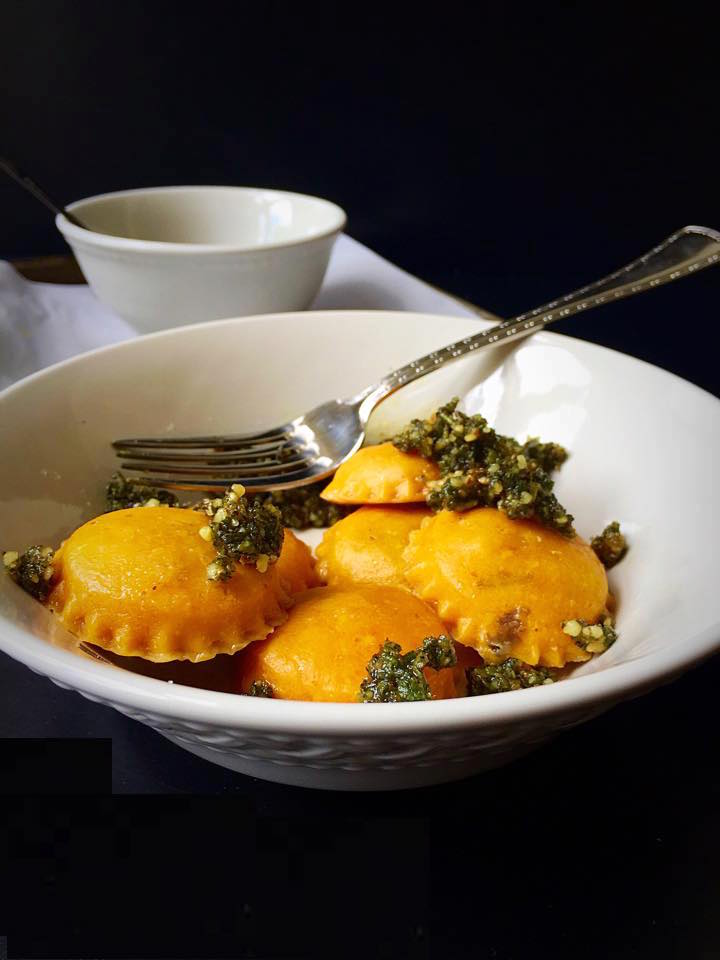 The ravioli boil for 2-3 minutes, which is kind of a blessing compared to how long dry pasta takes to cook. I suggest serving this pasta right away! Just boil the pasta a few minutes before dinner, top with the pesto, and serve.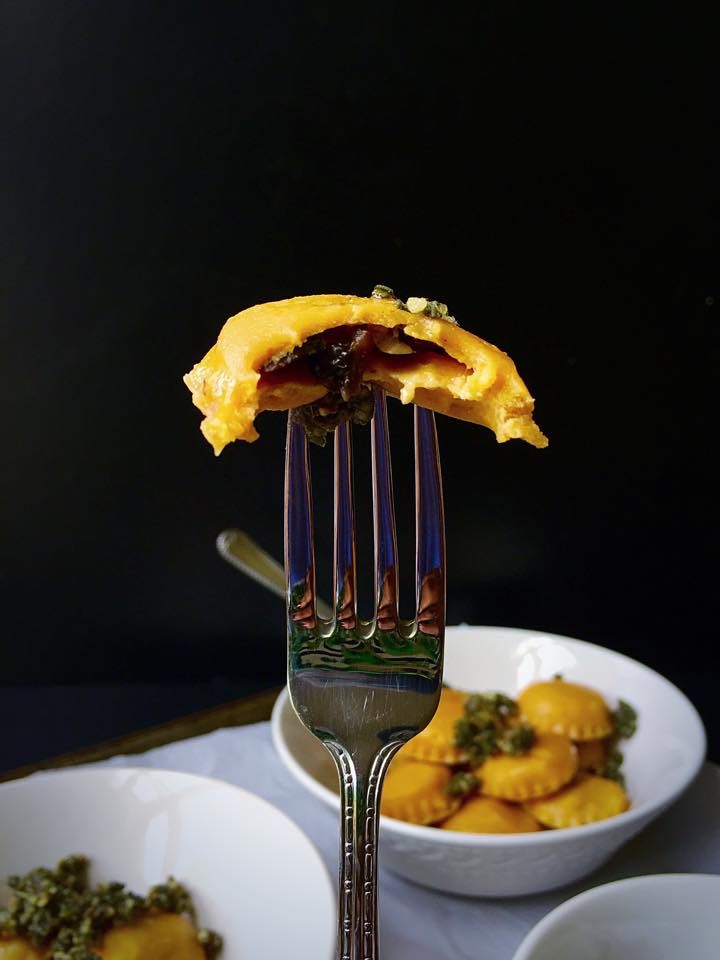 Enjoy!

Vegan Portobello Pumpkin Ravioli with Sage & Walnut Pesto
Prep time:
Cook time:
Total time:
This hearty pumpkin ravioli is packed with portobello mushroom filling and topping with a chunky sage and walnut pesto!
Ingredients
Pumpkin Pasta
2 cups all purpose flour
1 tsp salt
½ cup pumpkin purée
2 tbsp water
Portobello Filling
5 oz baby portobello mushrooms
½ tsp rosemary
2-3 tbsp olive oil
1 tsp salt
Sage Walnut Pesto
.75 oz sage leaves
1 cup spinach
¼ cup walnut pieces
¼ cup olive oil
1 tsp salt
Instructions
Start by preparing pasta: Combine flour and salt in a bowl, make a well in the middle, and add pumpkin puree and water.
Mix with a fork until just combined, then knead dough on a table/countertop for a full five minutes, until homogenous.
Wrap dough in a log in a damp kitchen towel and let rest for at least 20 minutes.
While the dough is resting, start your mushrooms. Heat olive oil, salt, and rosemary in a pan over medium heat.
Finely chop all mushrooms into very small chunks and add to pan. Cook, stirring frequently, for 15-20 minutes and remove from heat.
For pesto, pulse together ingredients until chunky. If you want a smoother, more traditional pesto, add 1 cup more spinach and add olive oil a tablespoon at a time until you reach your desired consistency.
Return to your pasta dough: on a well floured surface, roll out your dough to about ¼ to ⅛ inch thick. Transfer to parchment paper and make light indents with your ravioli stamp that cover half of the dough.
Using a small spoon or your hands, fill each indent with mushroom filling.
Gently fold over the remaining dough and use your fingers to seal the two pieces of dough around each mound of filling.
Using your ravioli stamp, stamp through the dough to produce the ravioli. Repeat until you have used up all your dough and filling.
In a pot of boiling salted water, cook ravioli 6 at a time (in 4 batches), removing with a slotted spoon once the ravioli is cooked (when it floats to the stop) and transferring to a sieve.
Serve with pesto.