Shortly after I began this blog, I mentioned in a post that pecan bars are my family's way to ring in the New Year.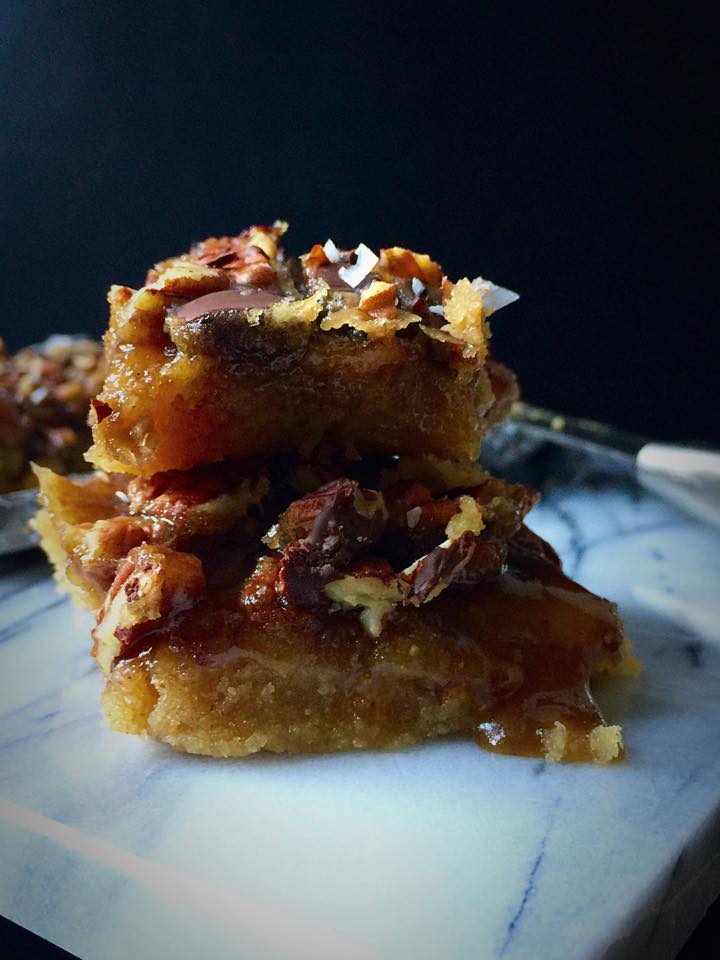 Well, unsurprisingly, nothing has changed. These salted caramel pecan turtle bars are definitely up a notch on the fancy level from what I'm used to, though!
Vegan Gooey Salted-Caramel Pecan Turtle Bars
Author:
Adam Sobel (from "Street Vegan"), adapted by Whisk & Shout
Prep time:
Cook time:
Total time:
Ingredients
1½ cups (= 3 sticks) vegan butter (I used Earth Balance)
1⅔ cups flour (I used white whole wheat)
½ cup cornstach
¾ cup powdered sugar
2 tsp vanilla extract
1¾ cups cane sugar
¼ cup agave nectar
1 tsp molasses
1 cup coconut milk
1½ tsp coarse sea salt
2 cups toasted pecan pieces (I toasted mine in a cast iron skillet on the stovetop)
½ cup vegan chocolate chips
Instructions
Preheat the oven to 350 F. Grease and line your baking pan with parchment paper and/or foil.
Beat 1¼ cups (2½ sticks) vegan butter with an electric mixer until creamy. Add flour, cornstarch, powdered sugar, and 1 tsp of vanilla and mix together until a dough forms.
Press into your prepared pan and bake in the preheated oven for 20 minutes. Remove from oven and place on a wire rack.
In a saucepan over medium heat, combine the cane sugar, agave, molasses, remaining butter, and remaining 1 tsp vanilla with ¼ cup water. Stir until the cane sugar has dissolved.
Once the mixture begins to bubble, stir in the coconut milk. The caramel will slowly thicken for 10-15 minutes- use a candy thermometer to measure the temperature and remove from heat once the caramel reaches about 240 F.
Immediately pour the caramel over the prepared crust and top with pecans, chocolate, and coarse sea salt.
Let the bars cool completely (I let mine cool for almost a DAY- I recommend cooling in the fridge overnight after they hit room temperature before slicing as they are VERY gooey) before cutting and serving.