Happy Friday!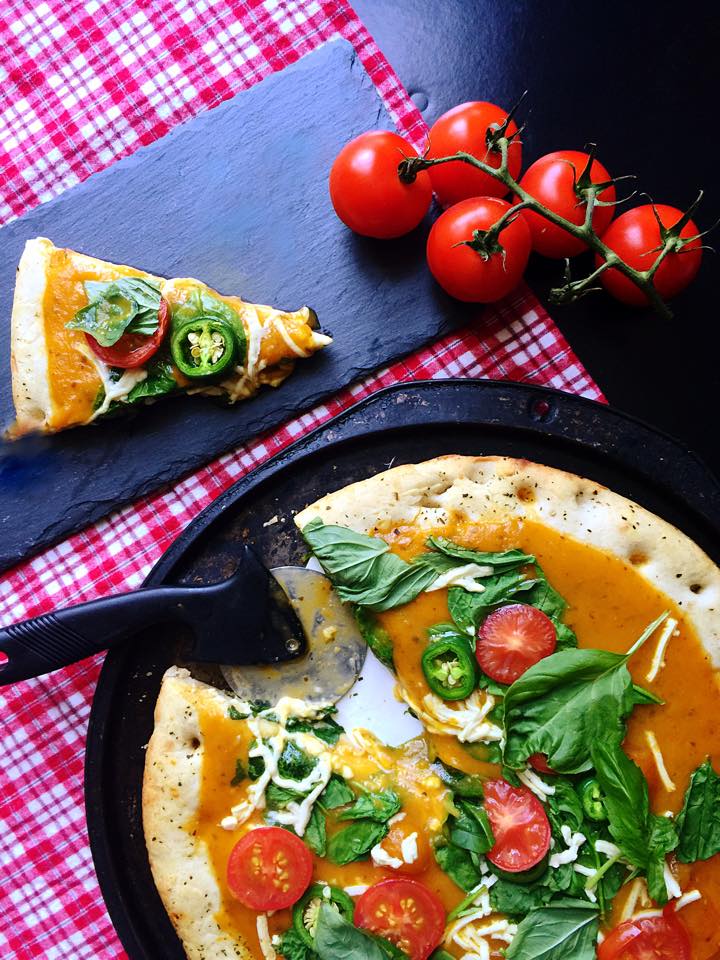 Also, happy birthday to my cousin! She's turning 17 (young and sweet), which I kind of cannot believe, because that's so old.
In other fun news, I made a Facebook page! You guys should all check it out and gimme a like. I may be a teenager, but my social media presence is definitely still small, which is something I've started to work on.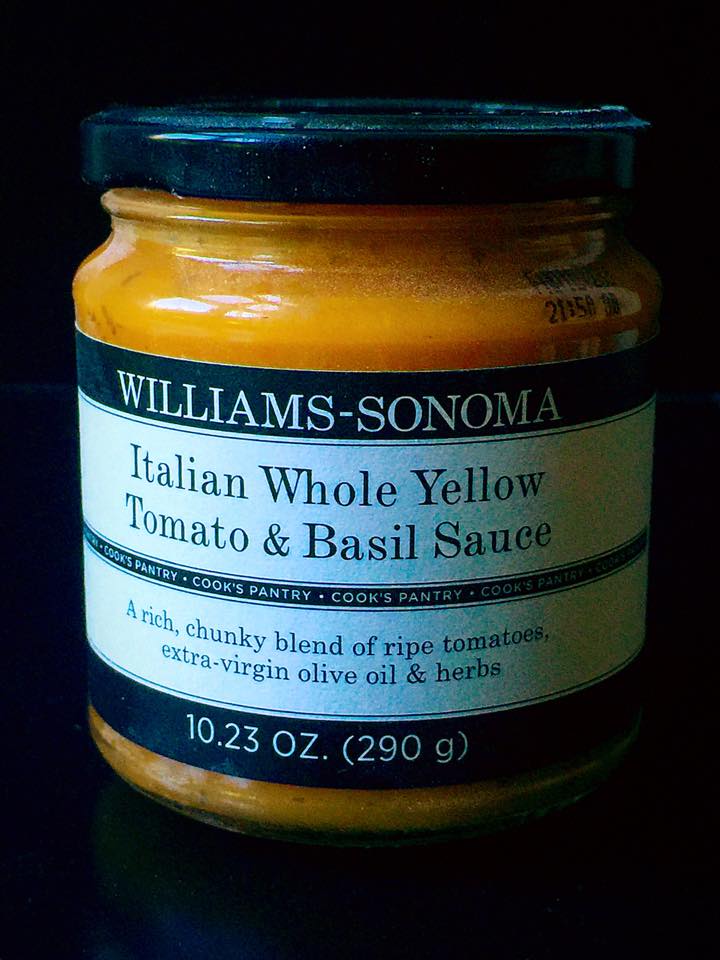 So in honor of Friday, my cousin's birthday, and my new FB page, I bring you PIZZA.
Because seriously, pizza is a food for all occasions.**
**(yes, I am very aware that I shared a pizza recipe 11 days ago, deal with it)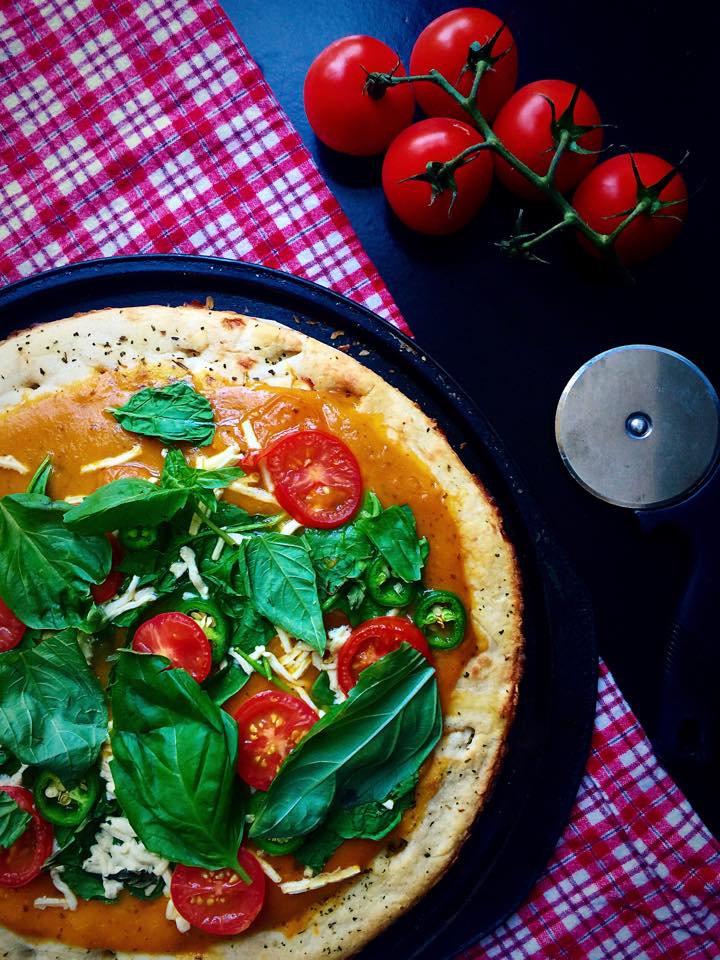 When I was at Trader Joe's and saw they ciabatta flatbreads in their bread aisle, my mind immediately went to pizza. I've made flatbread pizzas on TJ's mediterranean flatbreads before, and they turned out so well, so I knew that this ciabatta round would be a winner too.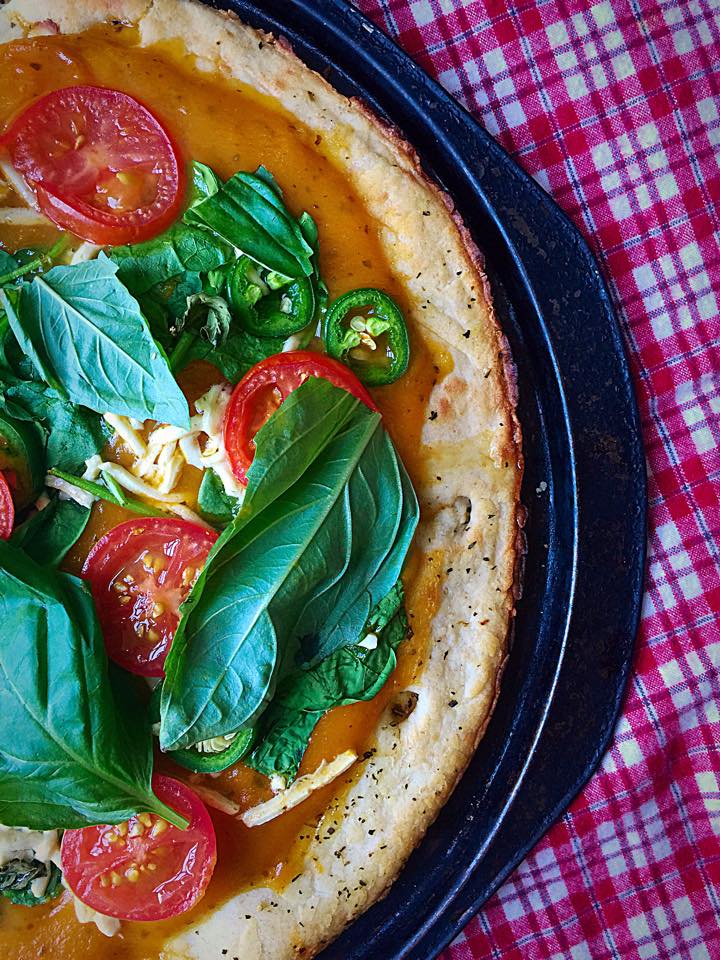 I was trying to get all creative with my toppings, but then I remembered a jar of yellow tomato sauce I had picked up from Williams Sonoma. It was so pretty, I knew I had to whip it out for this pizza.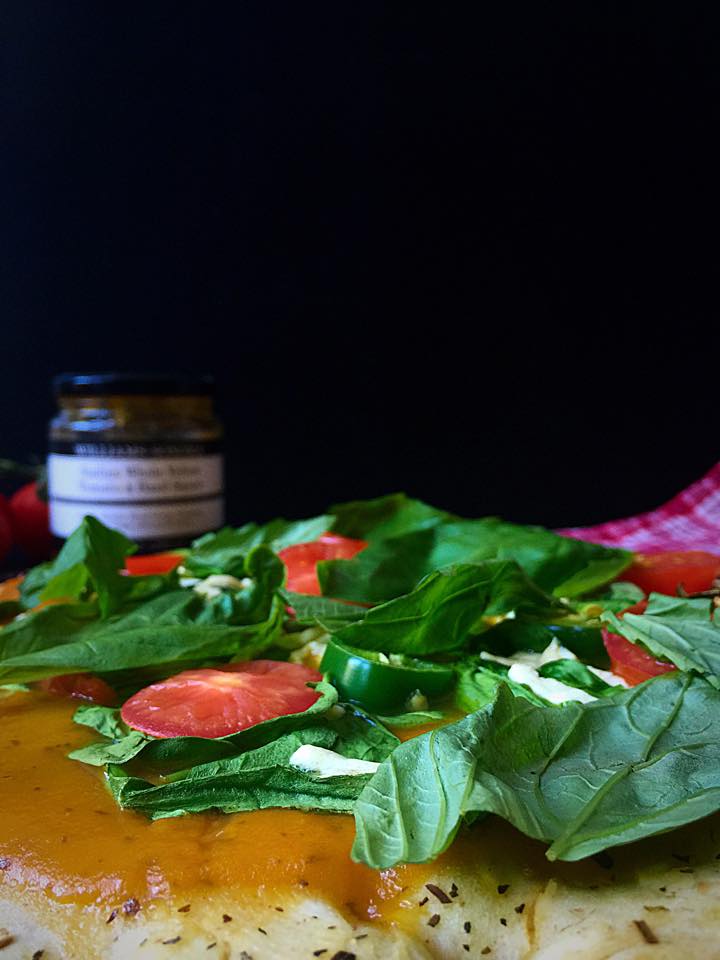 (Sidenote: That was the one and only time I've been to Williams Sonoma. I think I prefer Sur la Table, but I genuinely can't form an opinion because all cooking/baking/kitchen-related stores are dangerous territory for me. I will buy everything. Like, when I go to the mall I have to avoid the Macy's home… okay back to the recipe!)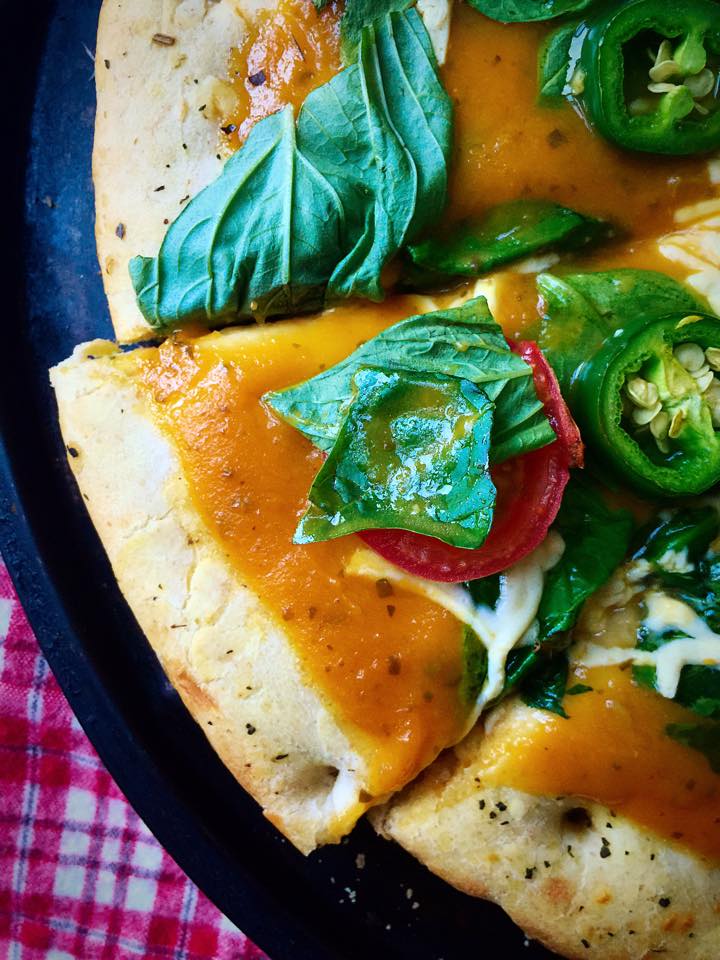 Since I had my fancy sauce as the base, I wanted to keep it simple with the toppings. I love me some caprese, so I went with pearl tomatoes (which are just gorgeous on the vine!), fresh basil, and vegan mozzarella. This would also be killer with fresh buffalo mozz!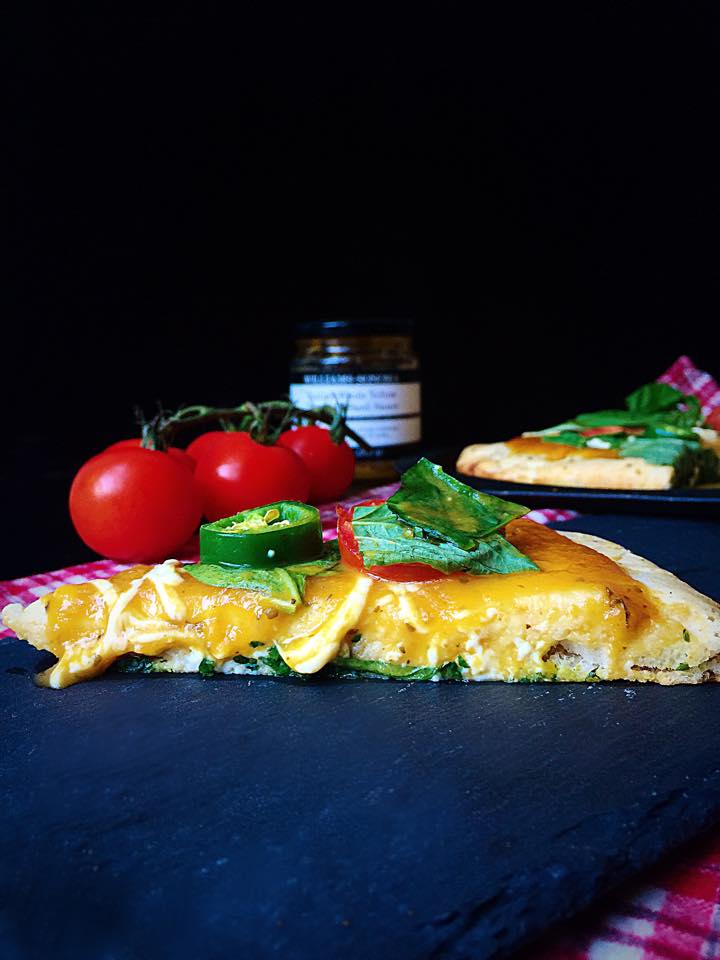 I threw on a jalapeno for some heat, and because there were some interesting spices in the yellow tomato sauce that I wanted to complement. If jalapenos are too spicy or just not up your alley, I'd recommend sweet bell peppers! An orange bell pepper would be so pretty on this pizza.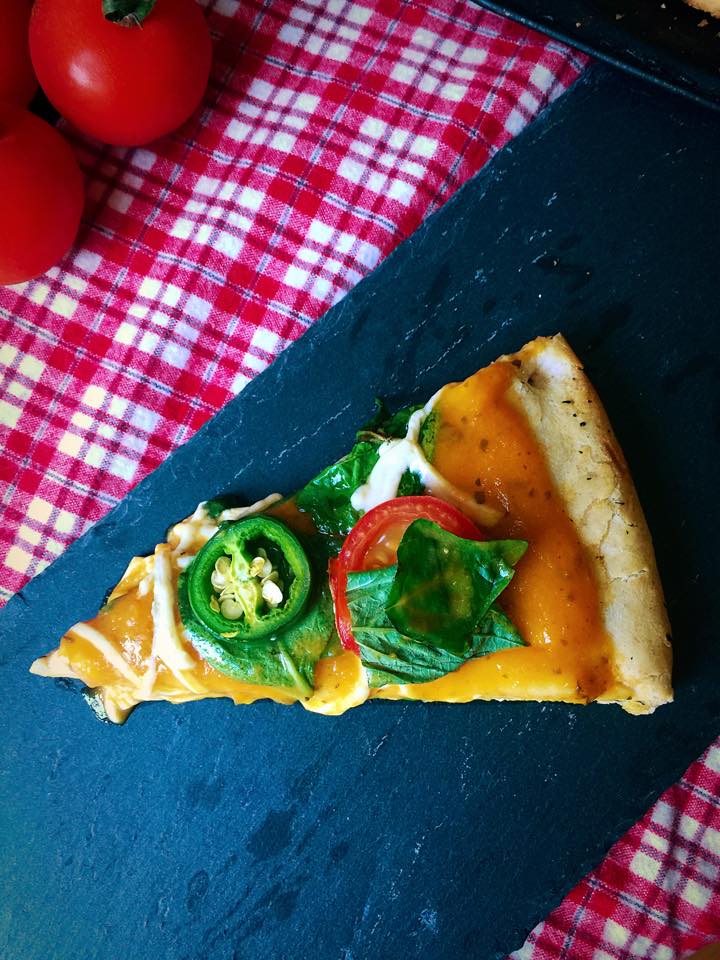 Hope that wherever you are, your Friday is as satisfying as it should be. If anyone finds a way to make my little cousin stop growing up, let me know, because I need to get on that (what am I going to do when she goes to college? I feel like a mom.) Have a great weekend!

Vegan Caprese Ciabatta Pizza with Yellow Tomato Sauce
Recipe type:
Lunch, Dinner
Prep time:
Cook time:
Total time:
This delicious and easy vegan caprese ciabatta pizza starts with a ciabatta flatbread base topped with yellow tomato sauce, baby spinach, vegan mozzarella, pearl tomatoes, jalapeno, and fresh basil.
Ingredients
1 ciabatta flatbread
1 cup chunky yellow tomato sauce (can sub any tomato sauce!)
½ cup packed baby spinach
¼ cup vegan mozzarella style shreds
2-3 pearl tomatoes, sliced
1 jalapeno, sliced
6-8 torn basil leaves for topping
Instructions
Preheat oven to 425 F.
Top flatbread with tomato sauce, spinach, cheese, tomatoes, and jalapeno, in that order.
Bake for 8-11 minutes in preheated oven on a baking sheet or directly on the rack.
Remove from oven and top with fresh basil before serving.