Strawberries and cream is the ultimate summer treat.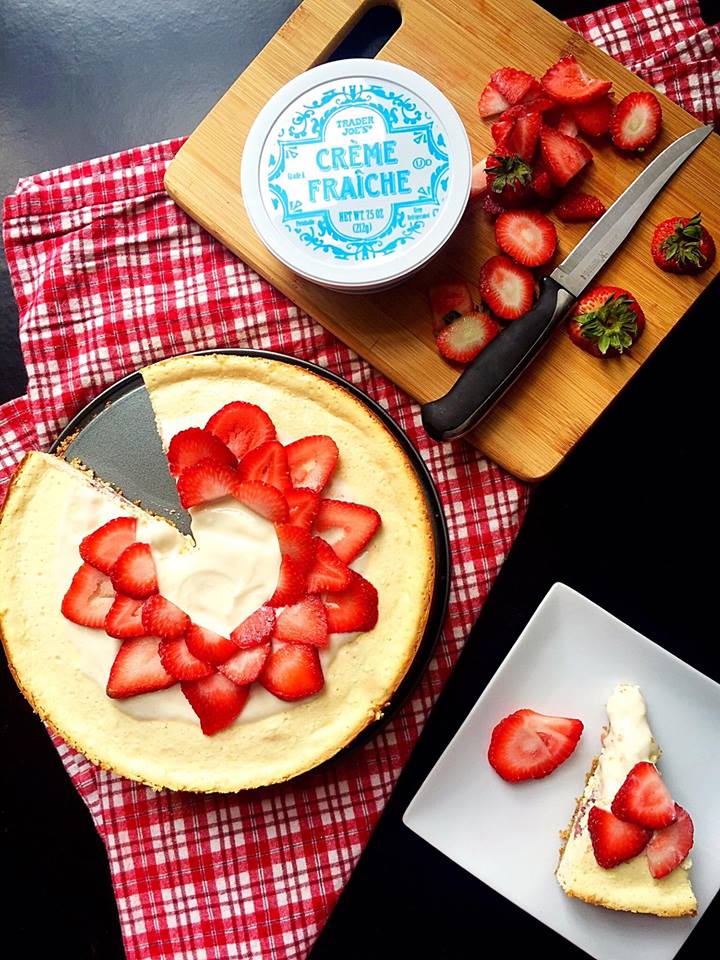 But I'm not really a Cool Whip kinda gal, and whipping heavy cream by hand? Um, not about that effort right now, especially when I'm already sweating because it's 11938451384018234 degrees outside.
Enter crème fraîche.
Honestly, I bought this because I'm a French major and it made me feel cool. Also because the packaging was really gorgeous and I was hype to use all the åççéñts possible in one post.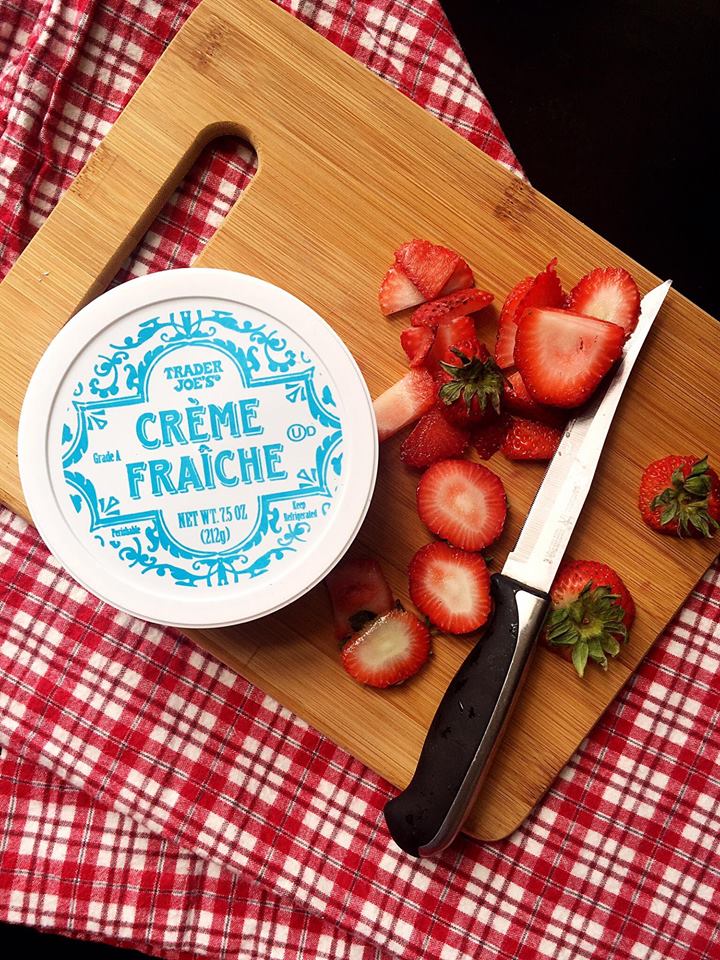 Crème fraîche is like French sour cream, but a lot milder. It's in the cheesecake in place of sour cream (where I would normally sub Greek yogurt), giving it a softer and less intense tartness. It's also in the glaze on top of the cake, adding nice contrast to the fresh strawberries.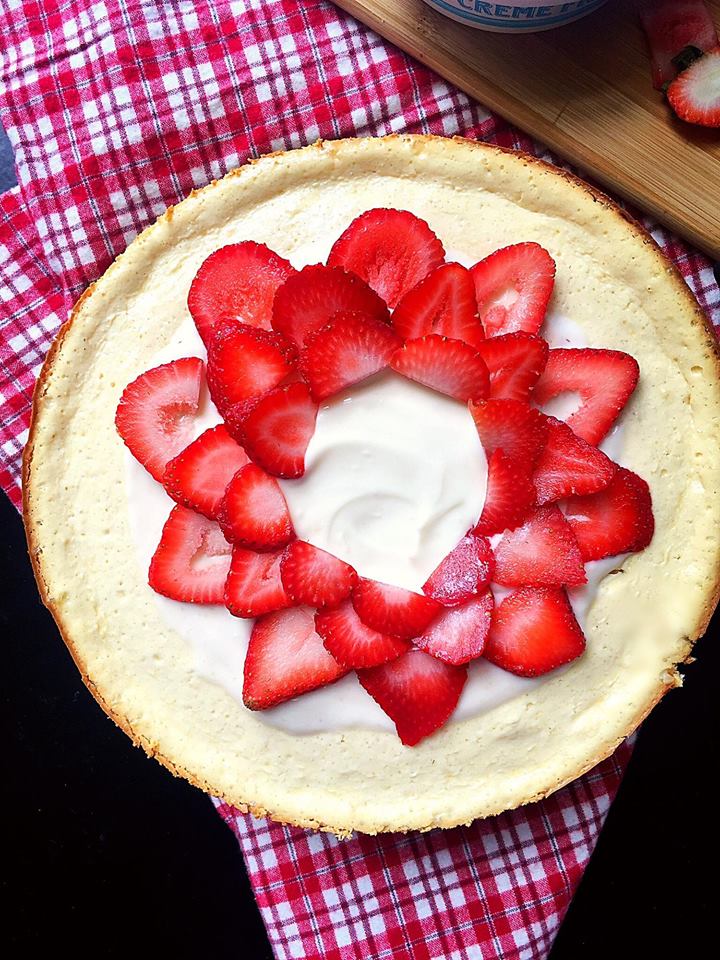 This recipe really celebrates the summer bounty! Sure, you have to turn on the oven in the summer heat, but the fresh strawberries in and on top of this cake are a perfect way to use some seriously delicious seasonal produce.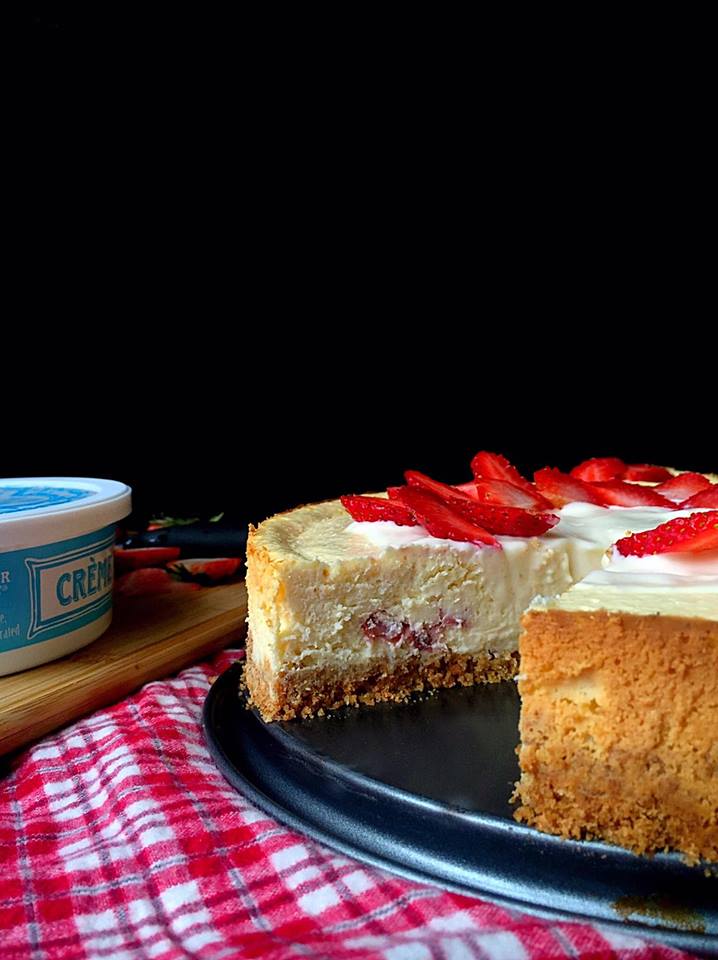 This cheesecake would also make a wonderful Fourth of July dessert! It's cool and refreshing and it's definitely a showstopper. Add the festive colors and you're set! You could even add some blueberries or blackberries to the top to emphasize that red, white, and blue.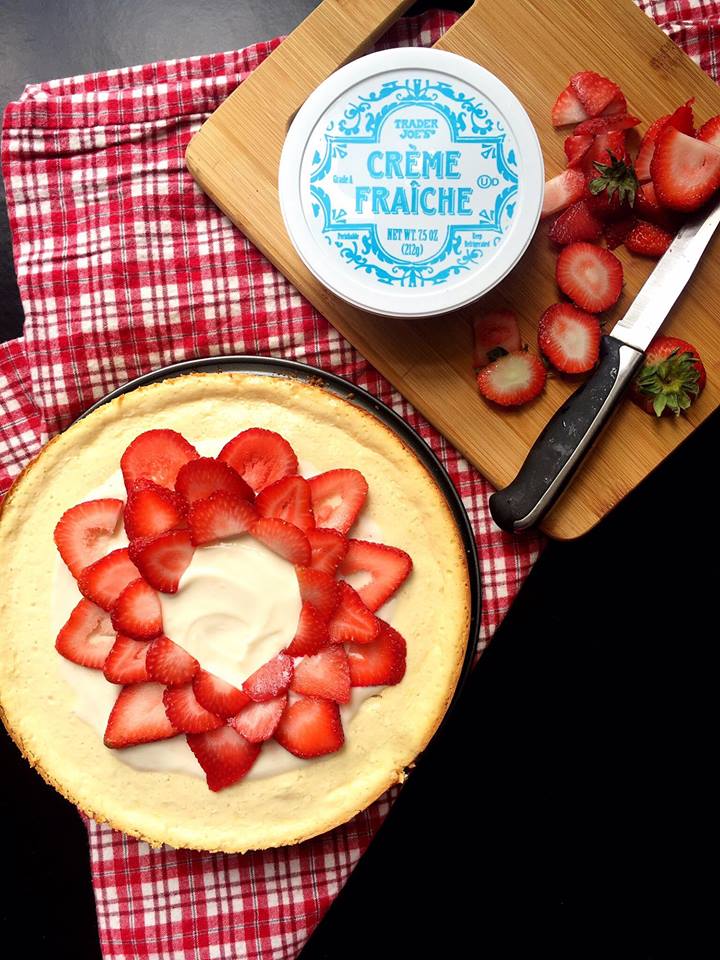 Whatever your reasons for making this cheesecake, make it. It's sinfully delicious and totally creamy- it disappeared in days in my house and my cousin had a slice before and after dinner.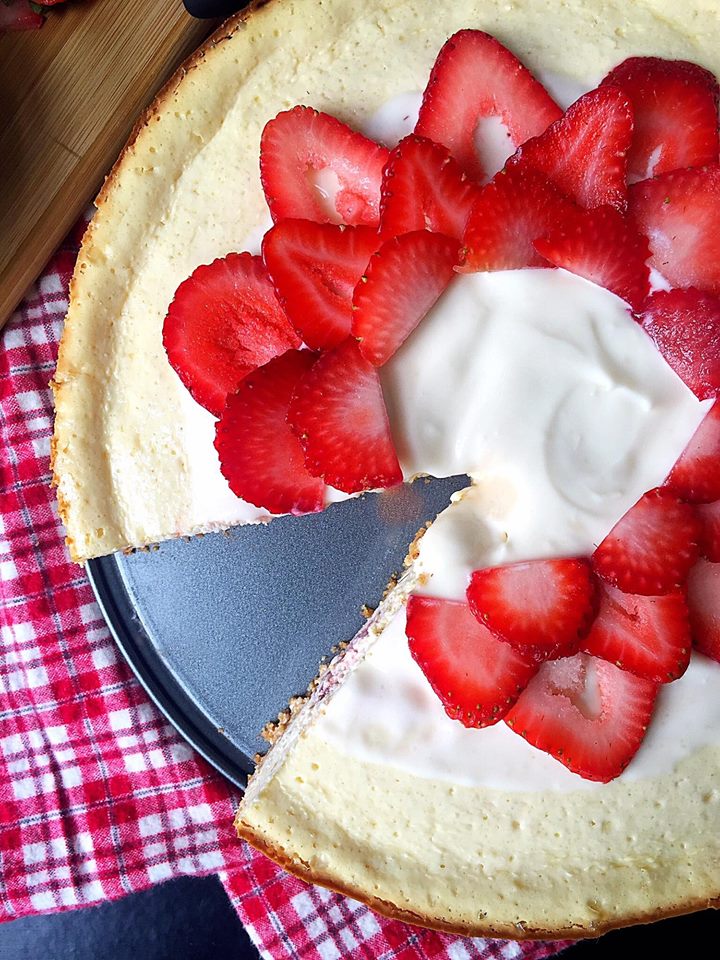 I hope you guys have a wonderful week. And if not, ease the Monday blues with a slice of cake! Enjoy xx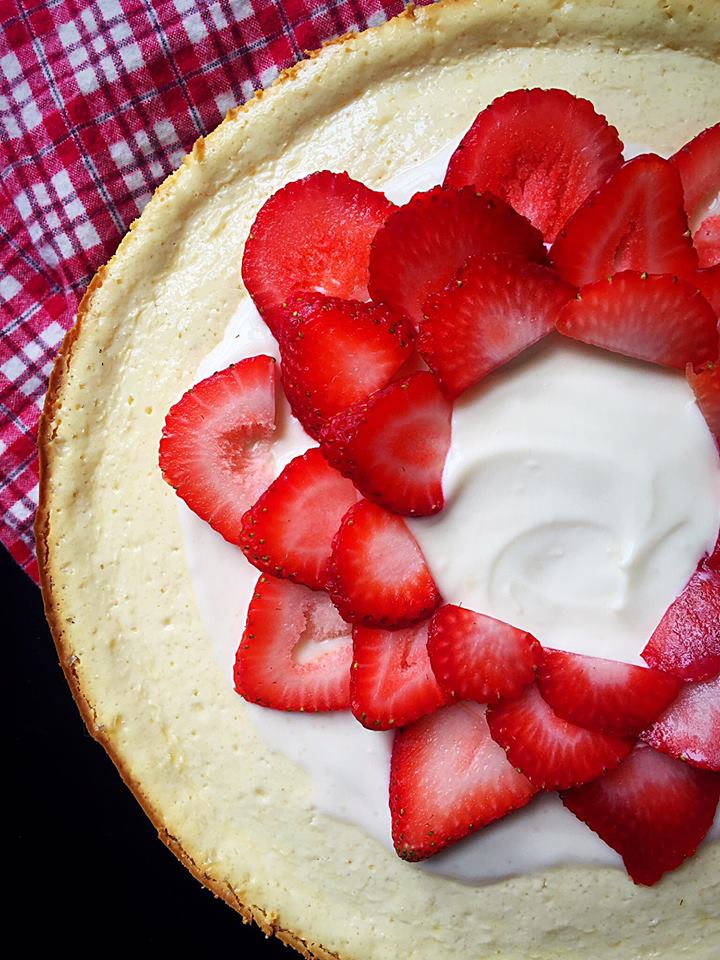 Strawberry Crème Fraîche Cheesecake
Ingredients
Crust
1½ cups graham cracker crumbs (20 squares or 10 large graham crackers)
2 tbsp cane sugar
⅓ cup butter, melted
Filling
16 ounces light cheese, softened (at room temp)
1 tsp + ⅔ cup cane sugar, divided
1 tsp sea salt
3 tbsp flour
4 large eggs, room temp
⅔ cup crème fraîche, room temp
2 tbsp freshly squeezed lemon juice
1 teaspoon almond extract
½ cup strawberries, thinly sliced (about 4-5 strawberries)
Topping/Serving
⅓ cup crème fraîche
¼ cup powdered sugar
¼ tsp almond extract
4-5 strawberries, sliced
Instructions
Preheat oven to 350ºF and grease a 9-inch springform cake pan with butter. Cut a large circle of foil and wrap around the bottom of the pan, sealing it.
Combine graham cracker crumbs, cane sugar, and butter in a large bowl and press crust mixture into the prepared springform pan.
Bake in preheated oven for 8-10 minutes and let cool on a wire rack. Decrease oven heat to 325ºF
In a skillet over medium heat, combine 1 cup thinly sliced strawberries with 1 tbsp water and 1 tsp cane sugar. Cook for 5-10 minutes, until strawberries are bubbling and cooked down to a compote/jam like consistency. Set off heat to cool.
In a large bowl, beat room temperature cream cheese with ⅔ cup cane sugar until smooth, using an electric mixer. Add salt and flour and mix well. Add eggs, one at a time, mixing well after each addition. Add crème fraîche, lemon juice, and almond extract and beat until homogenous.
Carefully pour batter into pan over cooled crust. Using a large spoon, add spoonfuls of strawberry mixture to pan. Use a toothpick to swirl strawberry mixture into filling.
Bake in 325ºF oven for 45-50 minutes. Turn oven off and let sit for an additional 2-5 minutes.
Remove from oven and cool on wire rack to room temp (about 20 minutes).
Run knife around edges of pan and move to fridge and chill for 8 hours or overnight.
Before serving, combine remaining ⅓ cup créme fraîche, powdered sugar, and almond extract and top cake with glaze (and fresh strawberries, if desired). Run knife one more time around edges of pan before removing from springform.
*filling adapted from here