Two no bake peanut butter and chocolate posts in a week? Must be Christmas in July June. You get it.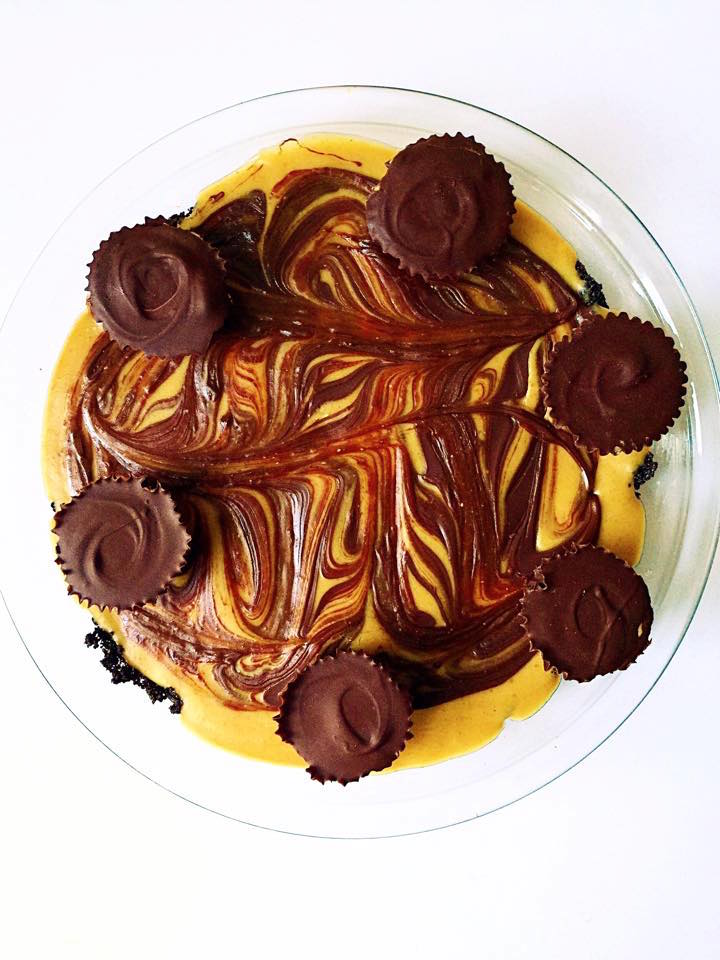 In all honesty, I wasn't planning on posting the recipe to this, but it was just so damn good and got some love on insta, sooo.
I made this pie for Father's Day, because my dad is a big fan of the peanut butter and chocolate combo (but, like, who isn't???). I knew I wanted to do an Oreo crust, but when I spied the limited edition Reese's Oreos in the store, I was sold.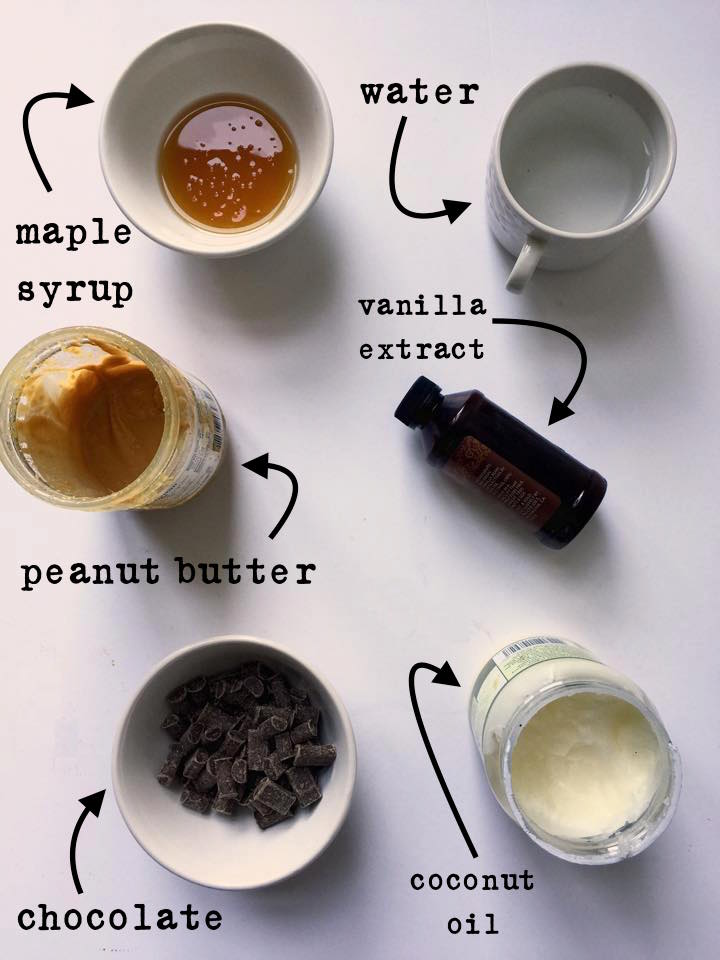 Oh, by the way, this is totally not sponsored, but Oreo? I'm here. Just saying.
Anyways, I made the two-ingredient crust, the six-ingredient filling, and then swirled in some chocolate because I was feeling fancy. Oh, and I topped everything off with some vegan peanut butter cups.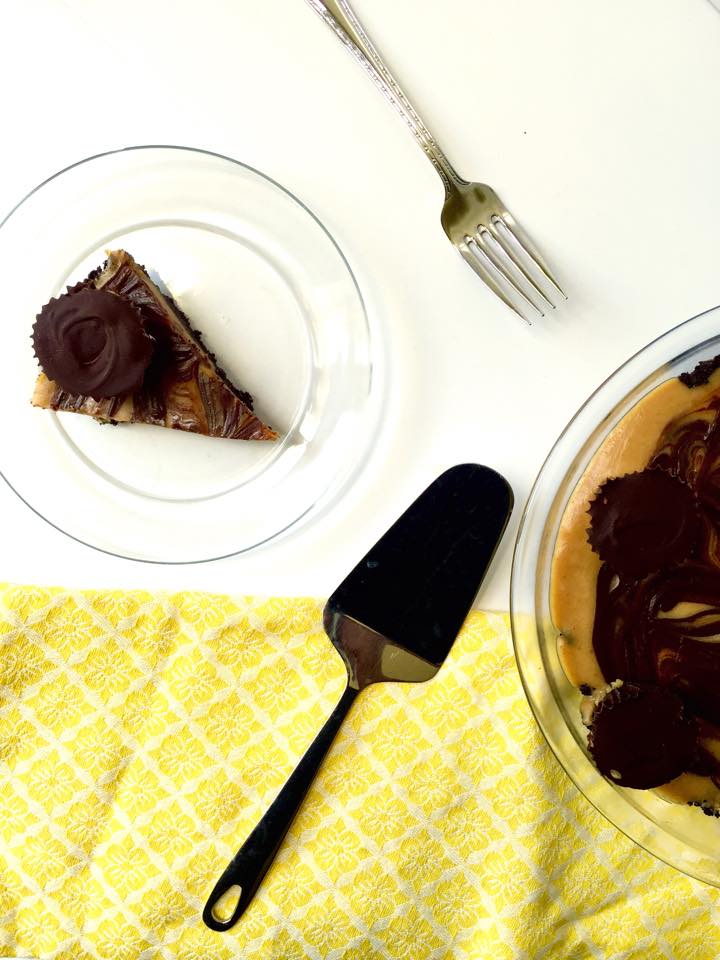 Go big or go home, people.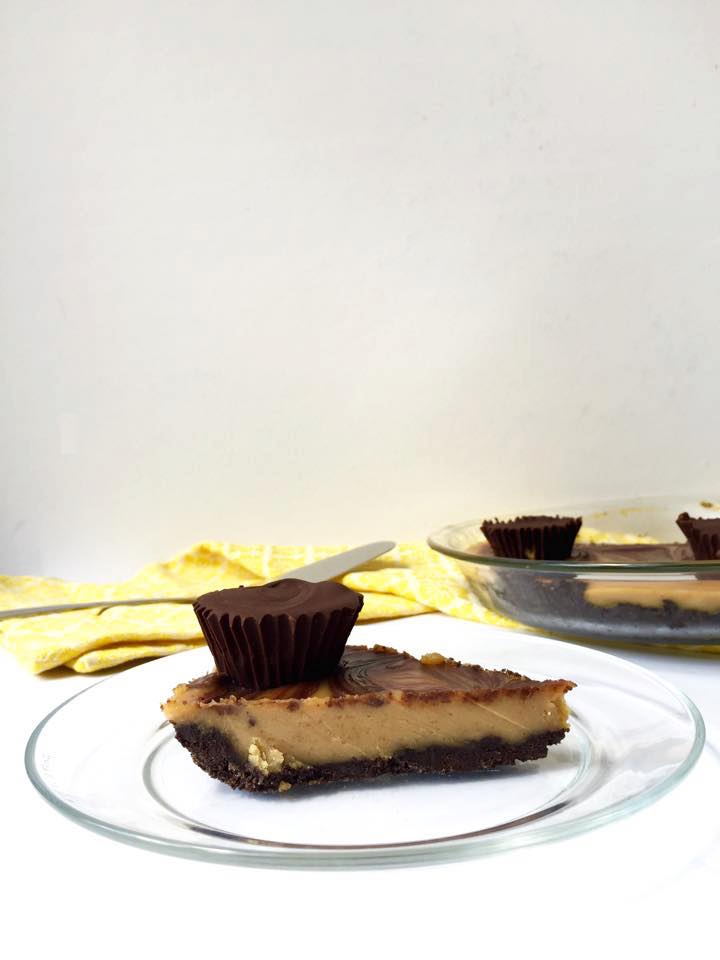 Despite all the flair, this pie took about half an hour to make, including all the peanut butter cups, and was set and ready to eat after a couple hours in the freezer (or four or so in the fridge would work too!).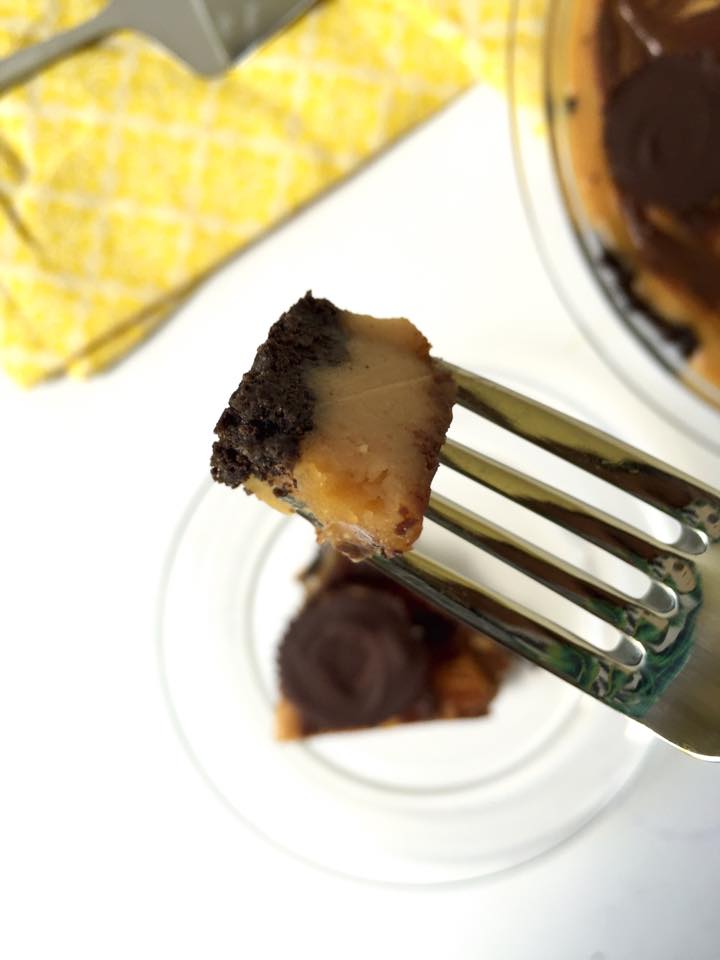 This pie is beautiful, slices so cleanly (a blessing, honestly), and beyond delicious!

No-Bake Vegan Peanut Butter Cup Oreo Pie
This no-bake, vegan peanut butter cup oreo pie is delicious and easy to make! The oreo crust is topped with a creamy peanut butter filling, chocolate swirl, and homemade peanut butter cups.
Ingredients
Crust
15 oreos (I used the Reese's Peanut Butter Cup oreos)
2 tsp coconut oil
Filling
1 cup peanut butter (I used creamy unsalted)
⅔ cup water
⅓ cup maple surip
½ cup coconut oil, melted
1 tsp vanilla
pinch salt
Topping
¼ cup vegan chocolate chips or chunks
6 mini vegan peanut butter cups
Instructions
For crust, combine ingredients in a food processor and blend until all oreos are crushed and evenly combined. Spread on the bottom of an 8- or 9-inch tart or pie pan. Place in fridge to set.
Combine all your filling ingredients in a food processor and pulse until homogenous. Pour into crust and make sure the filling is evenly distributed.
Melt your chocolate chips and using a spoon, spoon a spiral of chocolate onto the tart. Using a fork, swirl the chocolate to your pleasing.
Set in fridge for 4 hours or freezer for 2-3 hours. Halfway through chill time, press peanut butter cups along edge of pie and return to fridge to finish setting.
Serve!
*filling adapted from
here