You know that college student trope of living off ramen? Yeah, I never really got that.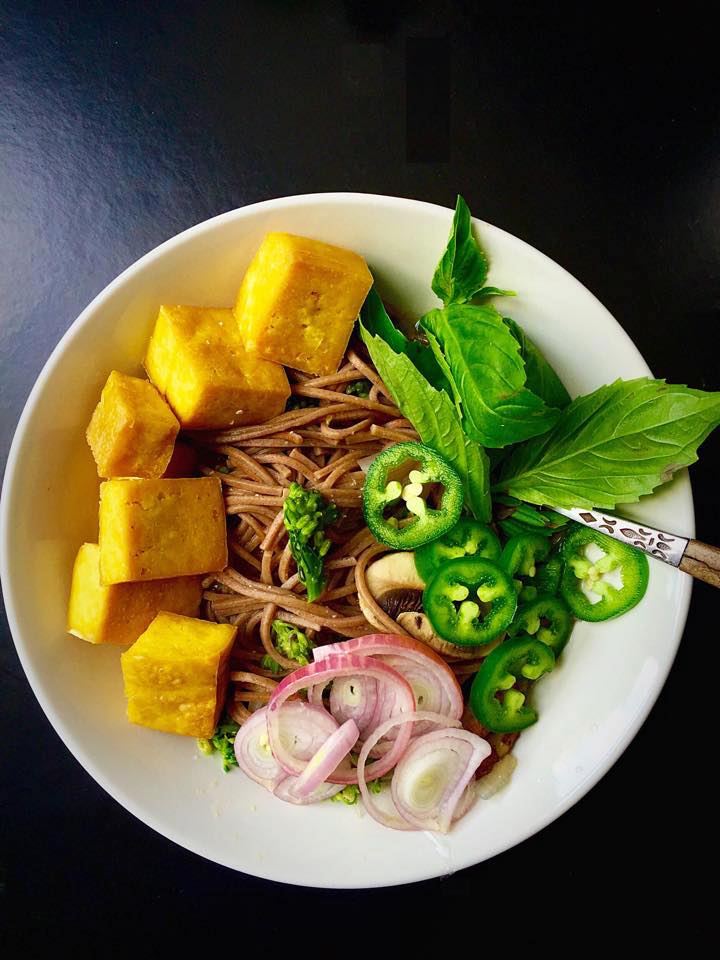 No, no, it's not like I'm saying I'm the health queen at school (I think the lady at the late night falafel truck definitely knows me by face…), but noodles and noodle soup are definitely something that I like to make myself.
This miso soba noodle soup is such a quick and easy recipe and makes exactly one serving! I've gotten sick a couple times this semester, and let me tell you, this is exactly what I was craving.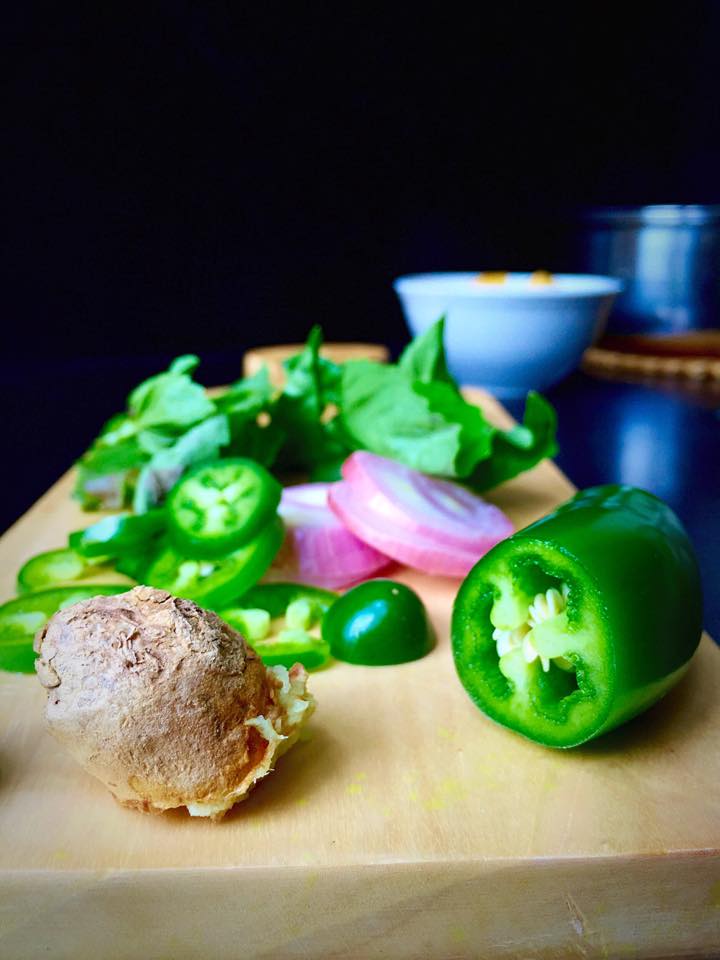 Because global warming is ruining everything, I've had a ridiculously warm December (it was 70º yesterday…) and I'm sure that we will be experiencing unseasonably cold weather throughout March and April- so keep this recipe on hand!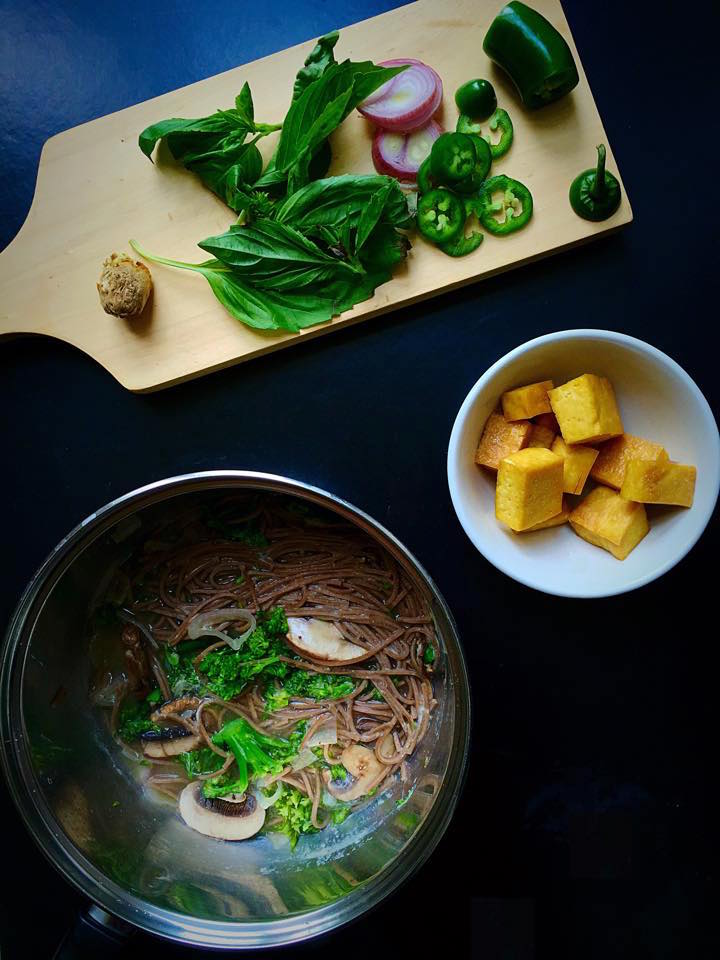 This soup has a miso broth, because I'm obsessed with miso. The base is made with miso, soy sauce, ginger, and shallots. I also cooked down mushrooms and broccolini with the soba noodles to add some depth to the soup.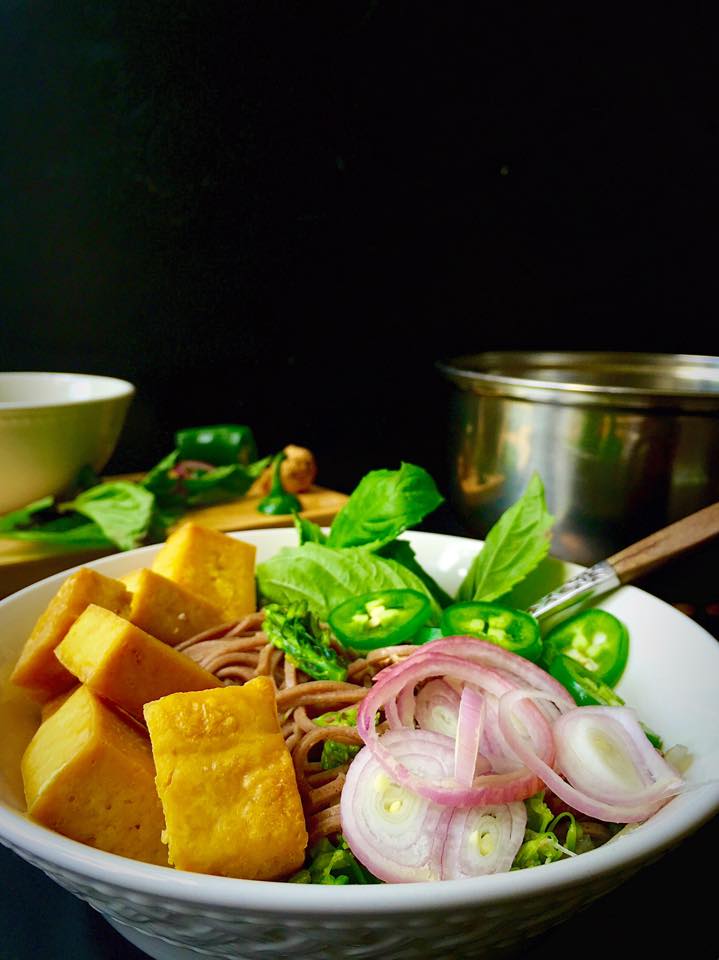 The toppings are what really makes this single-serving soup: fresh shallot, jalapeño, basil, and baked tofu, add so much texture and flavor to this healing and warming winter meal. Enjoy!

Miso Soba Noodle Soup with Jalapeños, Shallots, Basil, and Tofu
Recipe type:
Lunch, Dinner
Prep time:
Cook time:
Total time:
This delicious miso soba noodle soup is made with a homemade broth, soba noodles, and fresh toppings! Jalapeño, shallots, basil, and baked tofu add texture and flavor to this soup.
Ingredients
Soup
1 oz soba noodles
1-2 tsp salt
1 cup water
1 tbsp miso paste
½ shallot, thinly sliced
1-2 tsp fresh ginger, grated
1 tsp soy sauce
scant ¼ cup sliced mushrooms (I like shiitake here)
2-3 finely chopped baby broccoli florets
Toppings
½ shallot, thinly sliced
½ jalapeno, thinly sliced
2-5 basil leaves
¼ cup baked tofu
Instructions
In a medium saucepan over high heat, bring water, miso, salt, shallot, soy sauce, and ginger to a boil and stir until everything dissolves.
Add soba noodles and bring down to a simmer. Add mushrooms and broccoli and continue to cook for 5-10 minutes, until soba noodles are cooked.
Remove from heat and transfer to a bowl. Top soup with jalapeños, basil, shallots, and tofu. Serve!