I am super thrilled about this post.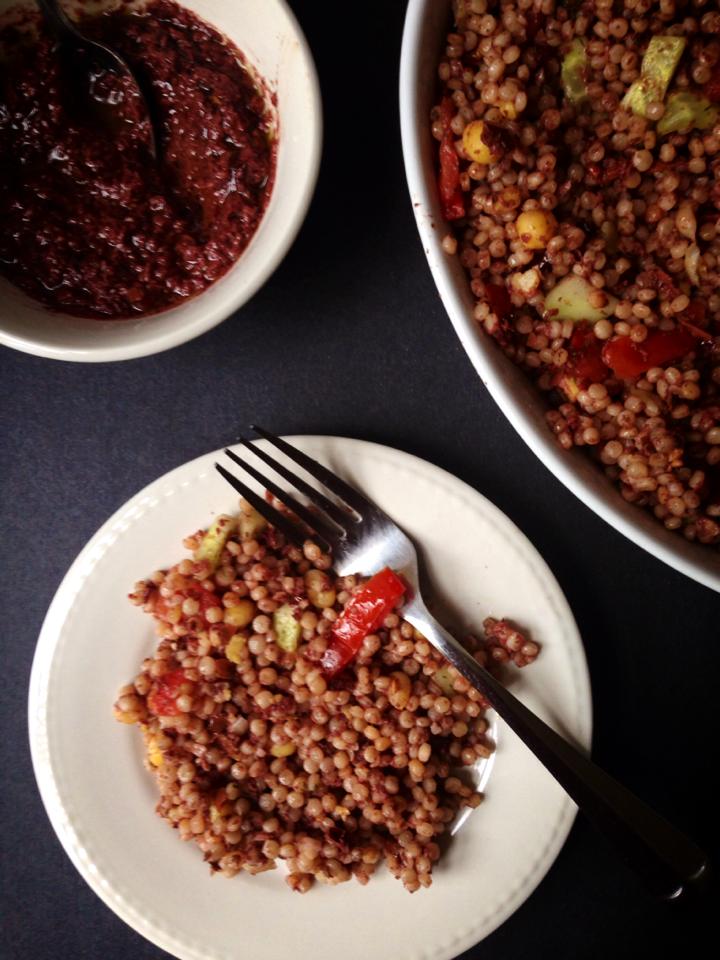 What I'm not thrilled about is losing half the pictures for it. And all the photos for my next post.
The tides are clearly not rolling in my favor. But according to my local morning radio show, it's all because the planet Mercury is in retrograde.
Whatever that means, I'm accepting it.
You know what else I accept? Olives.
I know some people hate olives. When they get a salad and it has olives in it, they recoil. They say olives are "too salty" and "gross".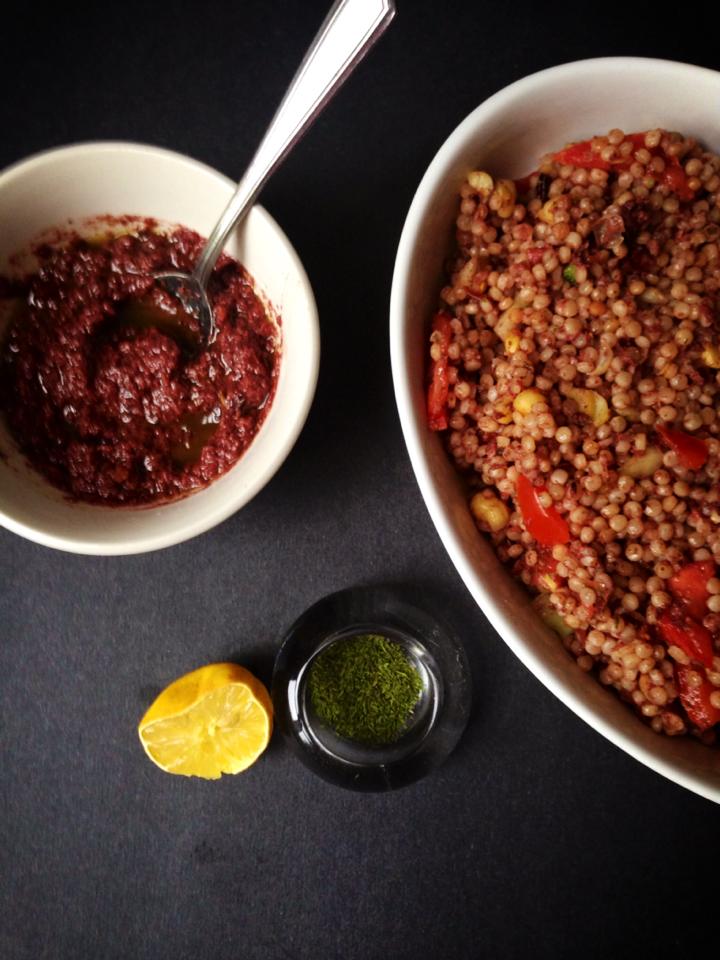 Um, sorry, but no.
Olives, especially kalamata olives, add a pop of flavor to any salad or sandwich. When I get a Greek salad at a restaurant, I pick out all the kalamata olives and savor them.
So naturally, when I was brainstorming recipe ideas, I wanted to figure out a way to get as much kalamata into my dish as possible. And since I've been using my food processor more than ever as of late, I couldn't help but think, "What would happen if I blended a jar of kalamata olives?"
Let me tell you what happened.
Magic.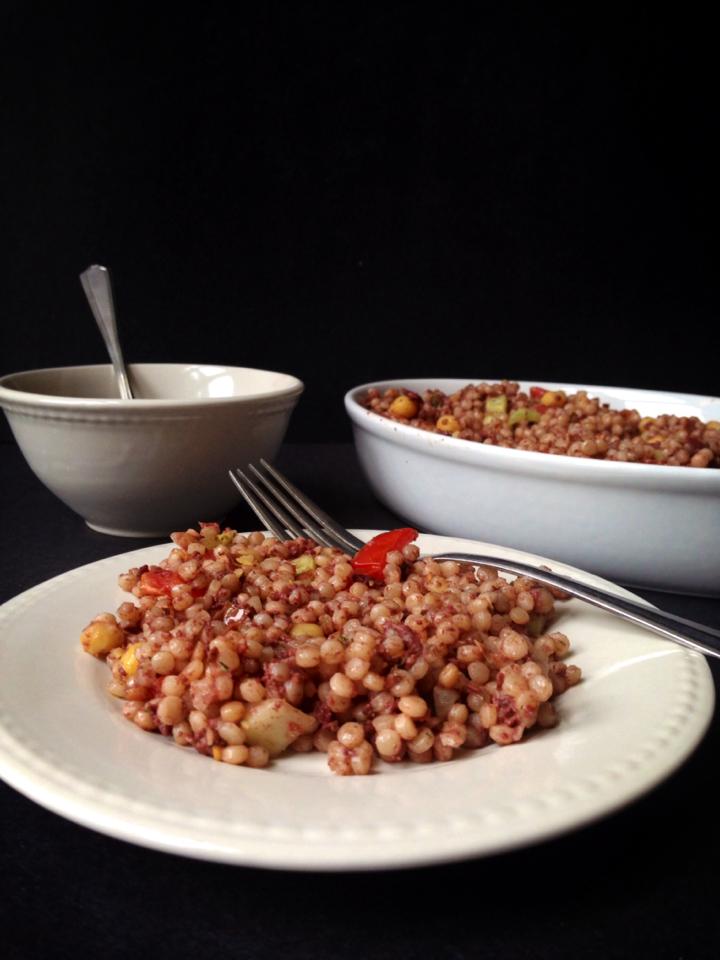 This is not an over-exaggeration. Processing the olives with some olive oil, tossing the dressing over perfectly cooked Israeli couscous, crisp cucumbers, chickpeas, and tomatoes, and flavoring the entire meal with dill, lemon, and a pinch of salt? It's pretty divine.
I served this salad chilled and it was an instant hit. I'm literally eating it as I type this post up now. The salad is perfect as a side or served alongside some baked tofu. I could see some crushed pita chips all over this baby.
Even if you're an olive hater, give this a try! The olive oil mellows out the kalamata olive flavor. And since the dressing is diffused throughout the dish, the salty punch isn't as forceful.
In the meantime, let's hope Mercury gets its act together and I'll keep eating this for every meal.
Enjoy!
xx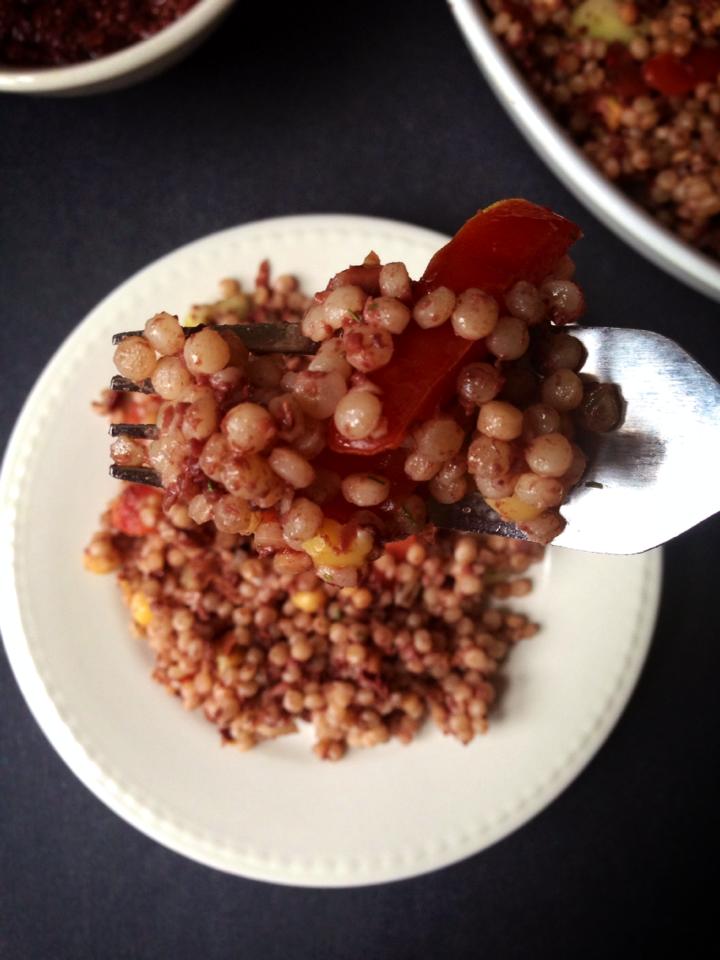 Mediterranean Israeli Couscous Salad
Recipe type:
Lunch, Dinner
Cuisine:
Mediterranean, Greek
Prep time:
Cook time:
Total time:
Israeli couscous combines with cool cucumbers, chickpeas, and tomatoes and tart kalamata olive dressing in this light salad. This dish is perfect as a side or made into a meal alongside baked tofu. An easy and delicious vegan meal!
Ingredients
1⅓ cups Israeli couscous
⅓ cup + 1 tbsp olive oil, divided
12 oz kalamata olives
¼ cup chopped cucumber
¼ cup diced tomato
½ cup chickpeas, rinsed and drained
2 tbsp dill
juice of ½ a lemon
salt to taste
Instructions
Sautée dry couscous in 1 tbsp olive oil over medium heat for 5 minutes, or until lightly browned.
Add 1- 1½ cups boiling water and cover, reducing to a simmer. After 5 minutes, stir thoroughly and transfer to another bowl.
Meanwhile, process olives and ⅓ cup olive oil in food processor.
Add olive tapenade/dressing to cooked couscous and stir well to combine.
Add cucumber, tomato, chickpeas, dill, lemon juice, and salt and mix well.
Chill in the fridge prior to serving.