It's my birthday!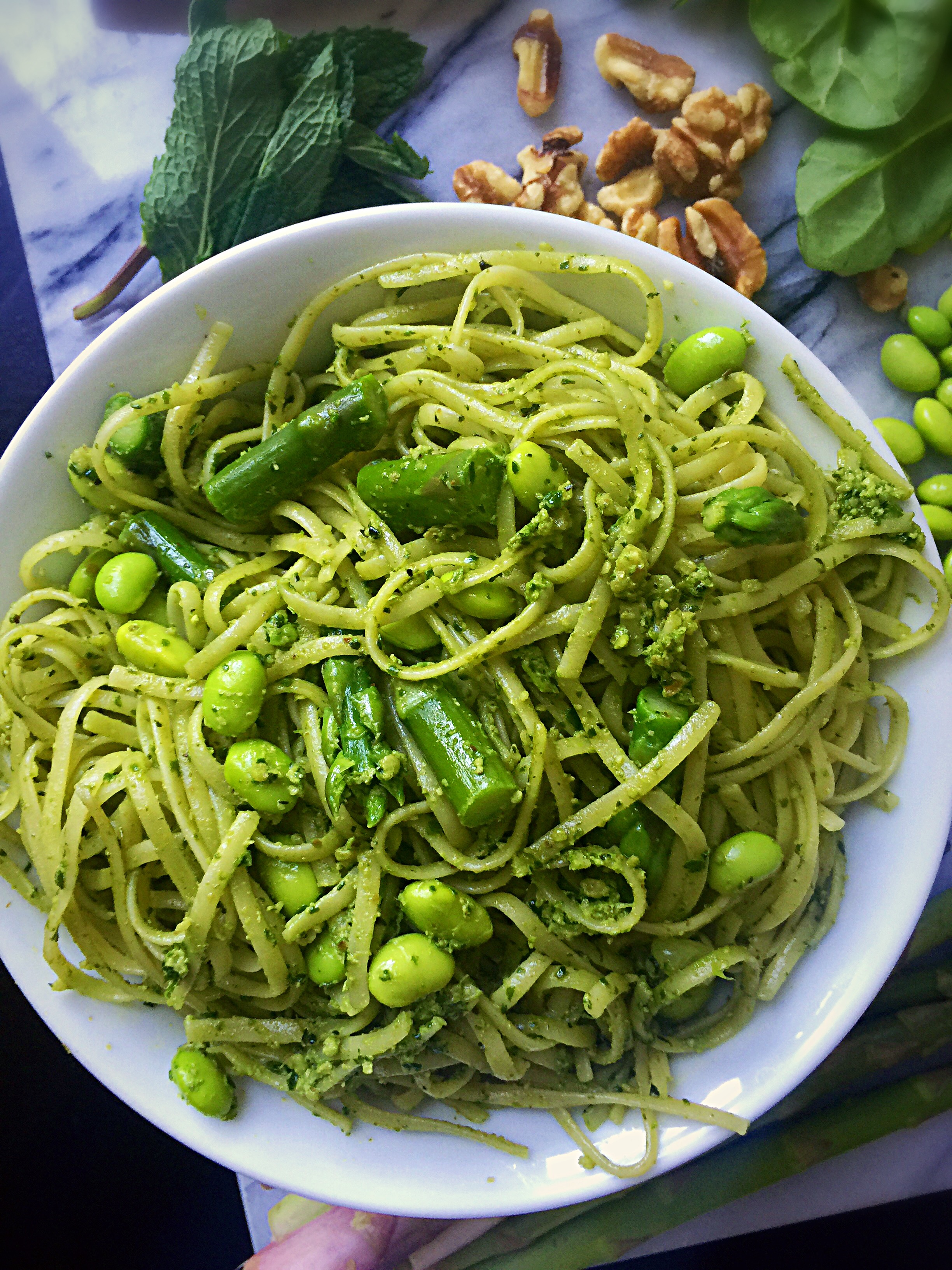 This is the time of year when I head over to the About Me section and cross out 18 to write 19. Guys, I'm officially old.
Yeah, yeah, everyone's laughing.
You're nineteen, you're not old. Well people, 19 is a big deal. It's your last year of teenhood before you become a (semi) REAL adult.
This is daunting stuff.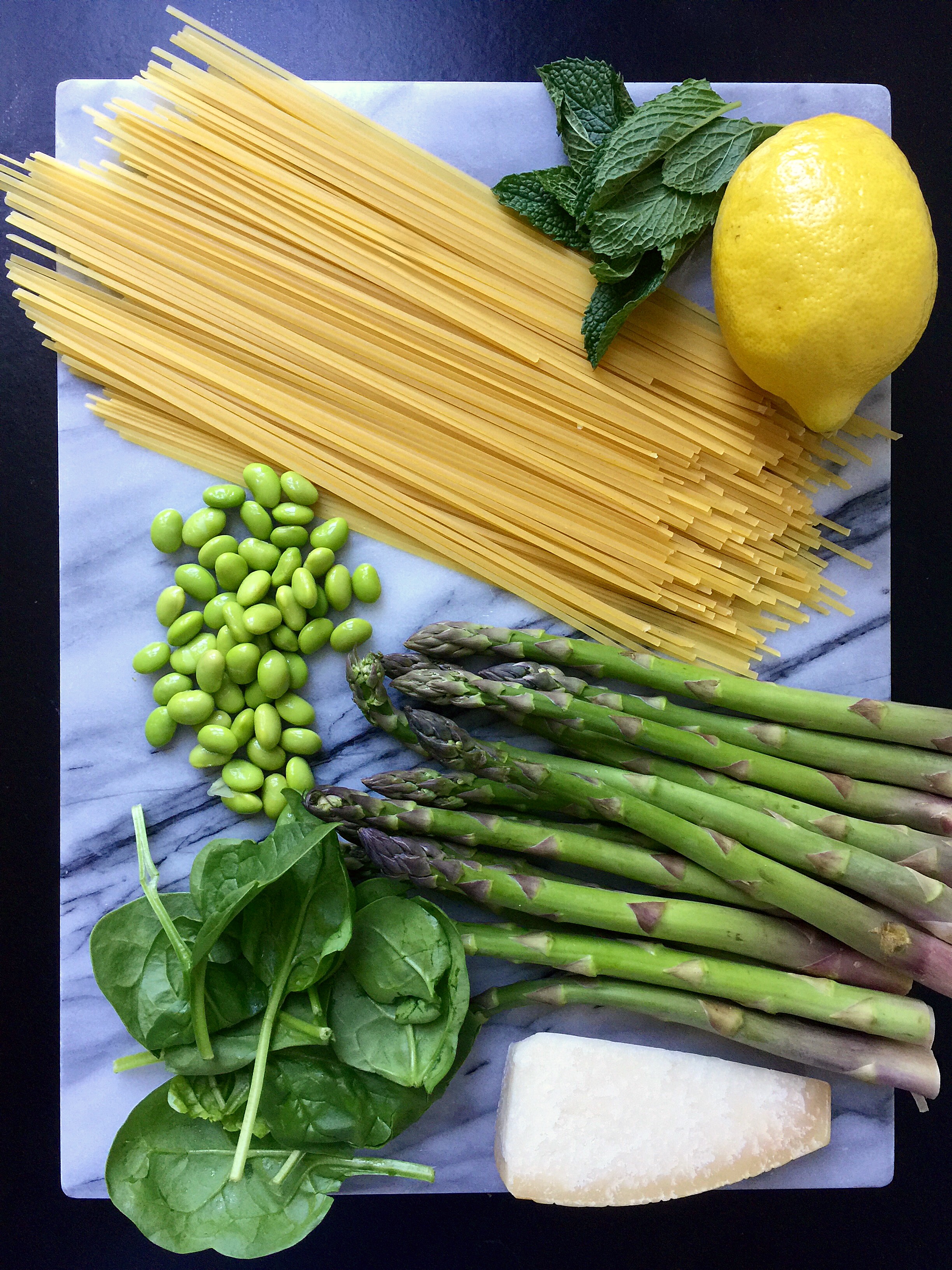 As per usual, I treat any anxiety with carb therapy. Today, it's in the form of this spring pasta with tons of mint pesto, asparagus, and edamame.
Linguine is my favorite pasta, especially for pestos, because it holds the thicker sauce well and it's just so pretty.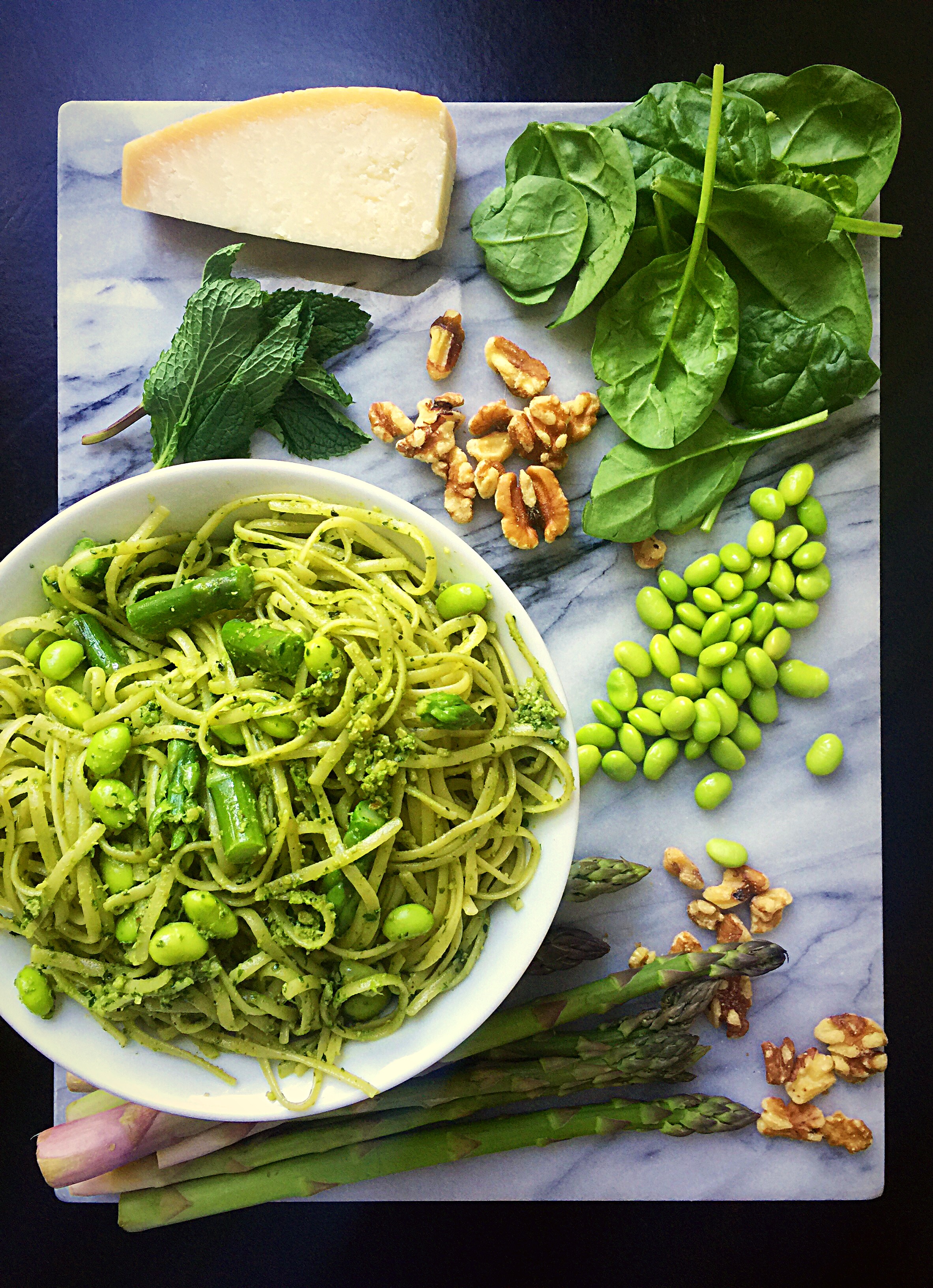 This pesto is composed of mint, spinach, garlic, olive oil, walnuts, and TONS of lemon. Such easy stuff, but seriously yummy. In sticking with the trend of all things green, I added in some edamame and blanched asparagus.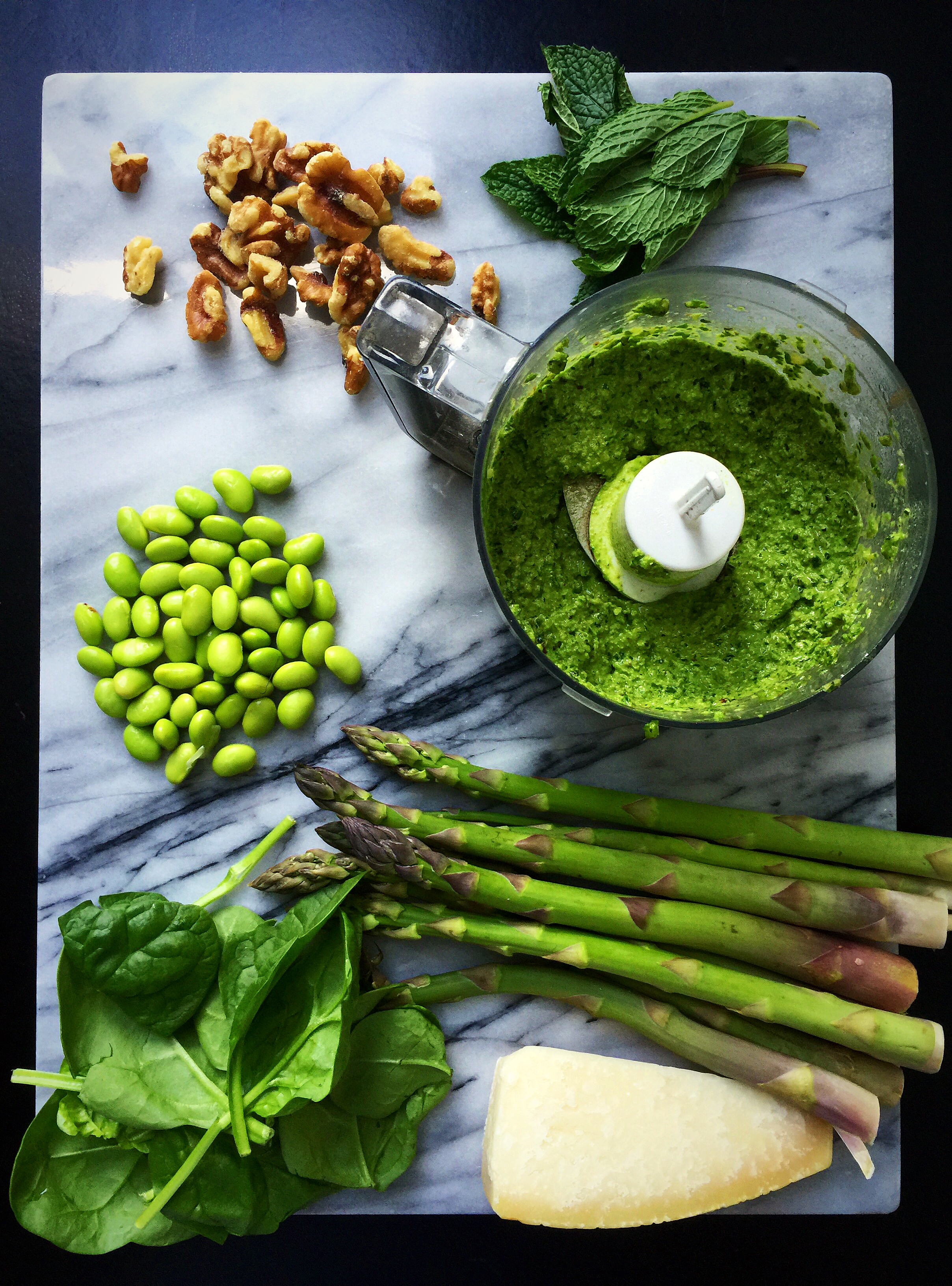 I was going to do something with whipped ricotta, but honestly there was so much going on already, that I nixed the idea. (Plus, it keeps the recipe vegan!)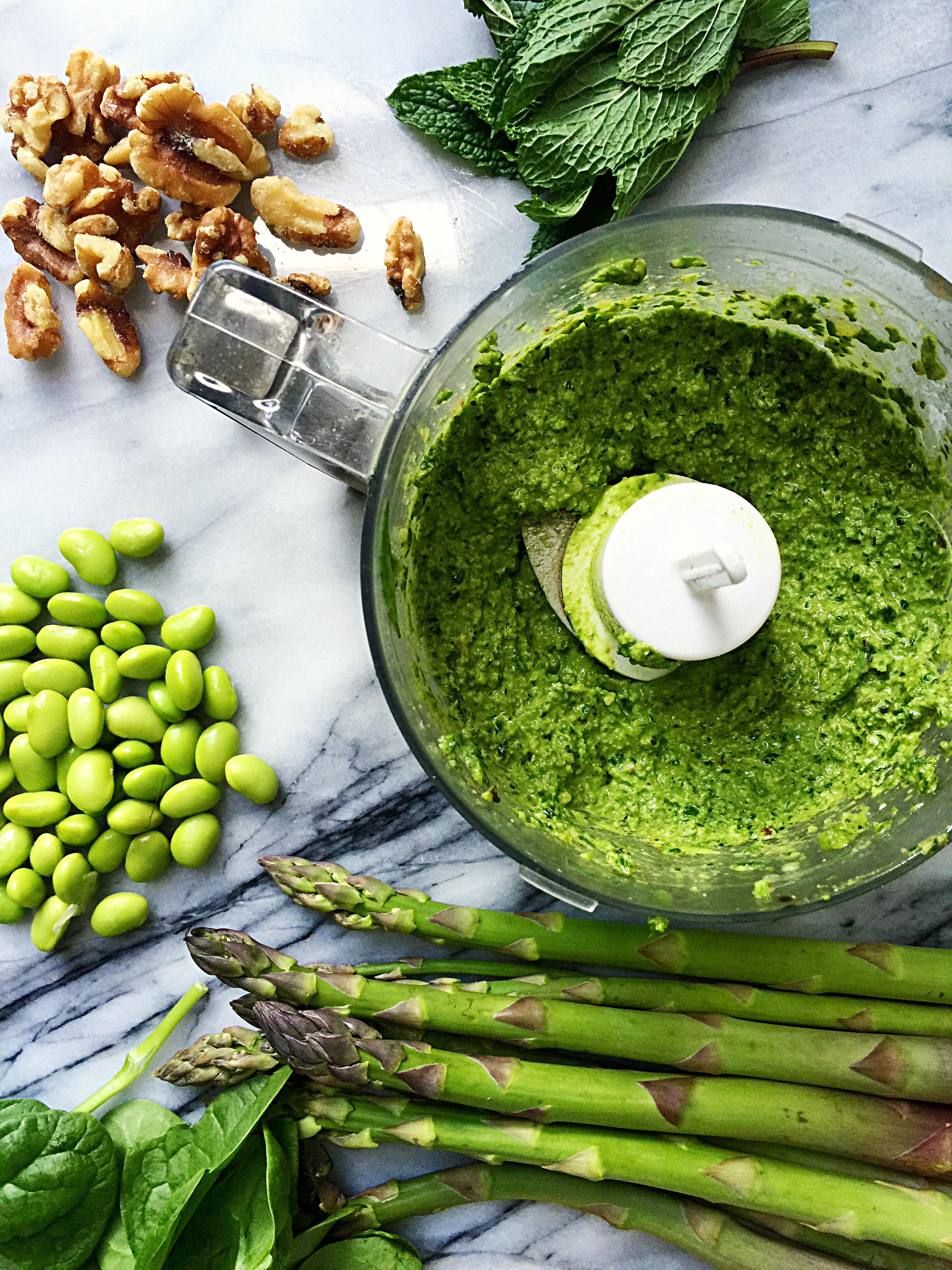 If you dare, this spring pasta is even better with extra crushed black pepper and grated fresh parmesan on top. I'd even love to top off some of my leftovers with finely chopped walnuts for more texture!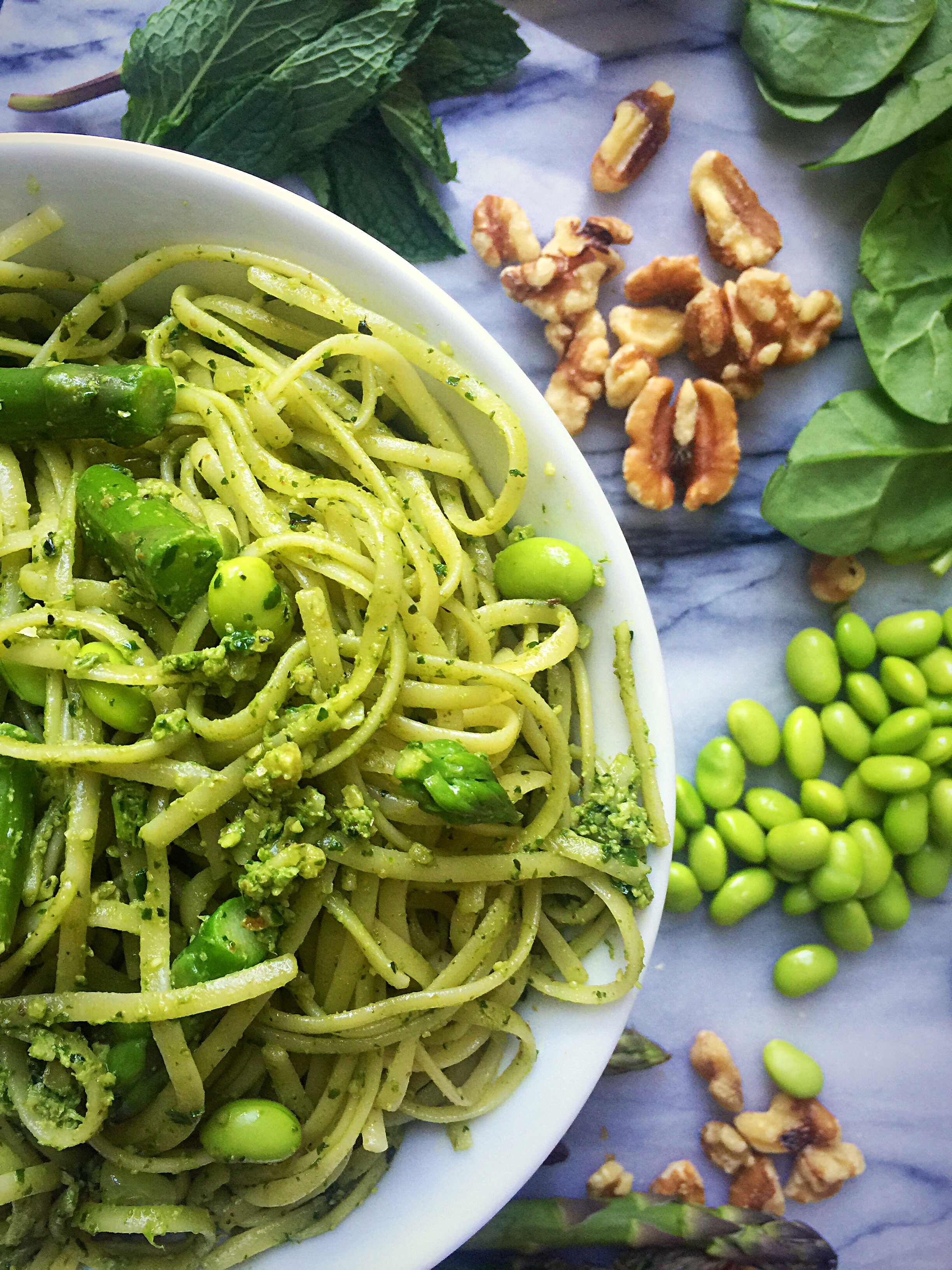 Today, I'm going to be eating tons of green at Fig & Olive, heading home to get ready for a dance show (yes, a show, yes, on my birthday… it's very typical), and then hit up Sweetgreen for dinner & Cheesecake Factory for dessert.
It's normal to plan your birthday around food, right?

Linguine with Mint Pesto, Asparagus, and Edamame!
Recipe type:
Lunch, Dinner
Prep time:
Cook time:
Total time:
This spring-inspired pasta dish combines mint, spinach, and walnuts to form a delicious pesto. Topped with blanched asparagus and fresh edamame, this meal is easy and delicious!
Ingredients
16 oz linguine (= 1 package)
4-6 fresh mint leaves
1-2 cloves garlic
¼ cup olive oil
½ cup walnut halves
1½ cups fresh baby spinach
½ cup fresh shelled edamame
6 oz asparagus, trimmed into 1-inch pieces
zest and juice of half a lemon
Salt, to taste
Parmesan, for topping (optional)
Instructions
Cook pasta in well salted boiling water until al dente, about 7-8 minutes. Drain and cover with a towel to keep pasta from sticking.
In another pot of boiling water, boil asparagus for 3 minutes, until tender. Immediately drain and plunge into an ice water bath and run over with cool water for 1-2 minutes. Set aside to drain.
For pesto, in a food processor, combine mint leaves and garlic. Add walnut halves and pulse until ground. Add spinach and olive oil and lemon juice and pulse until smooth.
Toss pasta with pesto, lemon zest, asparagus, and edamame. Add salt to taste and toss until well combined. Serve with grated parmesan, if desired.