I think unconventional risottos might be my favorite new thing.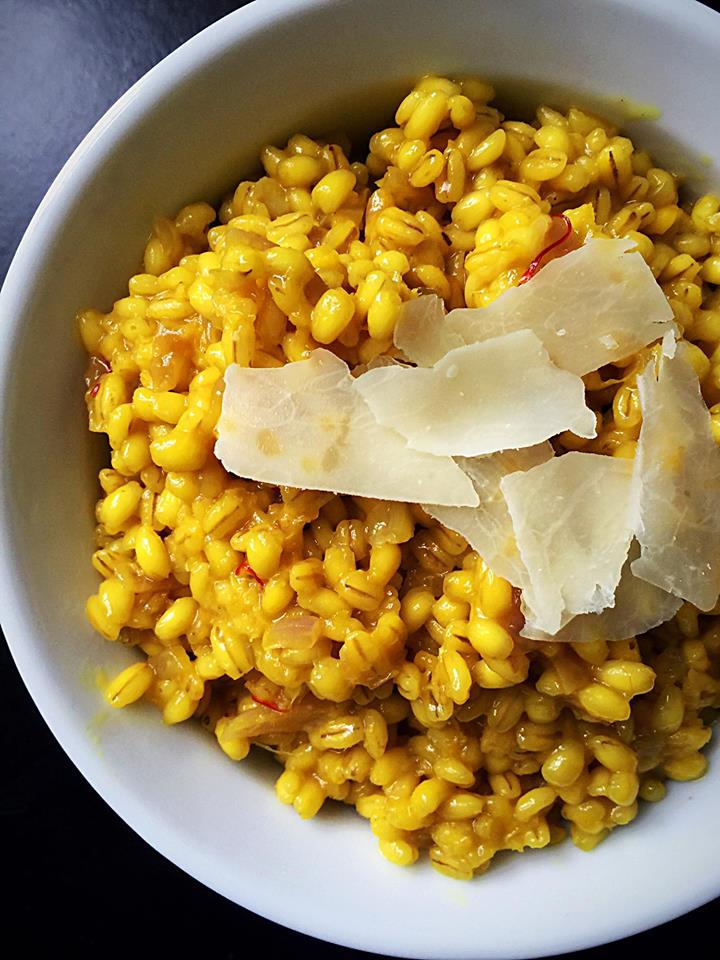 After I made my asparagus israeli couscous risotto, I knew that I had to tackle another grain, because rice is just so passé.
I'm completely joking, of course. I'm obsessed with rice. The real truth is that I need to stop consuming immense amounts of rice, so I'm forcing myself to branch out in terms of grains. There you go, I admitted it.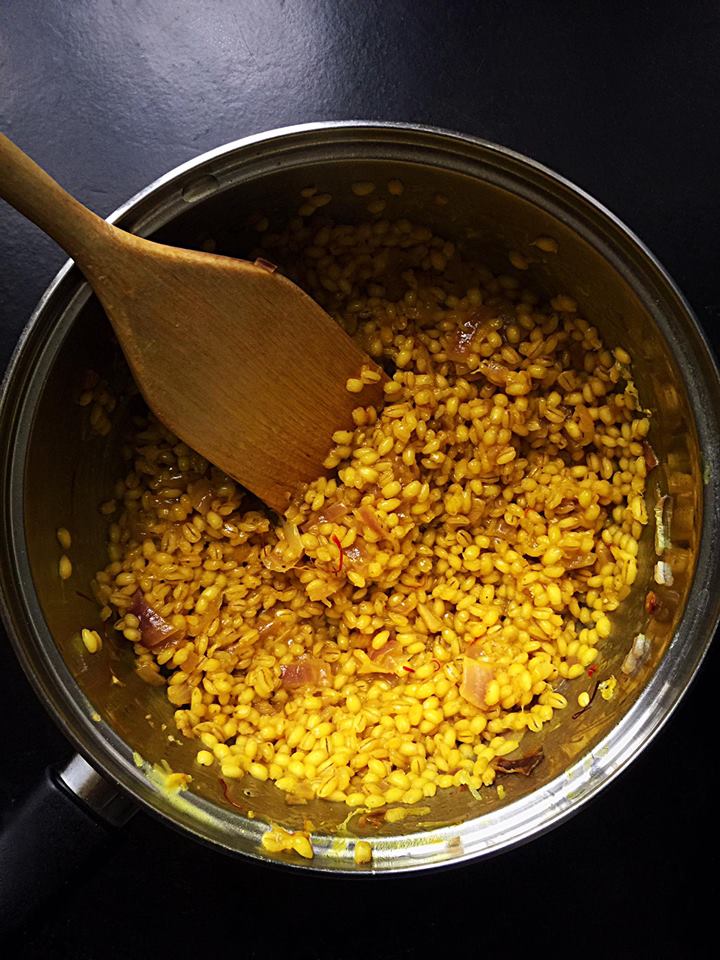 Luckily for me, this experiment is delicious. I don't think I'd ever had barley before I made this risotto, but now I'm obsessed with it. It's kind of halfway between farro and rice, in that it's nutty and chewier like farro, but a little more neutral in flavor like rice.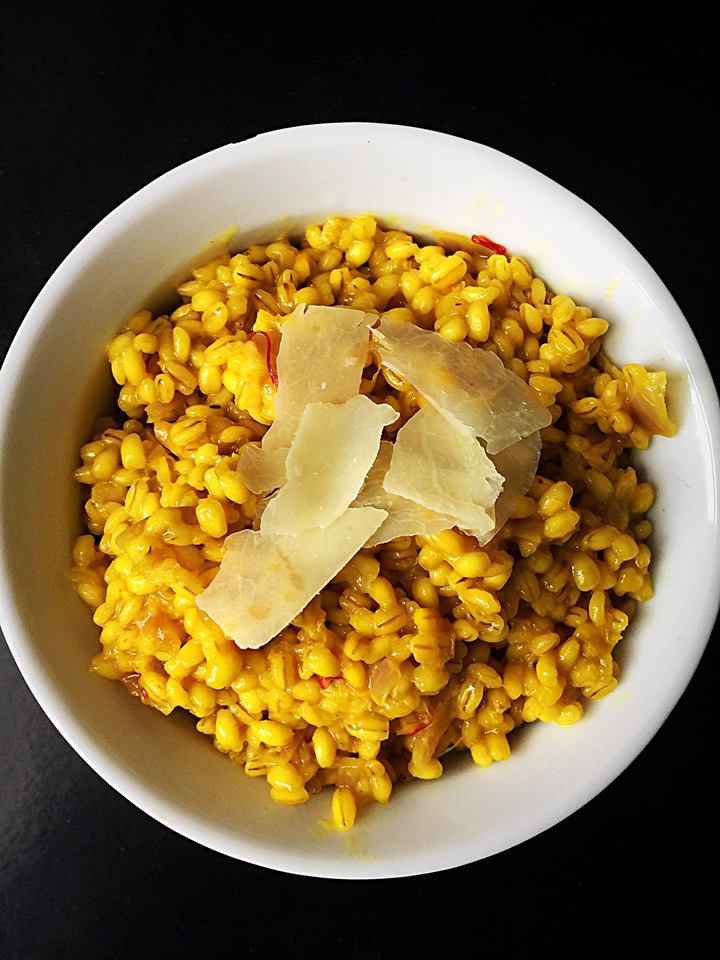 This lemon saffron risotto is super light and packed with zesty flavor. Aside from the sprinkling of shaved parm on top, it's completely vegan. I opted for olive oil in place of butter and lots of garlic, onion, saffron, and lemon zest for flavor. (Also a pinch of turmeric, because it plays well with the saffron, and it's helps fool you into thinking that the yellow is from the lemon).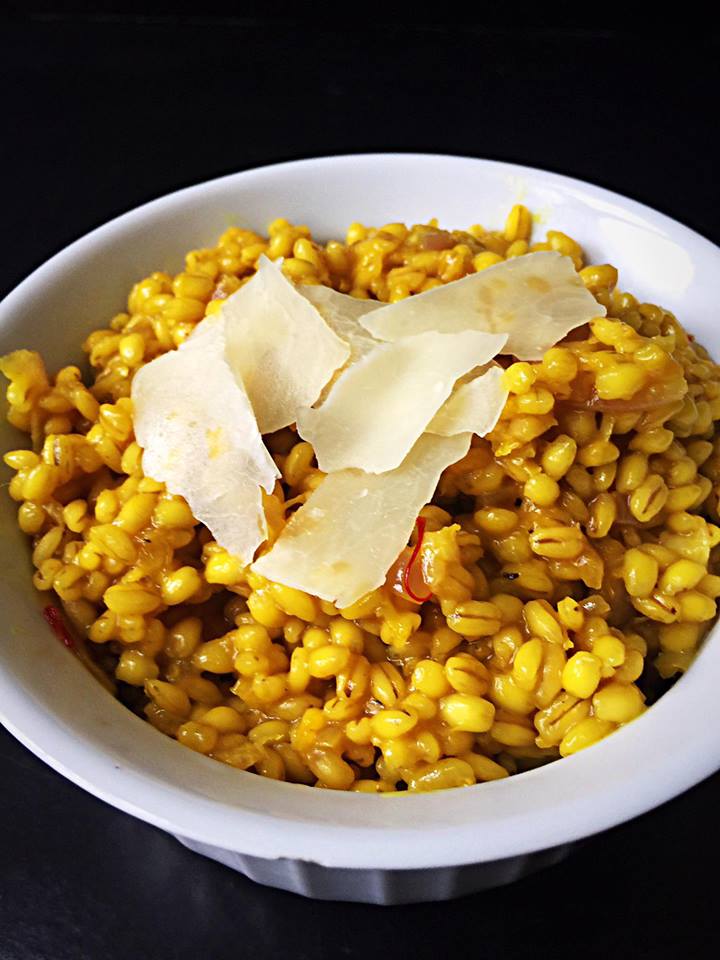 When I think risotto, I typically think heavy, savory, buttery. But this risotto is lighter and more of a transition into spring flavors (see what I mean? Unconventional risottos- I'm making this a thing). Enjoy!

Lemon Saffron Barley Risotto
Recipe type:
Lunch, Dinner
Prep time:
Cook time:
Total time:
This lemon saffron risotto is super light and packed with spring flavor. Lemon zest, turmeric, and saffron combine to form a richly aromatic base for this vegan optional barley risotto!
Ingredients
¾ cup dry barley
3 tsp olive oil, divided
2 cloves garlic, chopped
¼ cup (about half of one) red onion, chopped
¼ tsp (a pinch) saffron
¼ tsp turmeric powder
¼ cup dry white wine
2 cups vegetable broth, divided
2 tsp sea salt
1 tsp lemon pepper
3 tbsp lemon zest
¼ cup shaved parmesan (optional)
Instructions
In a deep medium sized saucepan, heat 2 tsp olive oil over medium heat
Add the chopped garlic and onion and stir until fragrant, about 5 minutes
Add the saffron and turmeric and cook for an additional 2 minutes
Pour in barley and continue to stir until the barley is lightly toasted (about 2-3 minutes)
Working slowly, add increments of the wine, stirring until all the liquid is absorbed
Add ½ cup of the broth and continue stirring until all the liquid is absorbed, then add one more ½ cup.
Add the other cup in ¼ increments and stir continuously
When there is very little liquid remaining (but not quite dry), add lemon zest and stir.
Season with salt and pepper to taste
Let stand off heat and covered for two minutes, then stir and serve
Optional: top with parmesan before serving