I'm calling it right now, this is the prettiest salad you'll ever eat.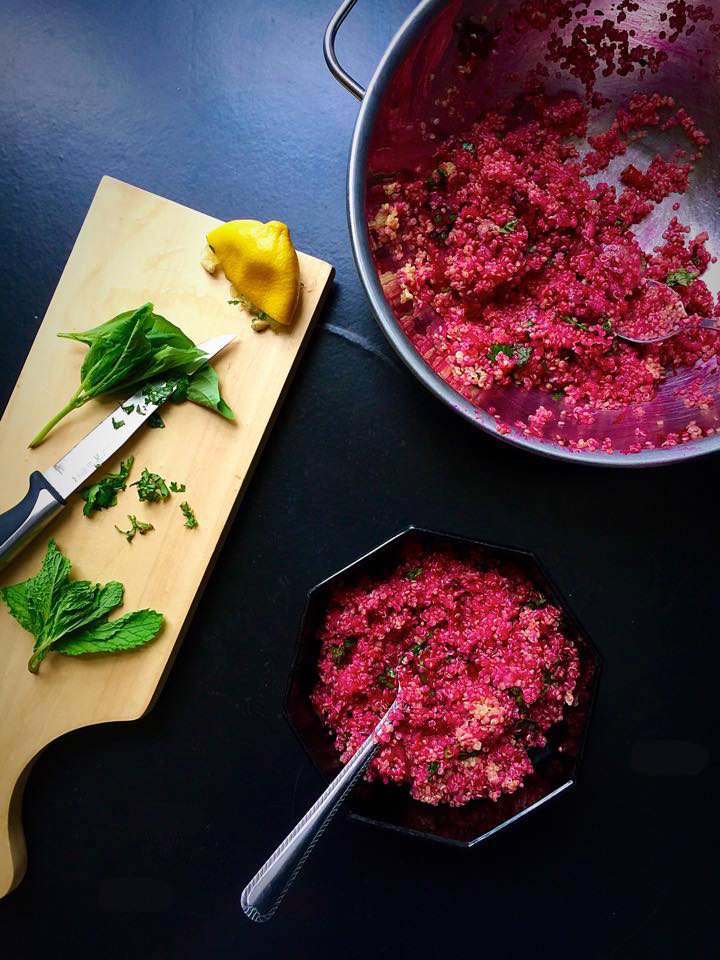 Raw beets just do the most gorgeous things when it comes to color, am I right?
This tabbouleh is based off of a side I had at my local branch of Le Pain Quotidien. I'm a huge fan of LPQ because of all the vegan brunch offerings, and I've had the quinoa tabbouleh a couple times.
Normally it's a leafy salad with just a hint of quinoa, but when I ordered it as a side in April (yes, April, I've been thinking about this for a while clearly), it came as a delicious, purple sample.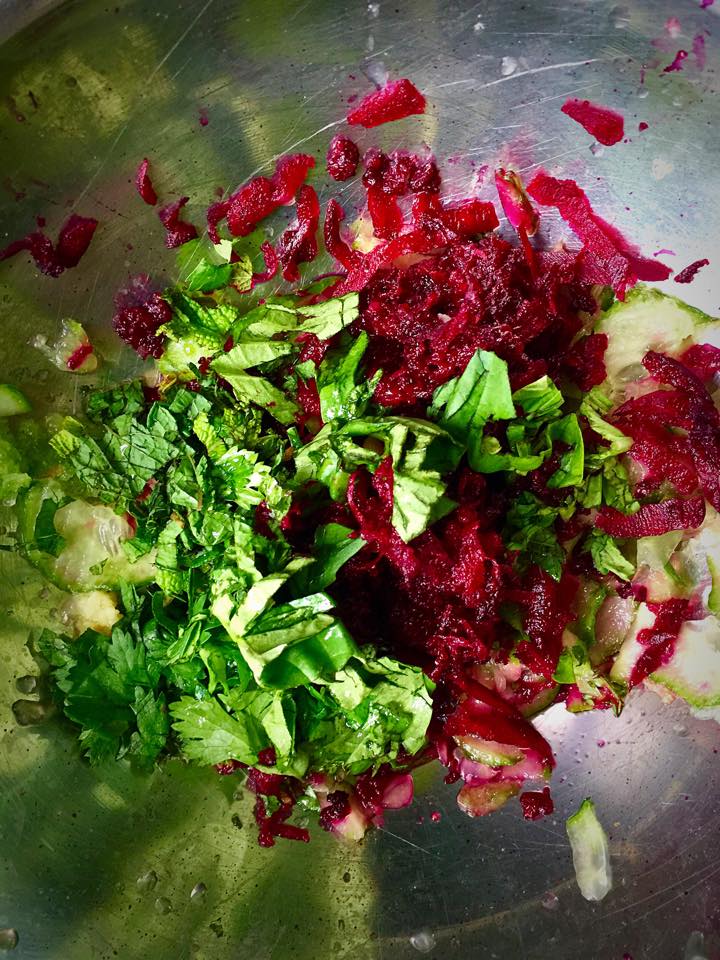 It was so different and delicious that I knew I had to recreate it.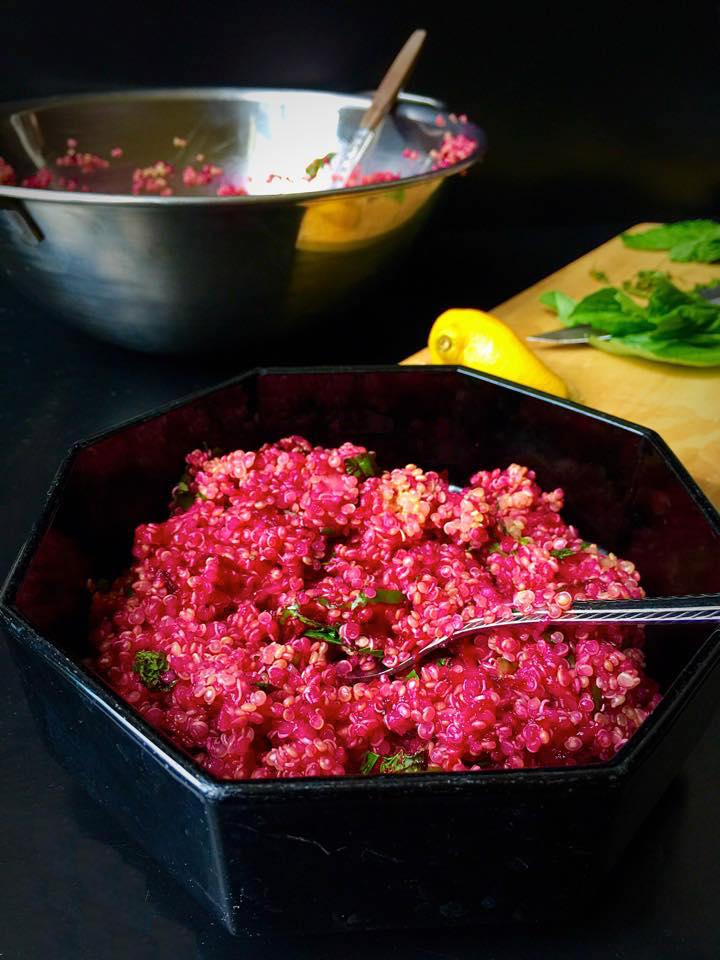 First, I made a small dressing of beets, lemon, plenty of herbs, and some other cooling goodies. After rinsing my quinoa, I actually cooked it in the microwave (sorry, but I'm not about to turn on the stove, and plus, you don't ever get any sticking to the bottom of the pan in the microwave), let it cool a little, and tossed it with the beets. Then I let it allll chill in the fridge.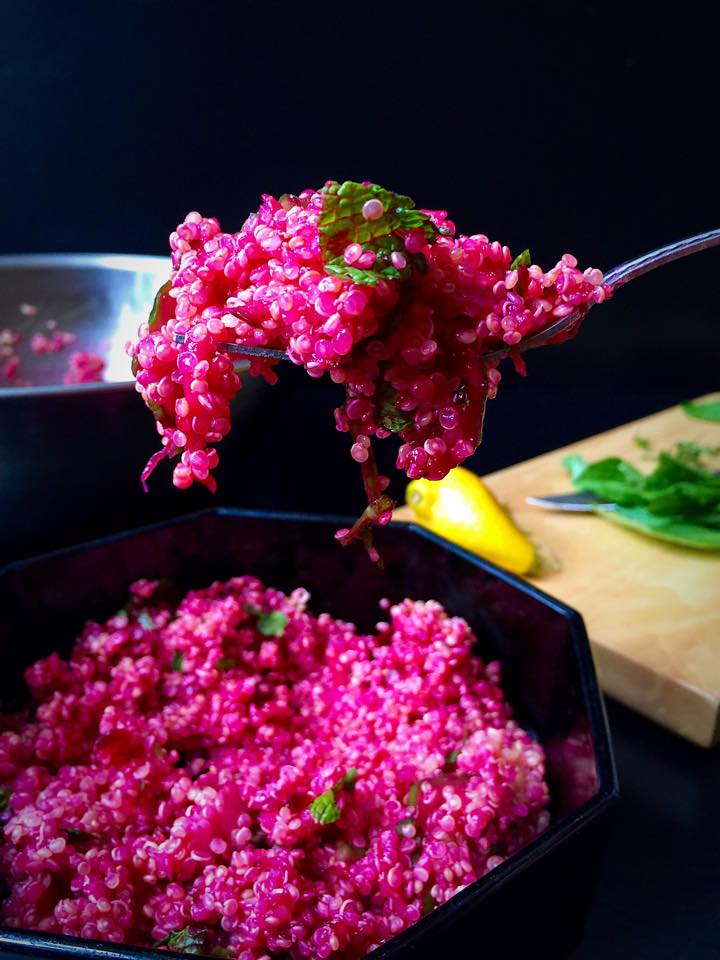 This salad is the perfect summer salad! It's cooling from the cucumber and ginger, and packs a zesty punch of flavor from the lemon, mint, and basil! Plus, it takes little to no time to throw together.
And did I mention it's super pretty?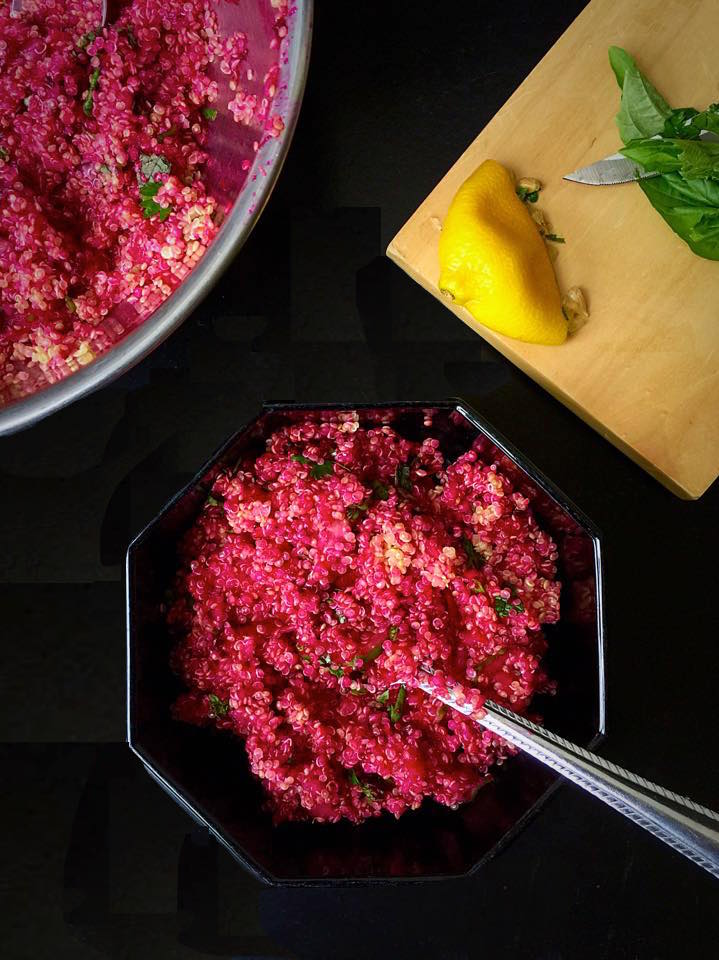 You can learn more about quinoa and its health benefits here!
Herbed Beet Quinoa Tabbouleh
Recipe type:
Lunch, Dinner, Side
Prep time:
Cook time:
Total time:
This colorful, light, and flavorful quinoa tabbouleh takes less than half an hour to make, and is vegan and gluten free! Quinoa combines with cooling vegetables and herbs for a perfect summer treat.
Ingredients
1 cup dry quinoa
2 cups water
salt to taste
1 raw beet
¼ of a large English cucumber
1-2 tsp grated fresh ginger
4-6 mint leaves, chopped
2-4 basil leaves, chopped
1 tsp chopped fresh cilantro
juice of half a lemon
Instructions
Rinse quinoa and combine with water in a microwave-safe bowl. Cover with saran wrap and microwave on high for 8 minutes. Remove wrap carefully, add a pinch of salt, and stir. Replace wrap and return to microwave for 3-4 minutes. Remove wrap and let sit for 3 minutes.
In a bowl, half your beet and grate it into the bowl (I found grating finely to be easier). Grate the cucumber in the bowl and add the ginger and chopped herbs. Stir everything together until well combined.
Add salt to taste and lemon juice. Chill in fridge until cool and serve.