Summer is coming to a close, and I couldn't let it slip away without a gazpacho recipe!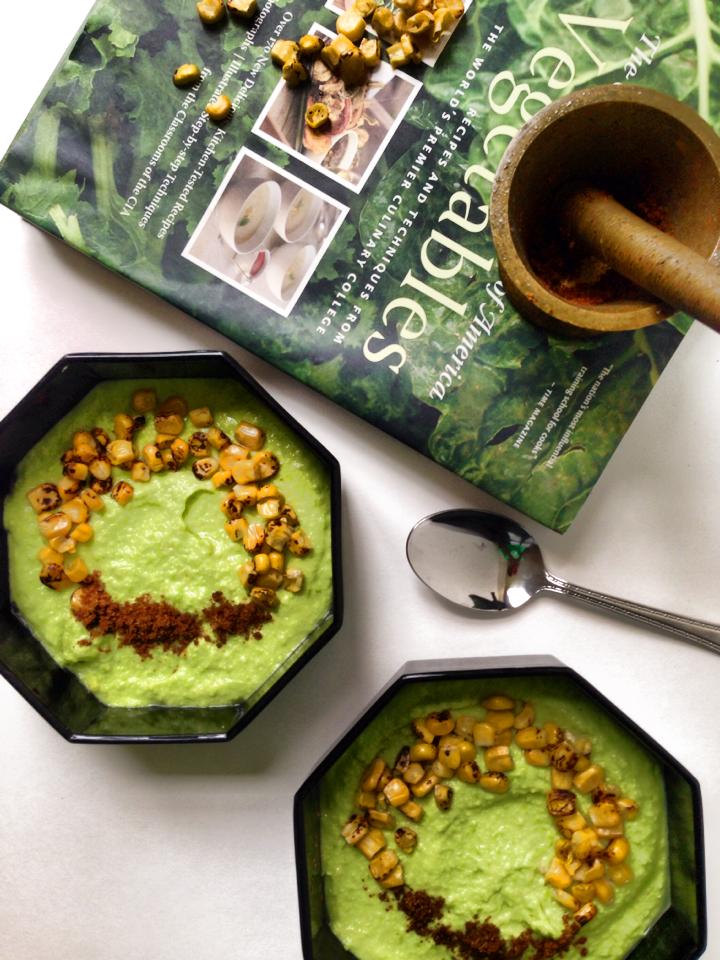 I always think of chilled soups like savory smoothies… refreshing, healthy, and perfect for summer.
This soup is incredibly easy to make and comes together in the bowl of your food processor in ten minutes or less. You don't need to chop up any vegetables finely or bring anything to a boil- this is seriously the easiest soup ever!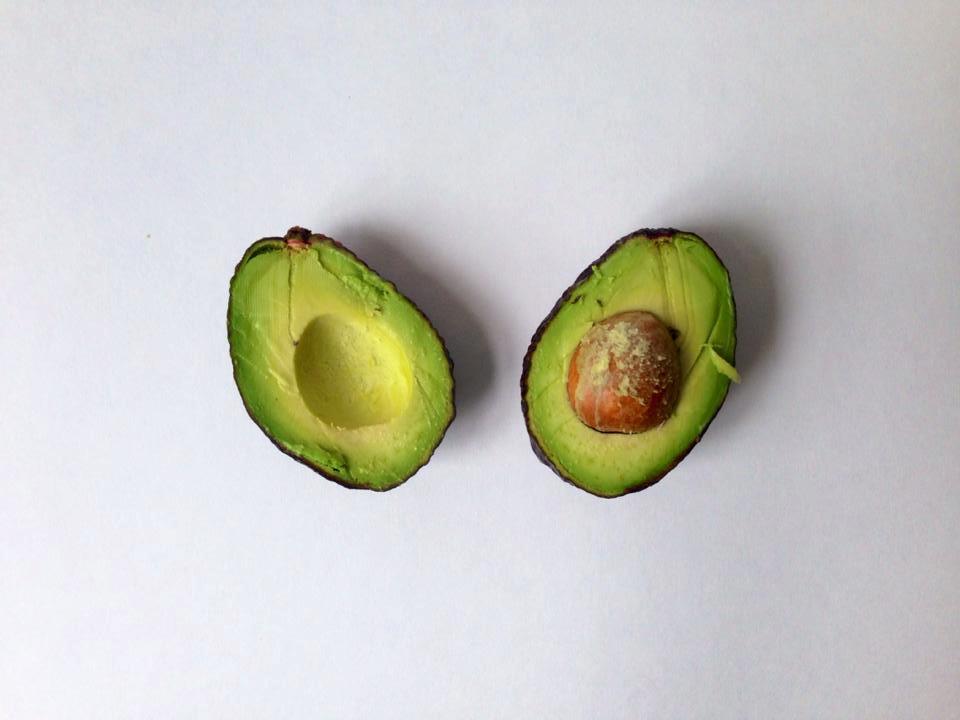 The base of the gazpacho is made of edamame, or soybeans. I buy mine frozen and shelled from Trader Joe's. It's definitely the easiest and most convenient way for me. To create a smoother texture, an avocado is thrown into the mix. The flavor is very subtle and not overpowering, rather what the avocado adds is the creaminess.
For this soup, I kept it simple. A little salt, pepper, basil, and a LOT of lemon. Sometimes, you just need to let the ingredients speak for themselves.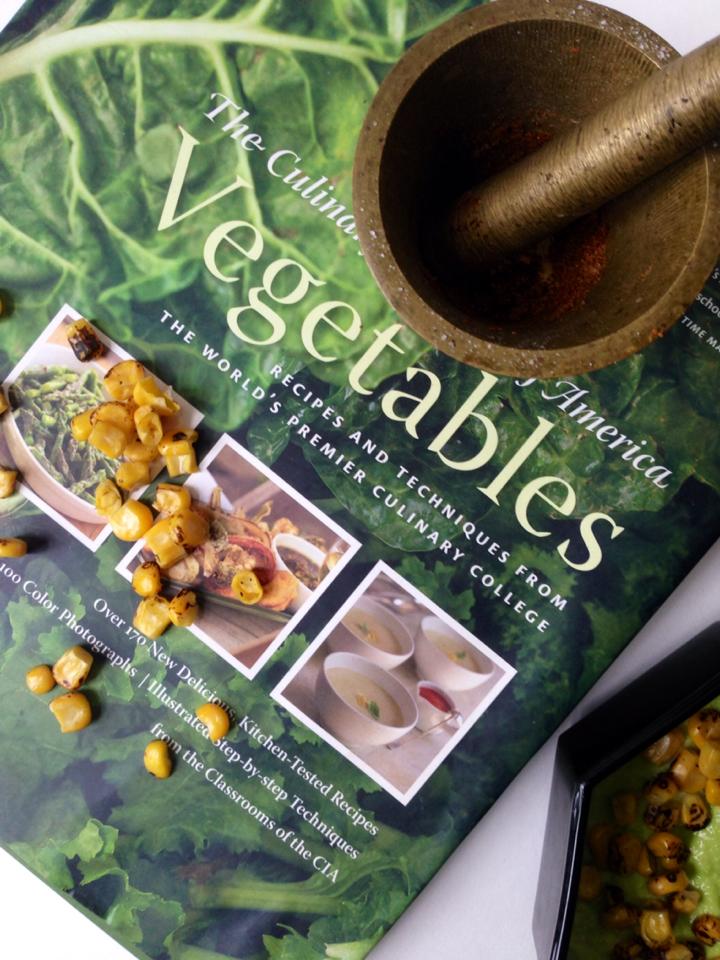 On top we have roasted corn (I used frozen, you can be ambitious and roast your own or use leftovers from the grill). Plain sweet white corn would work as well, but I like the flavor that the charred corn lends to the soup. And of course, the curried salt. A mixture of garam masala, sea salt, and a small amount of coconut oil, the salt is a pop of spice atop the mild gazpacho.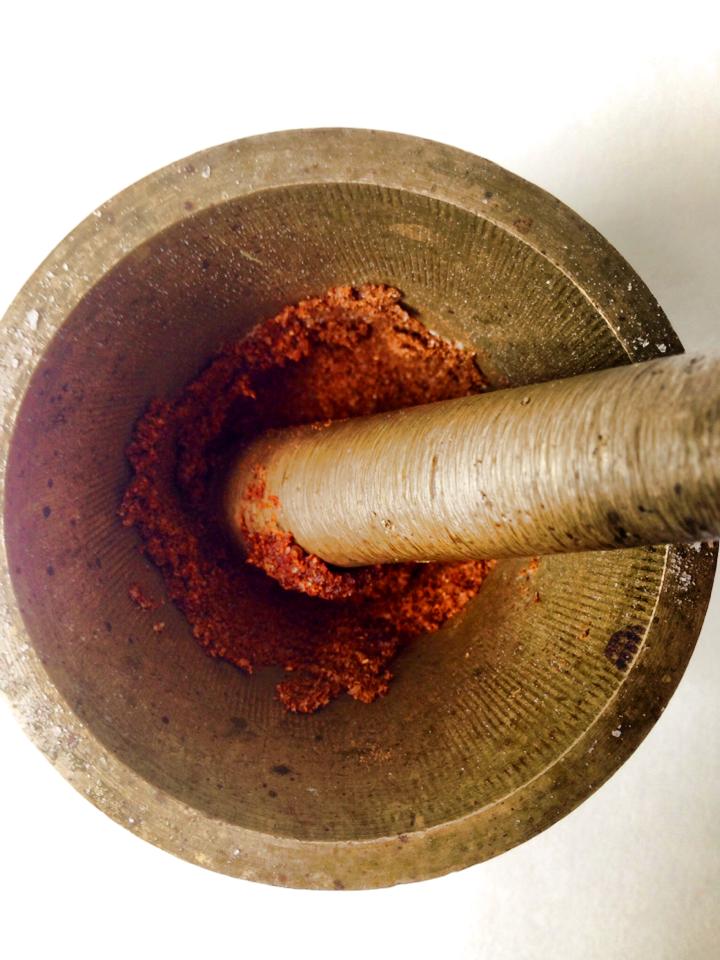 This gazpacho boasts some health benefits, too. Edamame is a great source of protein, and avocados have numerous nutritional bonuses, including lutein, high fiber content, oleic acid, and antioxidant boosters.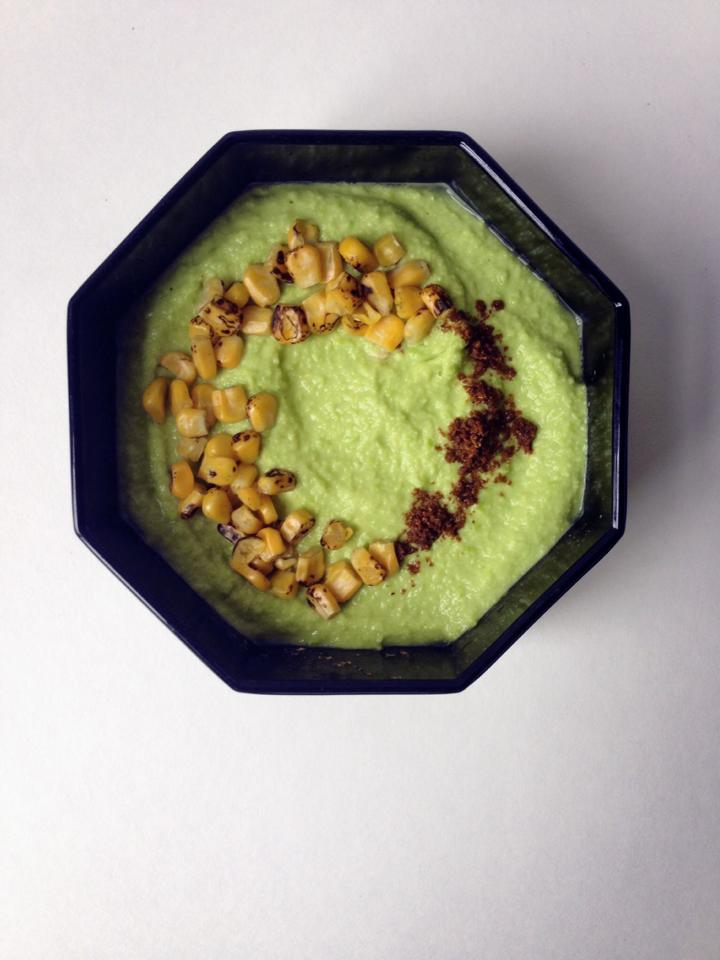 Perfect for a unique lunch or a lightened up dinner, this soup is a great (vegan!) summer meal.
Enjoy!

Chilled Edamame Gazpacho with Roasted Corn and Curried Salt
Perfect for a unique lunch or a lightened up dinner, this soup is a great, healthy vegan summer meal.
Ingredients
1 cup shelled edamame
2 cups water
2-3 fresh basil leaves
1 small avocado, peeled and pitted
scant ¼ cup roasted corn
juice of one lemon
1 tsp pepper
1 tbsp garam masala
2 tbsp sea salt, divided
1 tsp coconut oil, at room temperature
Instructions
Process edamame and basil until finely ground.
Add avocado and process until almost paste-like.
Add water and continue to process until smooth.
Add lemon juice, 1 tsbp salt, and 1 tsp pepper and pulse to combine.
Pour into bowl, cover, and set inside fridge to chill (about 30 minutes)
In a separate bowl or using a mortar and pestle, combine garam masala, sea salt, and coconut oil.
Top the gazpacho and serve.