It may be 83829783° here right now, but I heard a whisper this weekend that it's going to be cooling down this week.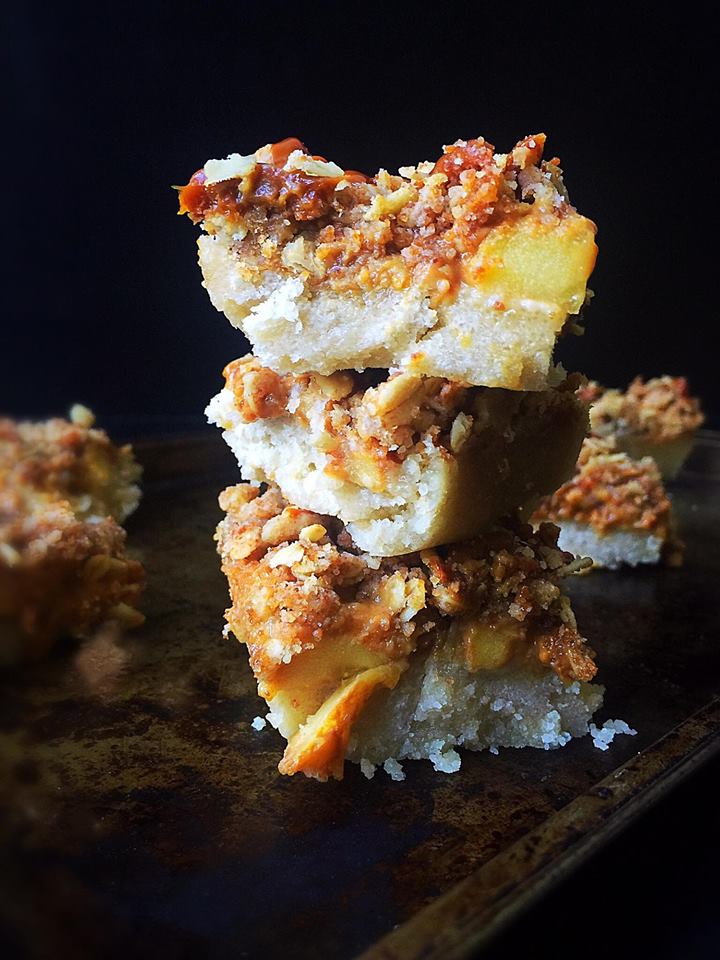 So I guess I'll suck it up and stop posting salad recipes and accept that it's fall now, even if I have yet to wear a sweater.
(Ok that's a lie I will find a way to post salad year round and you know it).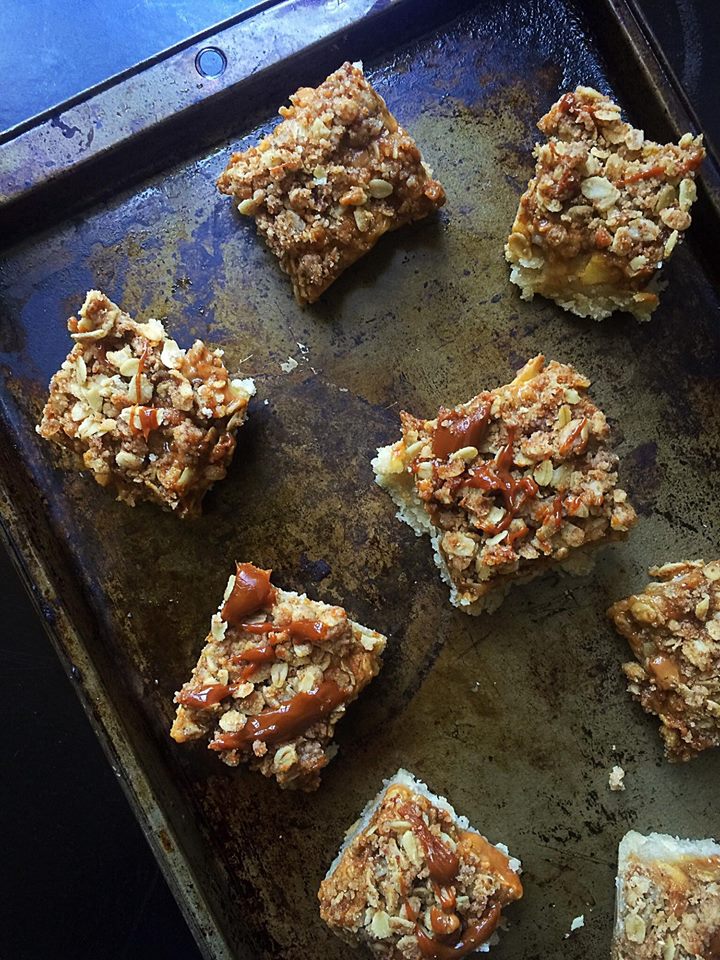 These apple pie bars are the epitome of autumn in a dessert. Shortbread crust, fresh apple filling, streusel, and dulce de leche (aka caramel, but just better) come together to make a seriously rich and delicious treat.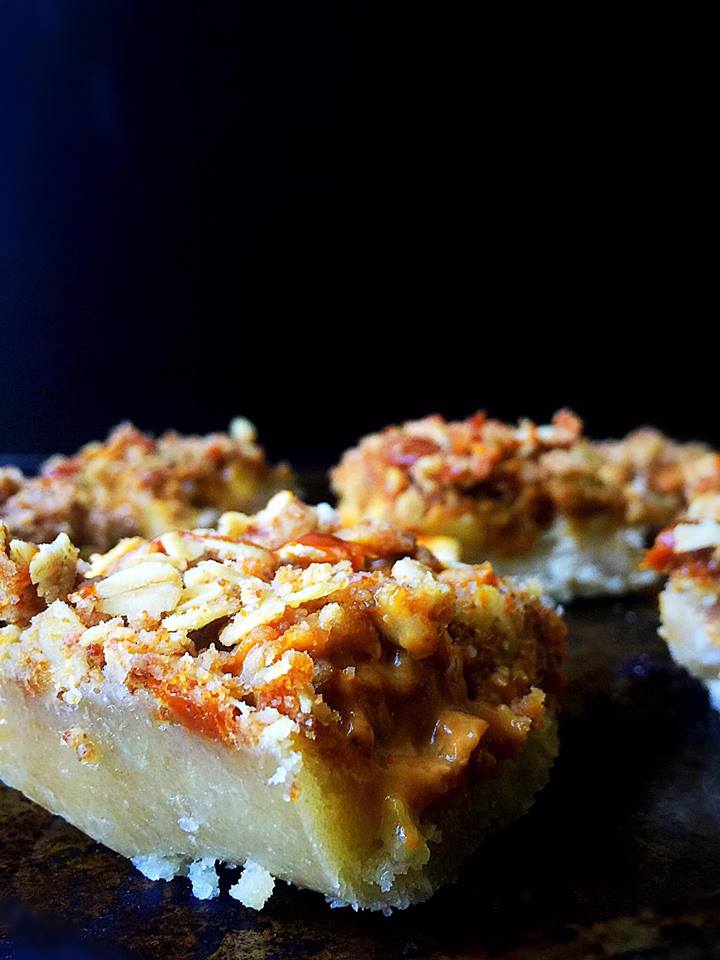 These bars are surprisingly easy to make and come together in under an hour- that is if you can even wait long enough to let them cool before you dive in!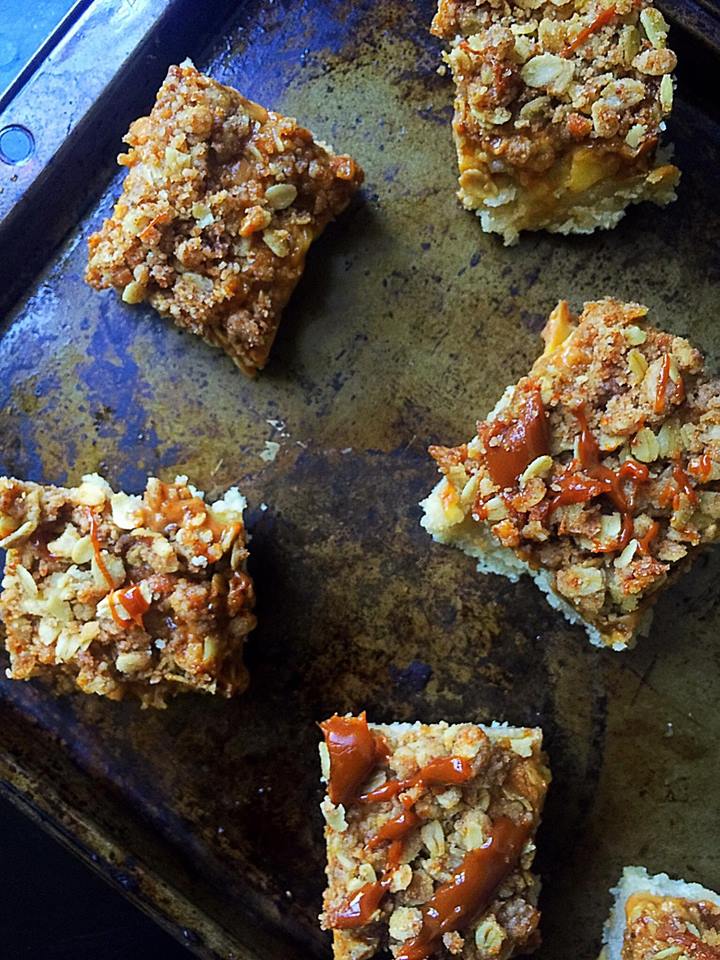 Get ready for more fall inspired recipes! And check out what I've made in past autumn seasons over here.
Apple Pie Crumb Bars with Dulce de Leche!
Prep time:
Cook time:
Total time:
Ingredients
Crust
1½ cups flour
1½ + 2 tsp cane sugar, divided
pinch salt
⅓ cup cold butter, chopped
⅓ cup ice water
Filling
2 large apples, peeled, cored, and diced
1 tbsp butter
¼ cup dulce de leche
Crumb topping
½ cup flour
½ cup oats
⅓ cup coconut (or brown) sugar
¼ cup cold butter, chopped
2 tbsp dulce de leche, warmed
Instructions
Preheat oven to 350°F and grease the bottom and sides of an 8x8 pan.
In a large bowl, combine all crust ingredients and mix with hands or a fork until just combined.
Press crust mixture into the bottom of the prepared pan and bake in preheated oven for 10 minutes. Remove from oven and cool on wire rack (don't turn off oven!!!)
In a skillet, heat 1 tbsp butter over low heat and add diced apples, tossing to coat evenly. Cook down for 5-10 minutes, until apples are soft. Remove from heat and stir in ¼ cup dulce de leche.
Pour mixture over baked crust.
In another bowl, combine ½ cup flour, ½ cup oats, ⅓ cup coconut sugar, and ¼ cup cold butter with a fork or hands until just combined.
Spread crumb topping over apple filling in pan. Bake for another 10-15 minutes, until crumb is golden brown.
Remove from oven and cool on wire rack. Drizzle with warmed dulce de leche before serving.