People, it's almost halfway through March! It feels like just yesterday I was rhapsodizing about my resolutions.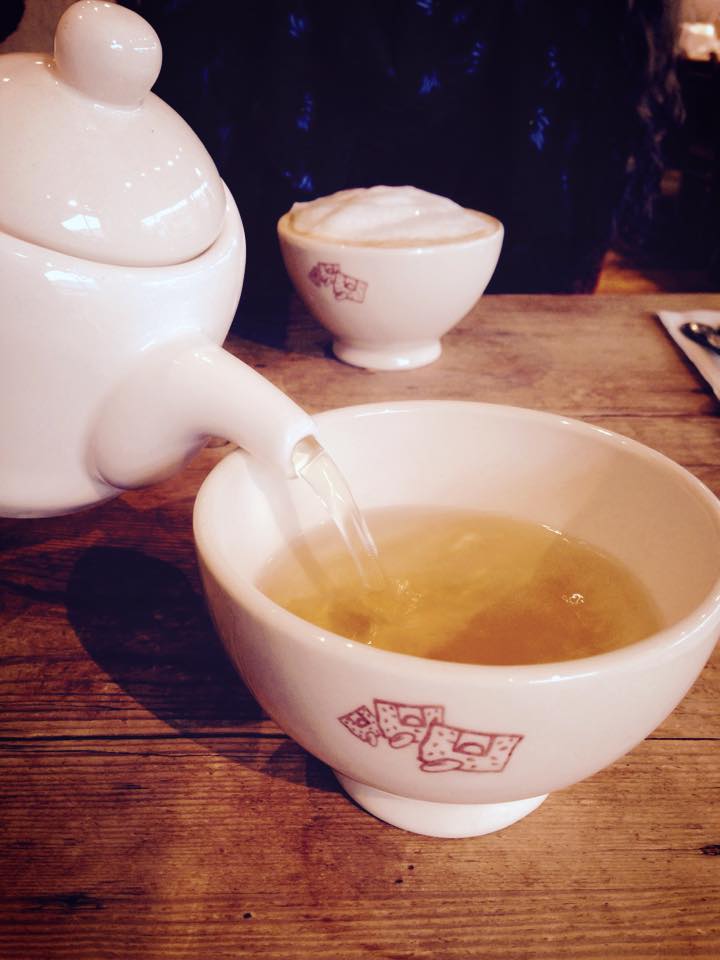 To be fair, I have stuck to most of them.
This cake may say otherwise, but overall, 2015 has been a healthy year for me. I've learned to appreciate running, cooking gluten-free more frequently, and getting enough sleep.
Recipes are fun, but sometimes I like to use this space just to talk to you guys! Today I'm sharing with you some of my favorite ways to keep track of my health- all using my iPhone!
(I know, right? Millenials…)
But seriously, my iPhone has served me well in ways beyond my smartphone food photography. My smartphone is my #1 tool to stay on top of my schedule, social life, and overall health. Some companies are even taking advantage of all the benefits technology has to offer. For example, I recently learned about Oscar, a health insurance company that aims to make healthcare fit seamlessly into everyday life by helping members use technology to manage their health at their own pace. All opinions are my own.
Health: Pretty self-explanatory name, right? The Health app on the iPhone is like the mother of all fitness and nutrition apps. It syncs up with other health applications like MyFitnessPal and Nike in order to calculate your total nutritional breakdown, vitals, body measurements, and more. It's super easy to use and is so nicely designed. I love that it automatically notes which apps ask for your data (because that can help you keep track of your privacy) and that it allows you to establish a medical ID for emergencies!
Notes: Everyone who has a smartphone uses the 'Notes' feature for different things! Personally, my notes are packed with recipe ideas, dance choreography, and homework to-do lists. And, most importantly, my grocery lists. Grocery lists are a cure for overconsumption. If you limit your grocery list to healthy options (and the occasional treat) and stick to the list, you'll end up with a fridge full of healthy eats. It's hard to be gluttonous when all you have in your kitchen is fresh produce! Keeping grocery lists on your smartphone is convenient and eliminates the "I left the list on the kitchen table" debacle.
Radio/Pandora/Spotify: Who said health is all about kale and hot yoga? Having a variety of relaxing, upbeat, and reflective music available at all times is one of the serious wonders of the smartphone. I jam out to my Top 40 Pop station when I need a mental break from homework, and I also love my Acoustic station for when I'm trying to wind down. Humans have a neural branch between music and emotions and the great thing about music today is that it can be customizable but also exciting. Genius stations on the iPhone or radio apps allow you to pick a genre that will elevate your mood, but don't require that you own the songs or even put together the playlist!
What's in season? is the name of the app that I would totally make! Although I haven't found an app that tells me what produce will be freshest based on time of year, sites like Sustainable Table, Eat the Seasons, and CUESA do a great job of organizing and updating their seasonal food sites. A quick internet search is all it takes! Eating locally/seasonally is not only best for you (because oftentimes seasonally fresh produce is farmed with fewer additives), but also for the environment!
P. Tracker: I've been debating whether or not to post about this for a while. Because it's kind of like, the best thing ever. But at the same time it's a little TMI? For anyone* who has to deal with a monthly menstrual cycle, P. Tracker is basically the life-saving app. Discreet (no ostentatious name, no weird flowers to symbolize fertility, and a passcode option to enter the app), well-designed, and multi-talented, this tracking app allows users to record when they are on their cycle, as well as symptoms, emotions, weather, weight, and medication. It covers all the bases and is a great way to predict your physical and emotional symptoms!
*I don't say "women", "females", or "ladies" to be inclusive to my friends in the trans community!
Anyways, I hope my little nuggets of wisdom were a little helpful! I'm not the most technologically savvy, but even I use my smartphone constantly to manage my life. Although there are great weight loss/diet apps, health is so much more than that, and when you do an app store search for "fitness", sadly those are too often the main options. Hopefully this inspired some people to escape the functional-fixedness of our smartphones and look for new ways to stay healthy while using technology!