Guys guys guys I got a new phone!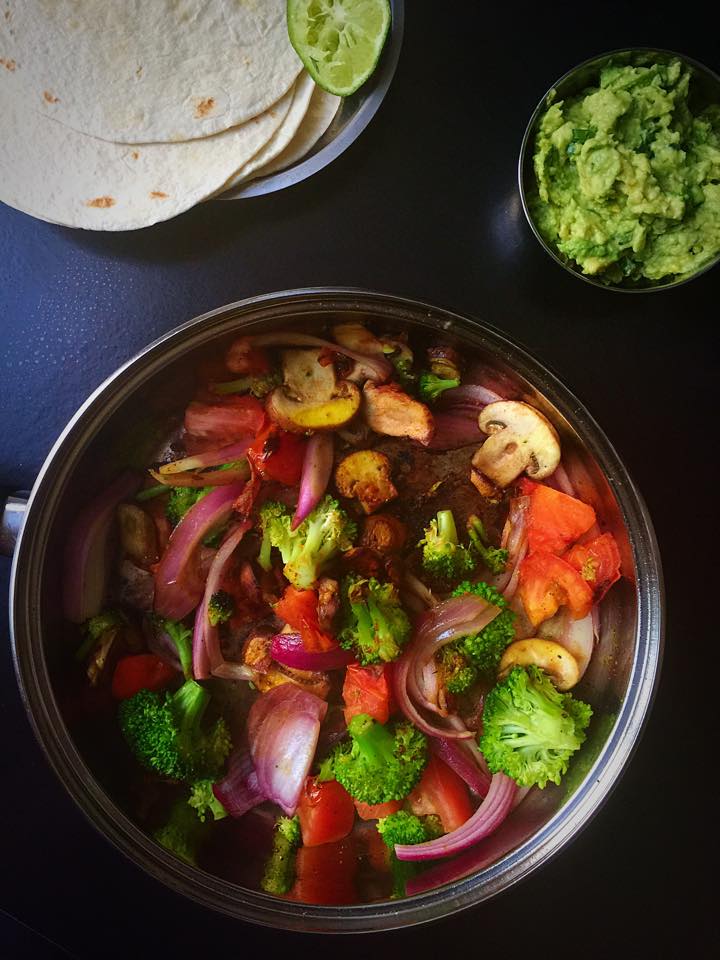 Now for any 17-year-old that's pretty exciting stuff. But when you take allll your food blog pictures with an iPhone, the upgrade is definitely worth freaking out over.
Exhibit A: I have never been able to capture steam before. Ever. Even a little bit. It's a good time to be alive, people.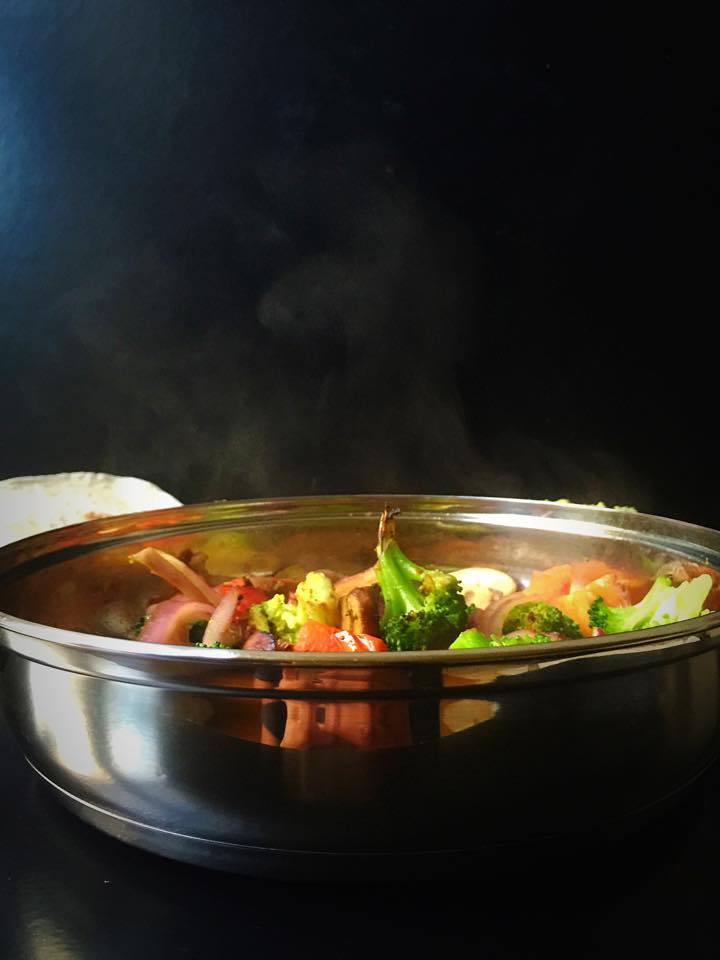 Shockingly, something is more exciting than my new phone. And you probably guessed it, it's these fajitas. They are quite literally 15-minute fajitas. Like, I got home from dance and out of the shower and 7:10 and I was halfway through with these for dinner at 7:37. And I took the pictures before eating.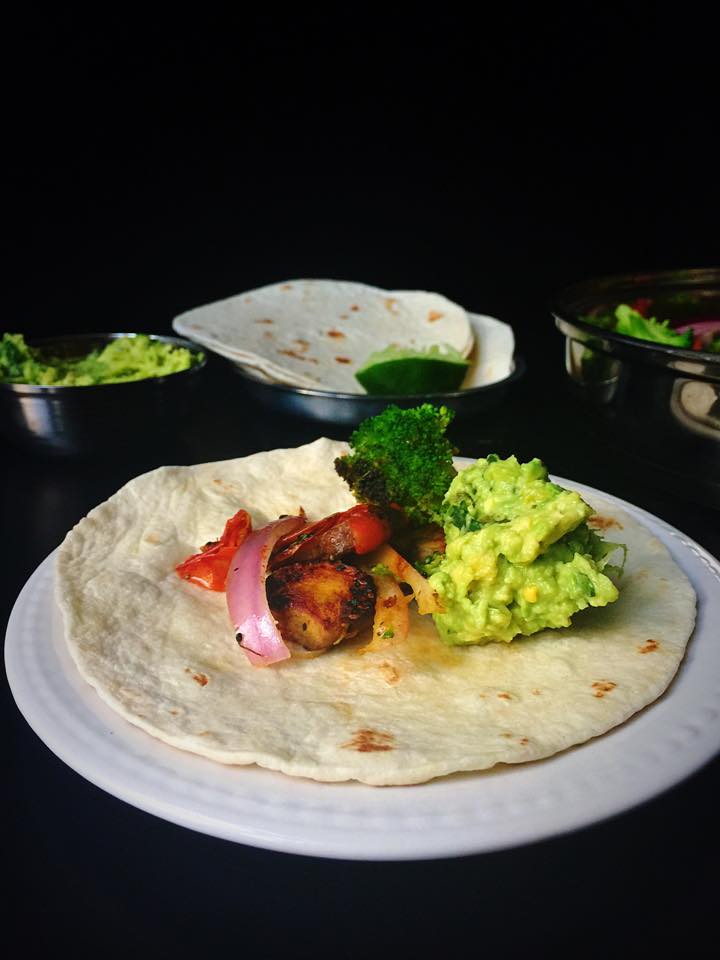 These fajitas are modeled off of my go-to order at my favorite Mexican restaurant. When you're vegan, eating Mexican can be a challenge, especially when all you want are cheese enchiladas with cheese on top and sour cream on the side and did I mention cheese?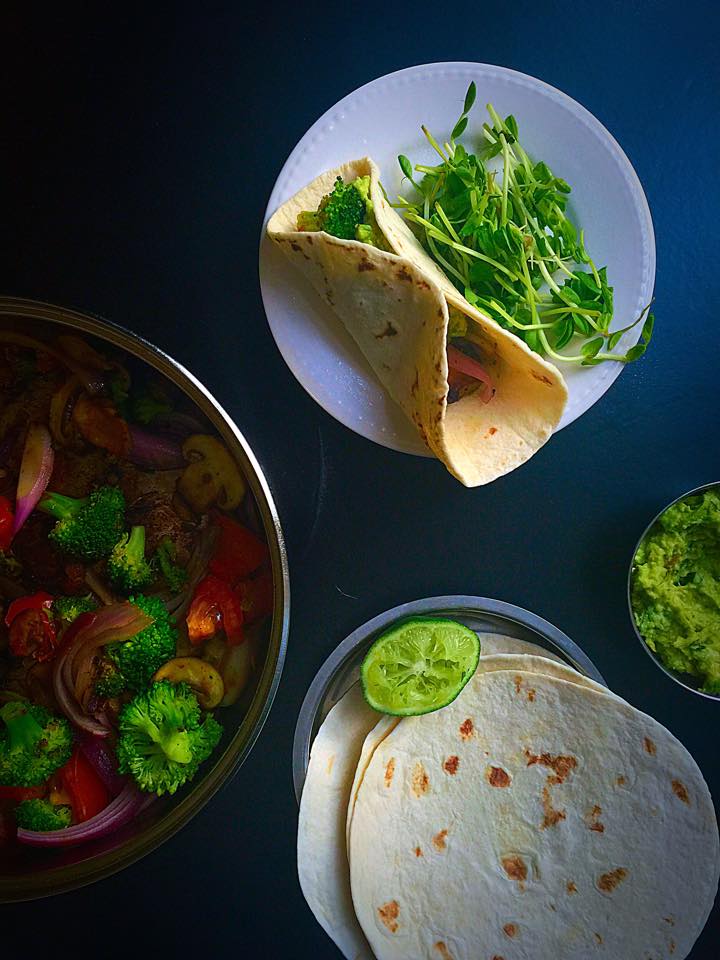 Luckily, veggie fajitas are a safe option. I'm used to avoiding the sour cream, chicken-stock-based rice and beans, and cheese. So when I get fajitas out, they're usually accompanied simply by pillowy tortillas and lots and lots of guac.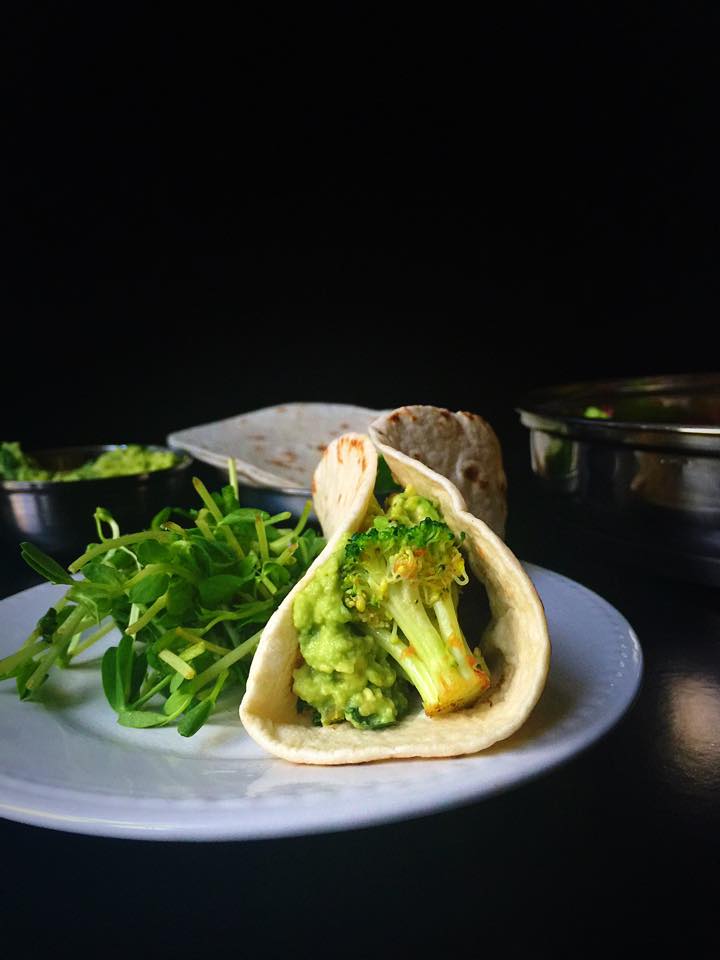 The great thing about these fajitas is that you literally put the veggies in the pan and let them do their thing. This is hands-off meal prep, guys. While your fajitas are sizzling, you make your guac. I fluctuate between corn/onions/tomatoes/black beans/mango in my guacamole, but kept it simple this time with just avocados, pickled jalapenos, lime, cilantro, and salt.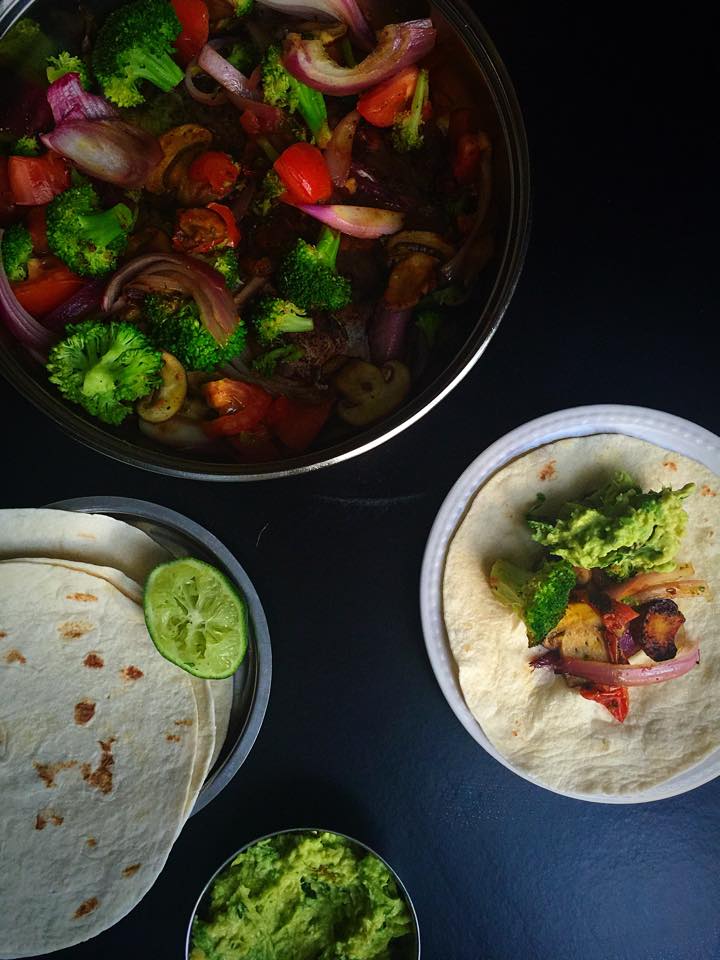 Lime instead of lemon is an awesome flavor profile here and the pickled jalapenos add another acidic note to the guacamole. Paired with the caramelizing onions and earthy turmeric in the fajitas, the tangy guacamole is a flavor booster!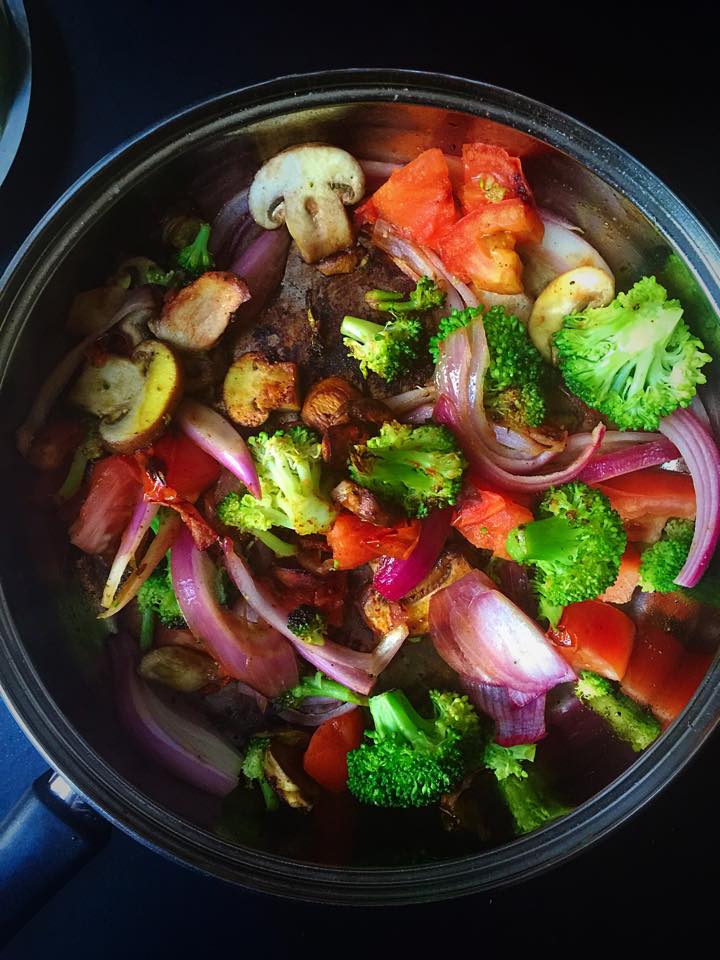 These fajitas are easy to make, healthy, and totally delicious. Honestly, Mexican is probably my favorite cuisine (although I love Indian and Thai and Japanese and Chinese and Mediterranean and oops I guess I don't have a favorite). Making fajitas at home is somehow cheaper and faster than going out, so give these 15-minute fajitas a try!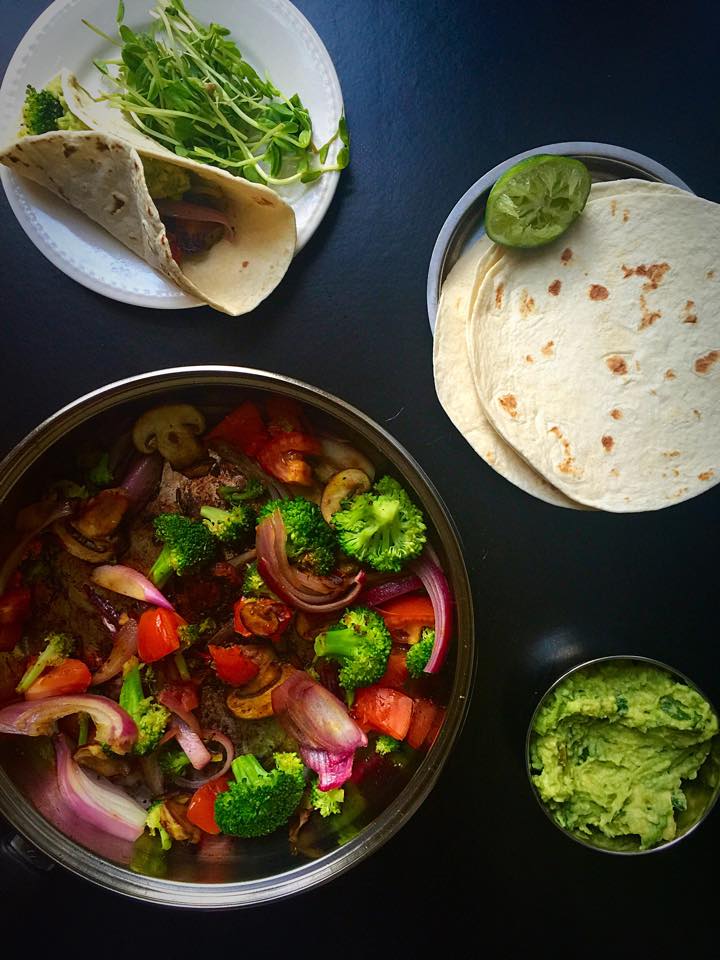 15-Minute No-Fuss Vegan Fajitas!
Recipe type:
Lunch, Dinner
Prep time:
Cook time:
Total time:
These sizzling fajitas are a quick, simple, healthy, and delicious weeknight meal! This one-pan meal comes together in under 20 minutes and is vegan and gf-optional.
Ingredients
Fajitas
1 tbsp canola oil
¼ tsp turmeric
¼ tsp pepper (I used lemon pepper)
½ tsp sea salt
¼ tsp cayenne
½ a red onion, sliced
1 roma tomato, diced
1 cup broccoli florets
⅔ cup sliced mushrooms
Guacamole
1 avocado
5-6 pickled jalapeno slices, diced
⅛ cup cilantro, chopped
salt to taste
juice of half a lime
Fixings
8-10 small flour tortillas (use corn for GF eaters)
pea shoots for serving
additional lime/cilantro
Instructions
In a large skillet, heat oil over medium-high heat.
Add turmeric, pepper, sea salt, and cayenne and allow the spices to cook till fragrant, about one minute.
Add the mushrooms, broccoli, onion, and tomato and make sure all the vegetables are coated in oil and spices. Let sizzle.
Meanwhile, in a large bowl, mash together avocado, cilantro, and jalapenos.
Add lime and salt, mix and taste. Adjust seasoning if necessary. Set guacamole aside.
Let the fajitas cook for the full remaining 10 minutes, stirring occasionally to prevent sticking to the pan. Turn the heat up at the end to keep them sizzling.
Remove from heat and serve fajitas directly from pan with guacamole and warm tortillas. Enjoy!