When you're a blogger, you're a planner.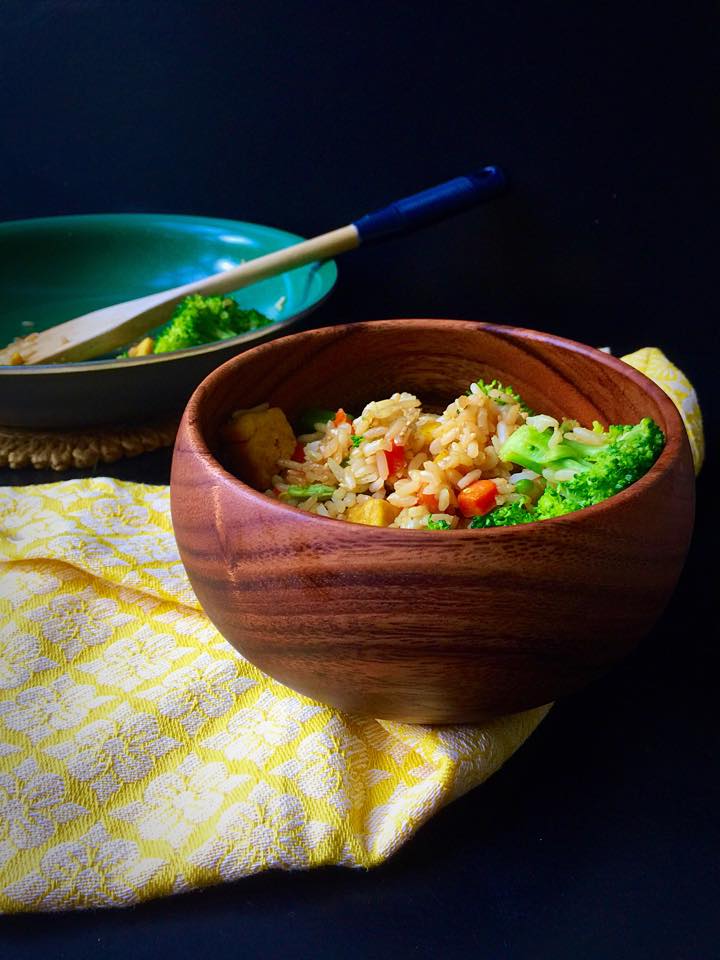 I'm a planner in everything I do, whether I have to organize ahead of time or not. But I have found that when it comes to blogging, having a game plan regarding your posts is just totally vital. 
How else can you stay on top of seasonal produce, holidays, and vary your recipe type month to month? Short answer? For me, I can't without a little (a lot) of planning.
Which is why posts like these get me kind of excited. Posts that were NOT planned but happened in the kitchen and had to be recreated for the blog. Or alternatively, posts that began as dinner and then, one bite in, the plate was rushed over to my photography set up to take pictures.
Basically, breaking my own rules makes me feel like an outlaw.
(Yeah, I know, I'm hardcore)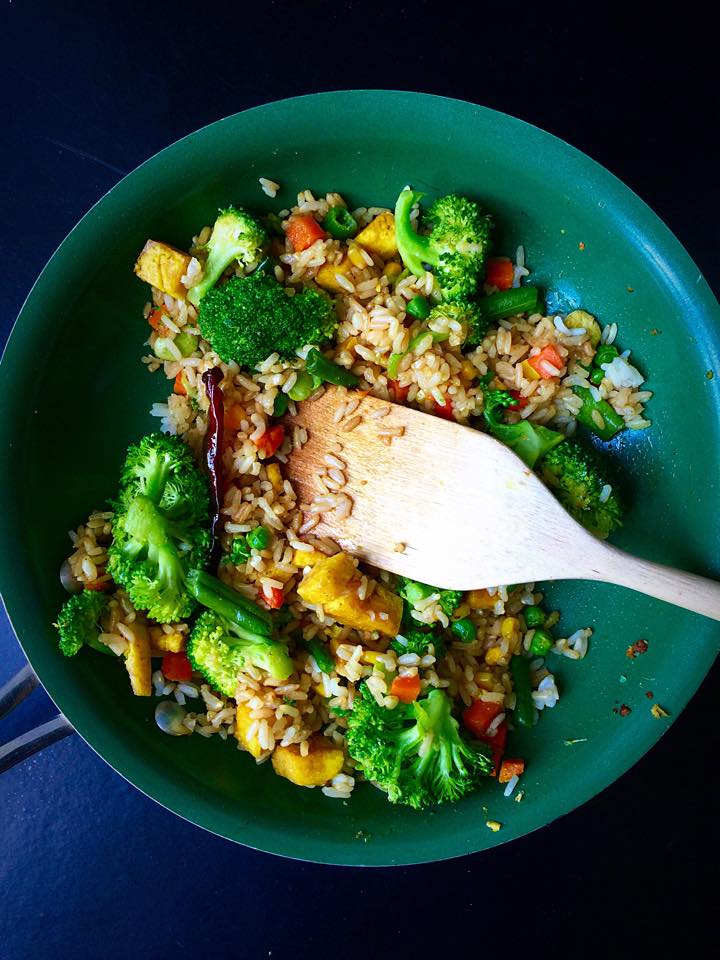 I had never made fried rice at home before this. And I'll have you know that this was going to be cauliflower rice, but I didn't have any cauliflower because we're going out of town next week and slowly emptying the fridge and please just accept my excuse and eat some simple carbs, okay?
Anyways, this is super easy to make. Start some oil in your pan, add some miso/grated ginger/turmeric/salt/a dried red chile if you're feeling adventurous. Pop in some baked tofu and let it sizzle. Add some broccoli before your tofu gets TOO sizzly. Grab a handful of whatever veggies you have (I used a frozen mix of peas, carrots, Lima beans, corn, and green beans). Throw those in the pan. Stir a little and add some garlic powder because this is EASY and we aren't about chopping up garlic right now. Lastly, add your rice. Drizzle soy sauce all over. Turn the heat up. Get excited about your amazing dinner. Eat.
10-Minute Vegan + GF Fried Rice (For One!)
Recipe type:
Lunch, Dinner
This fried rice comes together in under 10 minutes for a quick and easy single-serving meal that is vegan and gluten free- so much better than takeout!
Ingredients
½ cup chopped broccoli florets
Scant ¼ cup baked tofu
½ cup mixed vegetables (my medley had corn, peas, carrots, edamame, and green beans)
½ cup cooked rice (I used white, you can sub cauli or brown or quinoa or anything!)
1-2 tbsp canola oil or sesame seed oil
1 dried red chile (optional)
1 tsp miso paste (fishless)
½ tsp salt + more to taste
¼ tsp turmeric
¼ tsp grated ginger
½ tsp garlic powder
1-2 tbsp soy sauce
Instructions
In a medium skillet over LOW (yes, low!) heat, add your oil, chile, miso, salt, turmeric, and grated ginger. Stir everything together and cook for 1-3 minutes, until fragrant.
Add your tofu and stir to coat evenly. Let sizzle and turn the heat up a little (nowhere near medium! just a little more than the lowest setting)
Add chopped broccoli florets and stir for another minute, until broccoli begins to color a deeper green.
Add mixed vegetables and garlic powder and stir well to combine. Cook for another 1-2 minutes.
Add rice and stir everything together. Add soy sauce and turn heat up to medium and keep stirring so everything is coated.
Add more salt to taste, if desired.
Serve immediately.